Snapchat. This social media giant has changed how people interact today. The app is used by millennials, specifically college students, and allows its users to send "snaps" back and forth to one another. These snaps are photos or videos that last a finite number of seconds; in fact, the ephemeral aspect of the app is what makes it intriguing and popular. There are over 170 million active Snapchat users each day, so if you're an avid snapchatter, you're definitely not alone.
For the most part, everyone knows these facts … so what's new?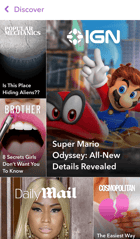 Well, what's new is that Snapchat has announced they will be partnering with several college newspapers!
While Snapchat allows you to send photos and videos to friends, it also features a Discover page. While using the app, users can swipe to the right to read news from various sources. Featured sources include: Daily Mail, National Geographic, IGN, Cosmopolitan and now — certain college newspapers!
This is a strategic move made by Snapchat, considering that most of its users are of college age. Each campus story will contain advertisements and revenues to be split among Snapchat and each respective university.
What does Snapchat's collaboration with college newspapers mean for higher education enrollment marketers?
Snapchat is a platform that enrollment management professionals should begin considering as part of their enrollment marketing strategy. Marketers put a lot of time and effort into attracting potential student applicants. Snapchat can be an innovative tool for enrollment marketers to do just that.
Snapchat provides a quick, effective way for enrollment marketers to promote their institutions and provide an inside view of campus life. Making the process interactive will be more attractive to prospective students and will appeal to students who love participating in social media.
What does Snapchat's new feature mean for students?
Snapchat stories will be geofenced so that only students in the immediate area will be able to view them. So far, The Daily Californian from UC Berkeley, The Battalion from Texas A&M, The Daily Orange from Syracuse, and The Badger Herald from Wisconsin are among the colleges that have been chosen to be a part of this Snapchat feature.
Startling Statistics — The Future of News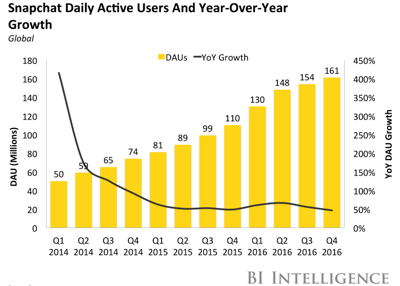 In 2016, a study showed that 62 percent of U.S. adults gleaned their news from social media. This percentage has increased to 67 percent in 2017. This statistic sheds light on how many people actually continue to get their news from social media platforms.
People who lead busy lives do not necessarily have the time to read lengthy articles. Thus, platforms such as Snapchat are becoming an effective way for those in a crunch to get the information they need in an interactive and easy way.
Discover Stories
One of Snapchat's main features is its "Story" feature. People can post photos or videos of themselves when they want to share their ventures to all of their followers. A "Story" can be a great news source during crucial events such as natural disasters or incidents concerning safety. This feature allows users to upload their real-time coverage of events.
According to Fortune, Snapchat's Real-Time News is a fascinating feature of the future. It is clear that Snapchat has come a long way from its original design.
Start Recruiting on Snapchat
Now that it is clear just how popular Snapchat is, why not recruit prospective students already using the app? Colleges have the opportunity to create campaigns through Snapchat's ads tool. Colleges can either create Snap Ads, Filters, or Lenses. Each feature is unique and beneficial in its own way.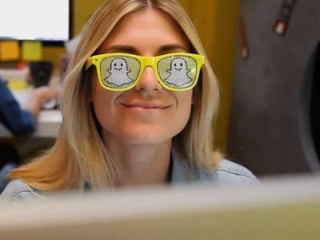 Snapchat gives users the opportunity to customize ads in several ways. As an enrollment recruiter, you can use a webview ad or even a long-form video. Depending on what objective you are striving for, this allows you to modify your ad accordingly.
When it comes to filters, a college can create location-based filters. Recruiters can create a filter and set it up so people within 10 miles of the college can access and use it. Thus, an institution will gain awareness from people in the surrounding area. Also, ask any college student: Filters are a fun feature and are something that should enrollment management professionals should take advantage of.
The Future of Social Media Marketing
With revenues of over $16 billion, Snapchat is slowly becoming a major player in the social media/news world. Platforms that contain features similar to Snapchat are also on the rise. Social Media Marketing as we once knew it is evolving. Things that were not even conceptualized years ago are now important tools to marketers. Enrollment marketers must be aware of this and adapt their marketing strategy in order to keep up with the constant change in the social media world.
Stay up to date on the latest trends in higher education marketing!
Sign up to receive The Minute, a 60-second update that will keep you in-the-know on news and trends in enrollment marketing.