If anyone tells you there is only so much you can do right now to market your programs and hit your enrollment goals because of the coronavirus, do not be tempted to listen to their advice. In fact, the opposite is true right now — there are very critical things that higher education admissions and marketing professionals should be doing right now to prepare for the new reality of student recruitment.
This is not the time to slow down. This is not the time to pull back and wait to see where numbers are at in a month or so. This is the time to step up your enrollment marketing game and get ready to implement new ways to engage with prospective students, many of which will be researching schools and programs with new fervor due to new challenges they never thought they'd be faced with.
In other words, there is a new tide approaching, bringing waves you have never surfed before, and if you do not prepare now, you will not know what to do when this new current comes in.
Here are some practical enrollment marketing strategies for enrollment managers and education marketing professionals to start developing for both right now (the short term) that will have a long-lasting impact down the road as well (the long game!).
Build a Conversational Marketing program
If you haven't noticed already, conversational marketing has grown tremendously in the past few years, and people are more comfortable and willing to engage in live chat or chatbot-based conversations on websites and landing pages.
For prospective students, they are realizing now that they cannot easily attend in-person events, visit campus, or in some cases even reach an admissions coordinator to have a live discussion. And yet, they still have questions and want quick answers...and they don't want to have to click through several website pages to find those answers.
This is where your conversational marketing program can be a powerful engagement strategy for your school. A solid conversational marketing strategy answers the following questions:

Do you offer live chat? If not, who on your team can be available for this, even with limited availability?
Do you have a chatbot for when you cannot have a real person available? (If yes, skip to #4)
If not, which platform will you use to build your chatbot? (Drift, HubSpot, Ocelot, etc.)
Do you have an outlined FAQ resource that readily answers the most common questions from prospective students?
What are the top 3 goals of your conversational marketing program? (i.e. where do you want qualified prospects to be directed?)
Do you have enough content offers for prospective students at the top, middle, and bottom of the funnel?
These are just a few starters, and to build a great conversational marketing program takes serious coordination of content to ensure that you are offering what the user wants, and that you have a variety of content pathways available.
Keep in mind your admissions team may not be ready for live chat — and that's okay! A chatbot is a great first step in making it easier for prospective students to get the answers they want, and with less friction.
And that brings me to the next important short-term action that will generate big long-term impact…
Reduce friction by eliminating dead ends and potholes
There has never been a more important time to fix your school's website pages and email communications to eliminate the two biggest friction points for prospective students: dead ends and potholes.
A dead end is any communication channel that does not provide another leading pathway to more content. For example, this article from JMU about how their Nursing Program is adapting to virtual learning doesn't have any inbound links or calls-to-action (CTAs) to relevant content: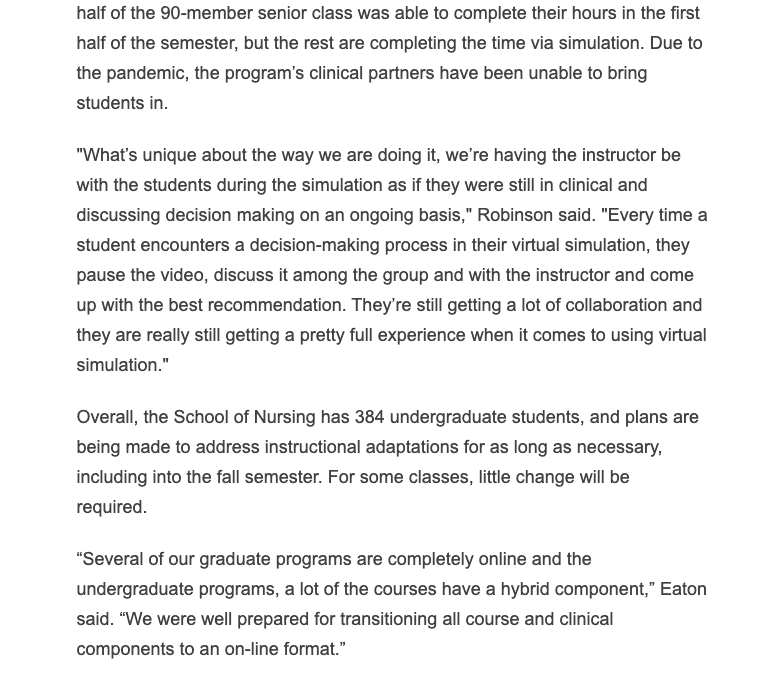 Don't fall victim to the false hope that your website has great navigation or side-bar options — those are not intentional, leading pathways. To eliminate dead ends from a user-experience point of view, you have to have clear and relevant links to content offers, articles, informational pages, videos, stories, and other resources that appeal to prospective students at all three stages of the Applicant Journey (awareness, consideration, decision). In marketing these are called "secondary content offers" and you want to make sure you always have them available along every possible pathway a potential student might take.
PRO TIP: Go beyond your website and take a look at your email communications - especially triggered confirmation emails - because often those emails do not have links to any secondary content offers.
The only thing worse than a dead end is a pothole, which refers to any high-friction point that requires more work than it's worth to get the desired information. Potholes can be school site pages that require lots of clicks to get basic information, or links that direct people to pages that are not contextually relevant to what the link implied.
Potholes are where prospective students get stuck and frustrated with your site.
When prospective students looking for answers hit potholes on your website, they often hit the back button and bounce from your site, which not only hurts your SEO, but also leaves a bad taste in their mouth with your brand. From there, they will do one of two things: (1) they will find the answers somewhere else (e.g. on social media), or (2) they will give up and look at another school.
Now is the time you should be doing whatever it takes to fill the gaps in your user pathways and eliminate as many dead ends and potholes as possible. If history is any indicator of the behavior of prospective students during an economic recession, there will likely be new audiences of prospective students in search of academic options that will change their future life projections.
If you work in enrollment management or institutional marketing/communications, your best chance of success is to reduce these friction points to make it as easy as possible for people to find what they are looking for.
By the way, as you go through this process, you undoubtedly will realize you don't have a wide enough variety of content offers to fill your gaps, which leads us to the next critical action item you can work on today that will provide evergreen value...
Develop more premium content offers and create a resource hub
If you're not already familiar with the term "premium content," it refers to any rich or long-format content that holds high value and is educational in nature. Think eBooks, instructional videos, recorded webinars, financial aid/tuition calculators, pillar pages, FAQ guides, virtual tours, etc. And you need these "lead magnets" now more than ever, thanks in part to COVID-19 and the fact that people are going to be very hesitant to attend in-person recruitment events.
In the old "normal," schools could heavily rely on a few big events to bring in the majority of applicants. Those days are done, and while live events will eventually come back, the "big" part might not.
Are you willing to wait to see how things pan out, crossing your fingers in hope that everything will return back to the old normal?
Maybe, but why not take this time to add more premium content resources and build a comprehensive resource hub that provides answers and information for any prospective student interested in any degree program, at any stage he/she might be in the Applicant Journey?
Here are some great examples of schools with compelling resource hubs that generate valuable lead conversions and prospect engagements every day…
Keep in mind it takes time to build a comprehensive resource library that answers the most common questions and concerns of most prospective students for your school/programs! Do not worry if you only have a few resources to start with. See what you have already (could be in print format) and convert it to digital. You just need 3 or 4 resources to start your "hub" of a library.
Don't forget that you need to add several (and by several I mean dozens) links to your resource hub from other website pages. These should be button-style CTAs, image CTAs, hyperlinked text, and even additions to your drop-down navigation menu. A good rule of thumb is a minimum of 5 links per resource. That means for every resource in your hub, you should have 5 inbound links to the page.
And don't forget about links from your resource hub page to other pages. This is typically done in the style of "Other Helpful Links" or "Can't find what you're looking for?" — and from there you link to events or easy ways prospects can connect with you.
And connecting with you is the next most important area of improvement you should be augmenting today that will have lasting impact…
Make it REALLY easy to book a 1:1 meeting
Virtual events, like webinars, are good and now considered a standard student recruitment tactic. But many prospects, especially those who are more interested and further along the applicant journey, are looking for more one-to-one interaction.
If you don't already offer prospects the ability to schedule 1:1 meetings directly in the calendars of your program coordinators/counselors, you need to get this set up and added to your toolbox very soon.
While this is not a new technique, and there are several software tools (e.g., HubSpot, Calendly) that make this fairly easy to get set up, it is surprising how few admissions teams are actually using direct-to-calendar meeting tools. (BTW, both HubSpot and Calendly offer free versions that connect directly with your Outlook 365 or Gmail accounts!)
Here is an example of what my own book-a-meeting link looks like: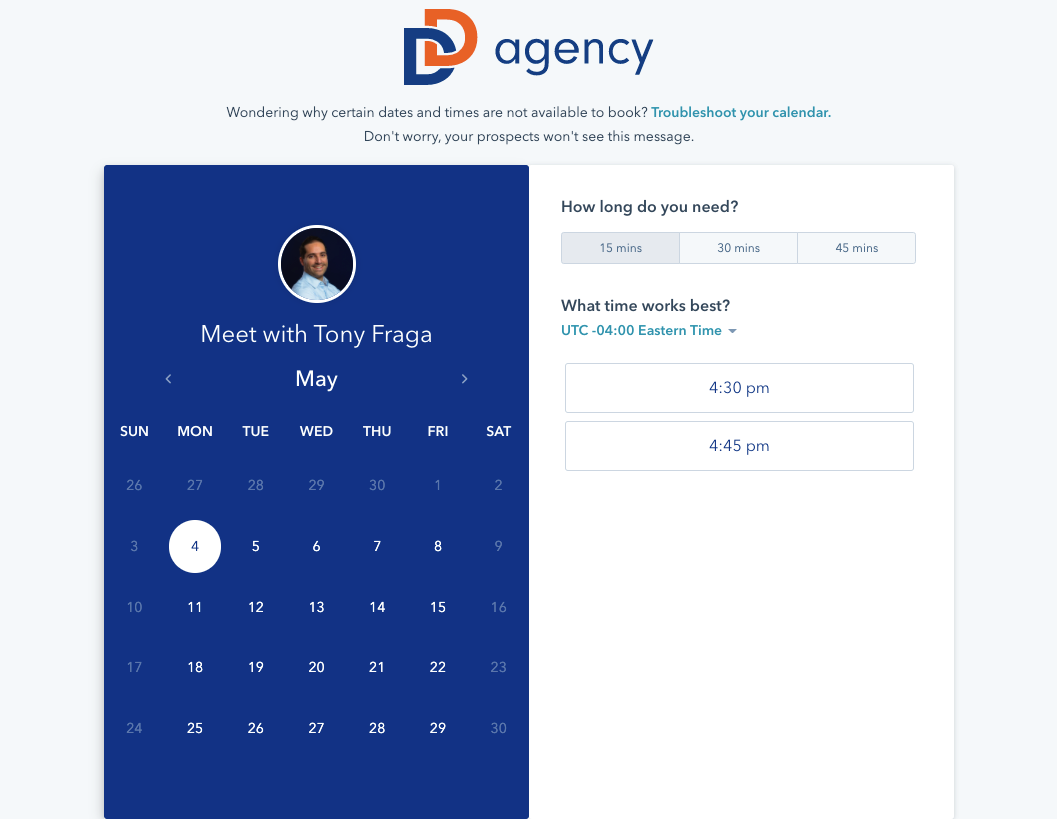 If prospective students have to send you an email or fill out a form on your website and then wait to get contacted by someone, you're creating too much friction.
In order to reduce friction and make it easier, prospects need to be able to do the following to book a 1:1 meeting with a real human:
The ability to click a link directly into a calendar view with dates and available times for meetings
The ability to choose from different meeting lengths (e.g. 15 or 30 minutes)
The ability to receive an automatically triggered confirmation email with the contact info of the admissions representative
The ability to add the meeting to commonly used calendars (Outlook, Gmail, etc.)
The ability to send a notification email to the admissions rep with the prospect's information
The ability to send reminders to both people, with clear instructions for how to connect for the meeting (Zoom, Phone Number, Etc.)
By the way, this offering pairs very nicely with a chatbot because it enables the chatbot to send interested prospects directly to the appropriate meeting links for the right person they should be connecting with. And all of that can happen without requiring labor-intensive live coverage on hand all day long.
All of these ideas are things you really need now more than ever, but they also will be useful student recruitment tools you will want to maintain throughout the entire year, with only minor updates periodically.
I offer these not as "reactive marketing" to the current challenges, but more importantly as prudent strategies that will help you win both the short game and the long game!