A couple of weeks ago, I was searching for an affordable flight to the United Kingdom for a summer vacation. I was looking into an itinerary that included some time in London, Edinburgh, and Manchester.
I asked Google for some recommendations on where to go in Edinburgh (since I've never been there) and was intrigued by the relatively new "trips" tab on Google Mobile search. I found a Google-created itinerary called "7 days in the UK" that mapped out exactly how long I should spend in each city, a list of websites to book affordable hotels, and reviews on places to eat, and adventures to experience, via Trip Advisor.
In no more than ten minutes I knew where to go, how long to spend in each location, and how much to budget for air travel, hotels, food, and fun.
We're living in a time where every barrier that prevents us from accessing the information we want, in the way we want, is being knocked down. Search algorithm updates like Google's Quality Update and new devices like Amazon's Alexa were created not only to deliver us authentic answers to the questions we ask, but also to intuit what we'll ask next — all in a matter of seconds.
As search continues to evolve at such an exponential rate, it's important that enrollment marketers stay "in the know" about how these changes are affecting student recruitment. Here are three crucial things to keep in mind:
People expect more from searching less
Today, when it comes to search, convenience is king. It's no longer enough to have content that is Pulitzer-worthy and personalized; you need to have content that is Pulitzer-worthy, personalized and fast. People expect more from searching less.
When it comes to student recruitment and enrollment marketing, we need to get away from the idea that there is one way to reach all prospects.

Sure, our communications mix might include email, social media, digital ads, and direct mail, but more often than not these messages fail to be crafted in a channel or platform-specific tone (that is also personalized).
We mistakenly take our marketing messages and squeeze them into the restraints of the channel or medium, rather than take the time to design a unique message for the specific channel or medium. Snapchat has revolutionized what it means to design app-specific content and other networks and search engines will follow suit sooner than later (yes, I'm thinking about Facebook Instant Articles and Google AMP here).
The challenge for enrollment marketers today is to intelligently design a variety of pathways in an assortment of formats that help nurture prospects along the applicant journey in a way that is highly-personalized, notably-fast, and ridiculously-helpful.
It's important to understand how millennials actually search and interact with content
One of the challenges many enrollment managers face when it comes to implementing their marketing campaigns is a lack of understanding of how prospective students actually research on the internet. It's important to think about the barriers to entry in the admissions process.
Making the decision on where to go to college, or where to pursue a graduate program, is a BIG decision that requires A LOT of time, research, and discernment. Answering these questions is not as simple as launching a couple of display or social media ads with the infamous "Apply Now" call-to-action. Instead, your approach is more akin to the dating process — you engage your prospects with relevant (attractive) content and prove your worth committing to.
According to a study conducted by Fractl and BuzzStream, 48% of millennials consume more than 10 hours of digital content a week, and 35% of them are searching/reading this content between the hours of 8:00 pm and 12:00 am on weeknights.
If you're a graduate school looking to increase your applicant pool, it's important that you understand when your target audience is actually online as this should influence the timing of your social promotions, the deployment of your emails, and the hours you should be available for online webchat.
You can simplify the inquiry process and increase personalization by creating shorter lead forms
Your marketing strategy should help to reduce these barriers by publishing rich content that thoroughly answers the questions your personas have about time, money, curriculum, and job opportunities post-graduation. In exchange for this helpful information, you want to ask for "bite-sized" pieces of information (e.g. first name, last name, email, program of interest, etc.) along the way.
Millennials are 44% more likely to trust industry experts, and they are 247% more likely to be influenced by blogs or social networking sites that are regularly maintained and managed by reputable brands. Enrollment managers are starting to understand the importance of adopting a publisher's mindset, which is helping schools set themselves apart as rich resource centers that hold the keys necessary to unlock questions at the awareness, consideration, and decision stages of the applicant journey.
By using short-inquiry forms that gate your premium content resources, you will be able to build intelligence on who your website visitors actually are and what it is they are looking for. From there, you can use smart content (variable forms, images, and pockets of text), to cater the content on a particular page to the page viewer.
Here's how Smart Content works:
If Prospect A is interested in an MBA, she should see a promotion for a "Guide to Getting an MBA" on the right-hand side of your blog. If Prospect B is interested in counseling, he should see a promotion for a "Guide to Getting a Master's in Counseling" in the same place.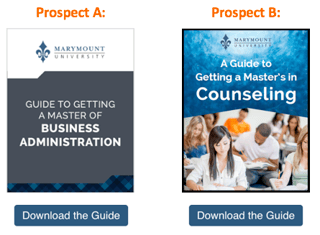 I think it's time that we pause and critically reflect on how we search for information. It's funny how we often spend our time and budget on efforts that we're told are "right" (like space ads, large display ads, and other SEM efforts), but that often produce underwhelming results. The fact is, the way we search is less of a generational thing and more of a twenty-first-century human thing. We have incredible tools, gadgets, and data at our disposal and therefore we expect information to be fast, relevant, and quality.
When we're planning our vacations we don't want to be "sold-to" — we want to be helped. Does not the same hold true when it comes to advancing our careers or furthering our education? If brands like RedBull and Dollar Shave Club have to invest time and effort into producing engaging content to sell energy drinks and razors (that cost all but a few bucks), how much more time do we as enrollment managers need to invest to "sell" an education (that costs tens of thousands of dollars)?
Everyday we search for answers to our problems, for photos to make us laugh, and for videos to inspire us; search has enabled us to better understand our identities and grow in confidence that the direction our life is headed in is the right one.
It's time we take an audit of our current enrollment marketing strategies by stepping back and honestly asking ourselves, "Is our marketing doing enough to help prospective students make the decision on if, when, and where to pursue higher education?"
This is not a question to be afraid of. The enrollment marketers who are taking the time (monthly and quarterly) to assess the "metrics that matter" are also the ones seeing the best results from their efforts.