Before we dive into how HubSpot can help your school increase its organic search rankings, let's get a few quick definitions out of the way.
Organic Search: the unpaid search results that are ranked based on their relevance to the user's search query, links and domain authority, and other organic ranking factors.
HubSpot: marketing software to help you grow traffic, convert more visitors, and run complete inbound marketing campaigns at scale.
Now that we're all on the same page, let's get started with explaining how to conduct keyword research so that your content can rank on the first page of the search engine results page and you (hopefully) get more eyeballs on your content.
Conducting Keyword Research with HubSpot
Before crafting any content, whether it's a blog post, downloadable eBook, or pillar page, conducting keyword research is crucial to ensure that you're using language that users are typing into their search bar. Once you have your content topic in mind, this research is the vital next step.
If the titles and headers of the content being produced contain words and phrases that aren't being searched, then the organic search traffic to those pages will be very minimal, or possibly nonexistent, which means your content is unlikely to be found by users. To find popular search terms and their respective keyword difficulty – how hard it will be to rank for that keyword phrase – use HubSpot's SEO tool and navigate to the Topics section of the tool. Then go to "Add a Topic"...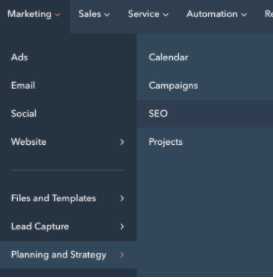 In the "Add a Topic" section of the tool it pulls in keywords and phrases that are most relevant to the domain that's connected to the platform and it displays two very important metrics: Monthly Search Volume and Keyword Difficulty. IMPORTANT! — If a search term has a keyword difficulty above 80, that typically means it's too competitive and without initial traction on these terms, there's little chance for growth.

PRO TIP: If the keyword phrase has a difficulty below 80, is relevant to what your university or program offers, and has an average monthly search volume above 320, it should be the primary focus of the content you create around this topic.
Once the content topic and primary keyword phrase are established, the next step is to find the supporting topics that will help bolster the authority of the content focal point (centerpiece). To do this, continue going through HubSpot's Recommended Topics and find other phrases that relate to the centerpiece.
Let's use Baylor University's School of Social Work as an example. They created an entire pillar page about a "masters in social work," a term that has an average monthly search volume of 12,100 times a month. They then found supporting terms that were subtopics of the centerpiece. These terms were more granular and covered topics like "social work myths" and "the values of social work," both of which are searched about 50 times a month, but are meant to serve and support the larger topic of "masters in social work."
The Benefit of HubSpot's Topic Cluster Tool
In the Baylor's School of Social Work example, the content centerpiece and all 13 of the supporting topics they blogged about were placed into HubSpot's Topic Cluster tool.
This tool shows the centerpiece in the middle and then all of the supporting topics around it with the subtopic phrases and the content piece in which they exist. Check out Baylor's topic cluster below: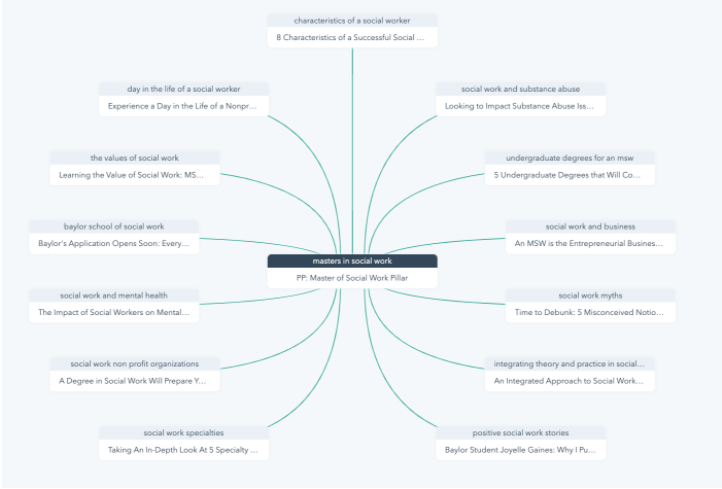 As you can see, "masters in social work" is the centerpiece and "PP: Master of Social Work Pillar" is the content piece that serves as the comprehensive resource about this topic. All of the supporting pieces have their own keywords that are subtopics of the centerpiece and have their own blog posts that ALL link back to the pillar page, using the keyword phrase "masters in social work." An example of a supporting piece is the 8 Characteristics of a Successful Social Worker, which was picked because of the keyword phrase "characteristics of a social worker," which is searched about 320 times a month. In the second paragraph of the post, there's a link for "masters in social work" which leads to the pillar page when clicked. This technique ropes the authority of both pages together, increasing the chances that Google will rank Baylor's content higher as it relates to this topic.
Tactical Tips for Getting Started
Thinking about where to start can be quite the challenge, especially if you're working with multiple programs, so here are 5 quick tips to get the ball rolling:
Pick 3-5 core topics based on the quantity of raw content that you've already published. The less you have to do from a creation standpoint, the quicker this can get off the ground.
Determine the subtopics for each by drilling into what is most relevant in the Recommended Topics and what could support the centerpiece by adding more detailed information.
Create the content using the keywords in the titles and throughout the post where appropriate.
Utilize Topic Clusters to ensure there are enough supporting pieces for each and that they all link to the core piece.
Report on position changes in search results over time to measure whether these pieces have risen in organic ranking for a variety of terms
If you're looking for even more detailed insights into search terms, ranking positions, and growth, check out tools like SEMrush, Moz, or Google's keyword tools (free). If you have any questions as you're getting started, or even shooting for the next level, please don't hesitate to reach out to us.
Looking to increase your organic search rankings? Watch our on-demand SEO Webinar to make a game plan.