As an enrollment marketing manager, you're in a role where art and creativity meet science. Your colleagues on campus are frequently asking your favorite question: "How are the numbers?" At the same time, you're leading a team of creatives or you might be a mighty team of one. You're pivoting between skills and strengths all day long.
While there's no magic formula or secret life hacks to higher education marketing, there are a few simple tips that can help you day to day.
1. Be confident that you are an expert on your institution.
You've become an expert on your institution. You can list programs, degrees, and schools. You can rattle off ratios and rankings. If there's anyone on campus who is an expert, you're definitely high on the list.
We know you're the expert. Our first tip is to head into every meeting, report, and campaign knowing you're the expert. Want to test yourself? We think you'll ace it.
You Know Who You Are
Faculty Expertise: What are your professors really, really good at?
Program & Industry Growth: What programs are on the cutting edge?
Student Influencers: Who are the on-campus superstars?
You Know Who You Are Not
Competitors: Where do we sit in the competitor set?
Deciding Factors: Why do your prospects ultimately decide against your institution?
Flag on the Play: Often, the things you stop from happening have the biggest impact.
Most importantly: are you leveraging your ability to answer these questions to influence your enrollment marketing content?
2. Making friends on campus = success in higher ed marketing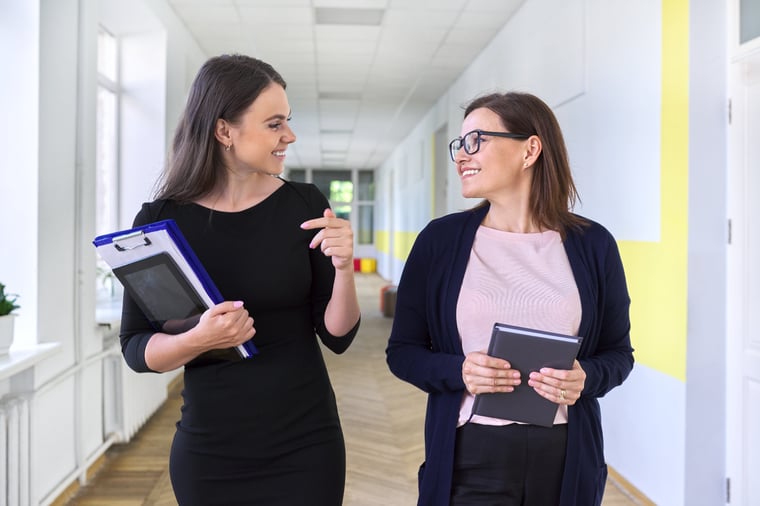 You can tell your boss that DD Agency said to take a walk to the local coffee shop. More importantly, invite a colleague to join you–one that you don't often talk to outside of meetings and emails.
The relationships you build between colleagues on the administrative and faculty side will always help you in the long run. The next time you're in a bind, you have a network that extends beyond the office suite in which your team works.
The knowledge that you can absorb from the casual, regular check-ins can help you in your enrollment marketing role. You'll hear about interesting student projects or new hires with fascinating backgrounds. You'll learn things that would never come up in monthly department meetings and meet people who may have never signed up to work at an open house.
You might find that the greatest impact will be on you personally. Having a network of colleagues who share some of your interests and value similar things is important to having a healthy relationship with your work. You and your colleagues share a common goal and it's important to align your team. Even if you never see them off-campus, having trusted friends you see regularly will inspire your work and mission in higher ed marketing.
3. Reuse + Recycle + Recurring to reduce your admission marketing stress
It's no secret that in order to be a successful enrollment marketing manager, you have to produce lots of content. Emails, social media, blogs, landing pages, merch; they all wind up on your desk. Even with the largest teams of creators, it's difficult to check everything off your to-do list.
Pro tip: start stealing content to make your life easier.
Recycle marketing content you've already created:
Look at every piece of content you create through the lens of creating something else. Can the blog be deconstructed into multiple social media posts? Can the news story make it into an email? Did you create a really clever email subject line and can that become the caption on a Tik Tok? Get more life out of the things you create to save yourself time. Steal from yourself!
Reuse content created for enrollment marketing:
As much as we wish it was true, all eyes are not on you at all times. When your marketing messages are important, like event information or deadline reminders, make sure you're sending those out more than once.
Try varying the times you post or send messages to catch people at different times of the day. If your first message was lengthy, test out a brief version. If you used campus imagery the first time, try using a designed graphic next.
At the same time, if there's a strong brand or mission message, feel confident in posting that more than once. Consider rephrasing the message or adapting it to different audiences but don't let the content go unnoticed. It's important for your messaging to be consistent and cohesive across all platforms.
Pro-tip: make sure you're still adhering to enrollment marketing best practices. Avoid emailing too frequently, posting links in Instagram captions, or keyword stuffing in blog posts.
Set recurring reports to manage your data:
When was the last time you were asked, "How are the numbers?"
For some people on your campus, just seeing you is a reminder of the important work you're doing in admissions marketing. That said, the question can still be cumbersome to answer day after day. To save space on your constant to-do list, set reports to deliver to your inbox weekly.
Many tools like Hubspot, Slate, TargetX, and other enrollment CRMs and tools allow you to create reports and regularly receive updates. This will take the need to track the numbers down off your list.
The next time someone asks, "How are the numbers?" you can report the latest and greatest stats or use the moment to rally them for help.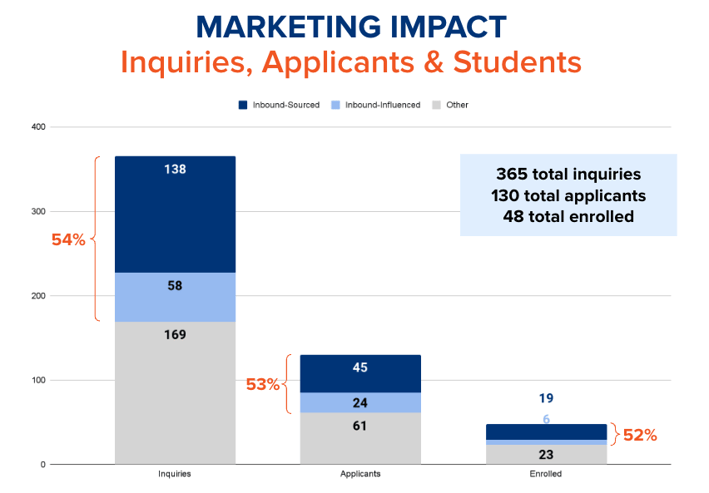 4. Practice enrollment marketing self-care
It's no secret that higher education enrollment is a tough job. You're an admissions expert, a marketing magician, and an advocate for higher education. It's important to take a minute (or an hour, or a weekend) for yourself– early and often! Here are some enrollment marketing self-care tactics you can try:
Silence your notifications outside of work hours. If they really, really need you, trust that they will get a hold of you.
Colleges and universities are historically some of the most generous employers when it comes to PTO. Use it! You know your recruitment cycle best, find the sweet spot for taking a day, or week, off.
Research employer-sponsored wellness programs offered by your institution. Many colleges offer mental and physical wellness reimbursements or subsidize the cost.
Try a digital detox. You're being reminded of work even on your personal channels on your own time. Shut it off completely by going phoneless for a weekend.
5. Know when to ask for help in enrollment marketing
Success as an enrollment marketing manager can mean many different things. It can mean reporting positive ROI or KPIs to your supervisor or board. It can mean creating a healthy and engaged community of prospective students. It should also include a happy and healthy you.
Whether you're a mighty team of one or one of many, there are simple and free things you can do to be successful in higher ed marketing. There are also places you can go for help.
Find Out the Freshest Industry Benchmarks
Do you know how prospective students are engaging with email? How are virtual events affecting recruitment? Are you considering all three prospective student stages when creating content? Look no further! See how your institution stacks up against other schools across these primary marketing tactics.
Download our free guide, DD Agency's Deep Dive: Enrollment Marketing Benchmarks Report to learn:
Benchmark data for four primary marketing tactics: event marketing, email marketing, digital advertising, and content marketing
New behaviors of prospective grad students as they research and journey through the applicant funnel from initial interest to application completion
Specific insights on which tactics are the most effective in engaging and converting prospects at all stages