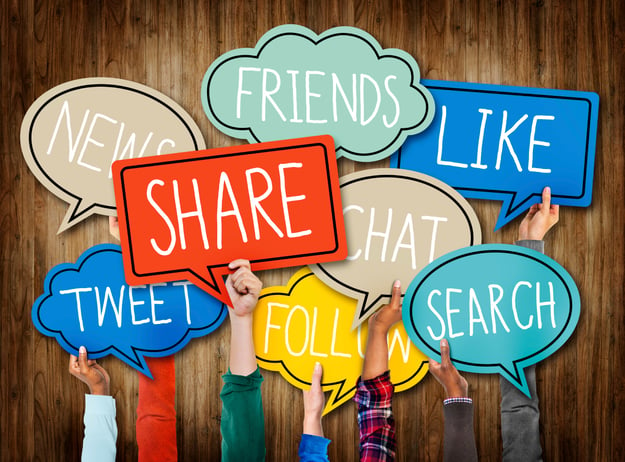 It seems like social media statistics are always changing. So how do you keep up on the latest trends about what other colleges and universities are doing with their social media strategies?
Rather than scour the internet reading stats from dozens of different sources, I like to use data from surveys that show trends across a variety of industries. That enables me to compare my industry with others so I can gain better insight into what's working and what's not when it comes to social media.
HubSpot recently published its 2015 Social Media Benchmarks report, which has data from over 7,000 real-world businesses and how they are using social media for marketing. The report includes information about posting frequency, interactions per post, average social following, posting by network, and several other metrics.
Here are 10 benchmarks and takeaways that higher education marketers should pay attention to:

If you thought that increasing your posting frequency would lead to more interactions, think again. Out of 9 industries represented, the nonprofit/education industry has - by far - the highest interactions per post as well as the highest number of social followers.

Yep - that's right! This includes posts across all social networks and includes all formats (text, image, video, etc.).

That means, if you consider that the average total posts per week is 8.5, less than HALF of these posts contain images.

So, if you're posting to Facebook about 3 days each week, you're doing what the average institution is doing. This also means, when you consider #2 above, that you need to be posting on other networks to get to the average of 8.5 total posts per week (that is, of course, if you are just trying to be average).

If this is surprising to you, remember that it is common to post more frequently to Twitter because most users consume content on this network "in the moment" and then move on.

Compared to the other 9 industries in the report, the nonprofit/education industry uses Facebook more prominently than all other industries.

This includes all followers on Facebook, Twitter, and all social users who belong to an institution's LinkedIn groups. Still, this means there is a huge opportunity for schools to take advantage of their large followings to get content out there about their programs.

This is about 3-4x higher than ALL of the other industries!

If your institution has less than 25k followers, you've got some catching up to do! If not, give yourself a pat on the back — and then go and get even more!

This is an important benchmark to remember, especially if you are wondering if your social messages are getting enough traction. Note that by "interaction" that means any measurable action, such as likes, shares, comments, retweets, favorites, etc.
These are just the top 10 key takeaways I found from the report, and you can download the full report here.
Keep in mind that it is very important to find the right balance between posting frequency and posting type that works for your department. Social media marketing is definitely not a "one size fits all" strategy. Because there are so many different student personas that have very different social media behaviors, having a custom strategy is imperative in order to improve your results — and in order to start seeing some real social media ROI!
Want more marketing benchmarks from 2015? Check out State of Inbound 2015!