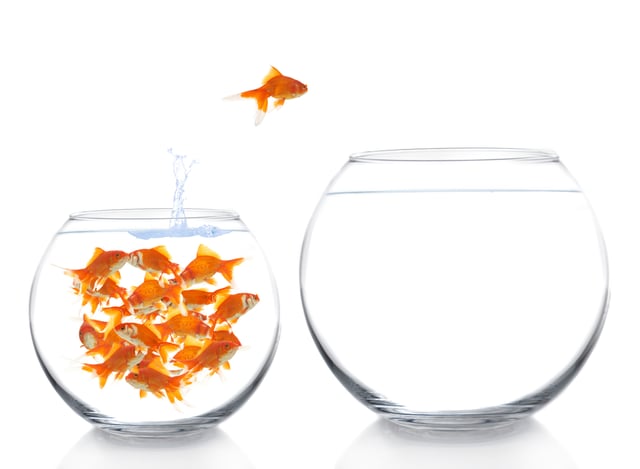 If there were one thing you could do right now to drastically improve your institution's inquiry generation efforts, it would be to use landing pages throughout your school's website.
Many university websites are chock-full of very general information, and as a result they can be hard to navigate. Landing pages provide an easy way for website visitors to find the content and information they are looking for. More importantly, landing pages reduce the options visitors can take, thereby increasing your ability to direct their next step and track their specific interests.
As a result, landing pages are highly successful at generating new inquiries by getting mere visitors to convert into prospective students.
Creating multiple landing pages allows your institution to target specific student personas within a general audience, offer them something of value, and convert a higher percentage of your website visitors into solid inquiries — while also capturing information about who they are, what they care about, and what other interactions they may have previously had with your school.
Here are six steps to follow in order to generate more inquiries from your landing pages:
1. Clearly identify the purpose of the page
In other words, don't make page visitors have to think too long about what you want them to take away from a landing page. The purpose for every landing page should be to nurture a visitor to the point where they take your desired action — subscribing to a blog, downloading a resource,or RSVPing for an information session, for example. Using copy that is compelling and concise will help clearly spell out whether this landing page is (or is not) relevant to the user.
Here's an example of a landing page from Grammarly that clearly spells out its purpose:

2.

Create eye-catching headlines
You don't need to be a master copywriter to create landing pages headlines that will work, but you do need a good understanding of how people scan website pages. Having an attention-grabbing headline is essential, as latest statistics suggest that you have less than two seconds to give site visitors an understanding of what your page is all about.
We all know that first impressions are formed quickly, and the headline on your landing page is a big part of that impression. It's important to test and see what resonates most with your visitors. There is no magic formula, but here are some basic criteria that all headlines should meet:
attention grabbing
contextually sound
address a hurt point of the target persona (e.g. Download [this guide] to solve [this problem])
act as a precursor to the "About the Content" section
3. Offer a piece of compelling content
The easiest way to get conversions is to have an offer that is, well, incredible. Make sure whatever piece of premium content you are offering is relevant to the specific student personas you are targeting. If website visitors find that your content helps to meet their needs, solve their problems, and answer the questions they face when considering a college or specific graduate program, they will be willing to give you some of their information in exchange for access to this rich content.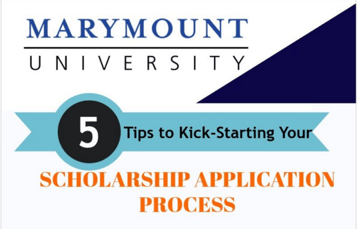 4.
Ensure the call-to-action is relevant
The problem with many institutions' landing pages is that they are typically clustered with competing graphics, headlines, and images — some of which are relevant CTAs, but many which are not. Visitors have too many choices and can go in several different directions on your website.
CTAs on your landing pages should be clear and obvious, and visitors should know what they will get (more or less) by taking the said action. There should be no question as to what next steps are necessary – tell your visitors exactly what you want them to do in big, bold text.
Here's an example of a simple, relevant CTA from a startup called Pocket:

5.

Optimize every landing page with relevant keywords
Like any other type of inbound marketing content, keywords should be used in a landing page's title, headers, images, and text to best optimize it for search engines. When developing landing pages on a regular basis, it can be tempting to get lazy and not give much thought to a landing page's meta description, social sharing text, and even the back-end name of the page. Don't give into that temptation!

As search engine algorithms continue to change, it is important to do whatever you can to make these bots happy and clearly inform them what the page is all about. Optimizing landing pages with relevant keywords will help these bots match your institution's content with the appropriate websurfers.
6.

Simplify forms — make it easy to convert
One of the pitfalls most higher education institutions fall into is asking for too much of a visitor's contact information too soon. A prospective student checking out your school's website is not going to be okay with taking the time to fill out a form with twenty different fields in exchange for an eBook on your school's nursing programs.
It's essential that the amount of information you ask for from a website visitor directly correlates to the perceived value of the content. For example, free resources that a website visitor will perceive as highly educational and helpful (like the aforementioned guide to financing graduate school) should be gated by a form that contains more fields than a form gating access to, let's say, an infographic.
Here's an example of the difference between a blog subscription form and a downloadable resource form (from one of our aforementioned clients):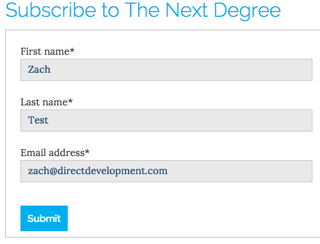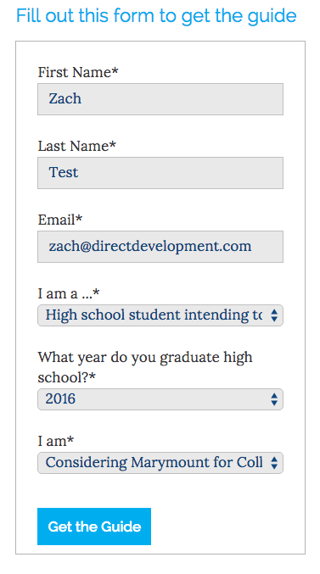 Finally, landing pages not only enable you to generate new inquiries, but they also allow you to track the re-conversions of existing inquiries. Such tracking enables you to know the frequency with which various inquiries are interacting with you — which in turn will help to give your enrollment team great insight into which inquires might be worth following up with.
Landing pages are critical to the success of your inbound marketing lead generation efforts. Following these six steps will enable your enrollment management team to better optimize your landing pages and increase the quantity — and quality — of your inquiry pools.
Want to see more successful landing pages?
Download our 5 Landing Pages that Rock guide.