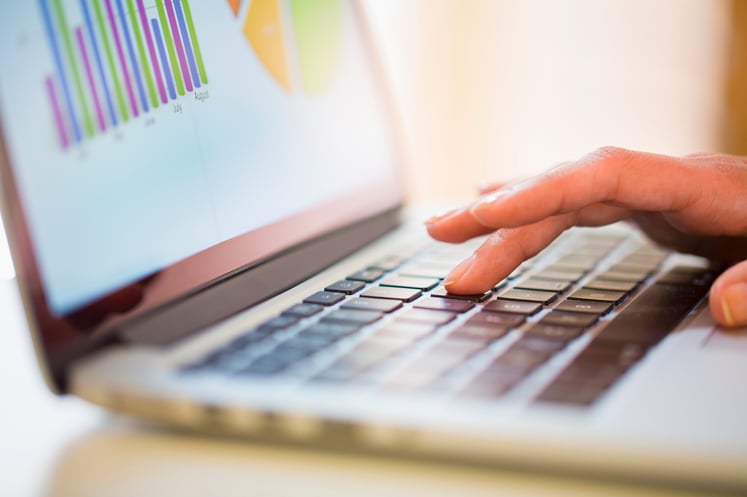 Anyone involved in higher education marketing needs a well-developed strategy in order to effectively attract and maintain relationships with prospective students. But in order for that strategy to be effective in an ever-changing media market, enrollment managers need to be aware of evolving media trends.
How will social media platforms like Facebook, Snapchat, and LinkedIn double as publishing platforms? How will the use of mobile devices affect how students view created content? How will email and ad-blocking capabilities affect how students receive university-specific information?
Questions such as these require answers, but most of all, they require that enrollment marketers become experts on the current and future projections of media usage.
Here are seven trends you and your enrollment team should be aware of.
1. Email
Are you crazy? Why would I subscribe to another newsletter?: When the reality is that many of us receive countless promotions and newsletters that look like clones of each other, you probably wouldn't. But according to Contently, there are ways to make even the most cynical email user subscribe to another newsletter. The Daily Positive, for instance, provides an automatic, pop-up capture box that is both easily accessible and attention grabbing.

Why you should care: One effective way of attracting and converting new students lies in digest-style email newsletters, and one of the most important factors in launching an enrollment marketing newsletter starts with making the subscribing process attractive and easy. In order to make students seriously consider subscribing to another newsletter, utilize a fun and "quippy" capture box that briefly explains what the newsletter will deliver.
2. Smartphone Apps
There's an app for that … but will I use it?: According to Nielsen, smartphone users between the ages of 25 and 49 are most likely to access a variety of apps. Younger Millennials, though, are using fewer apps but are spending more time with them.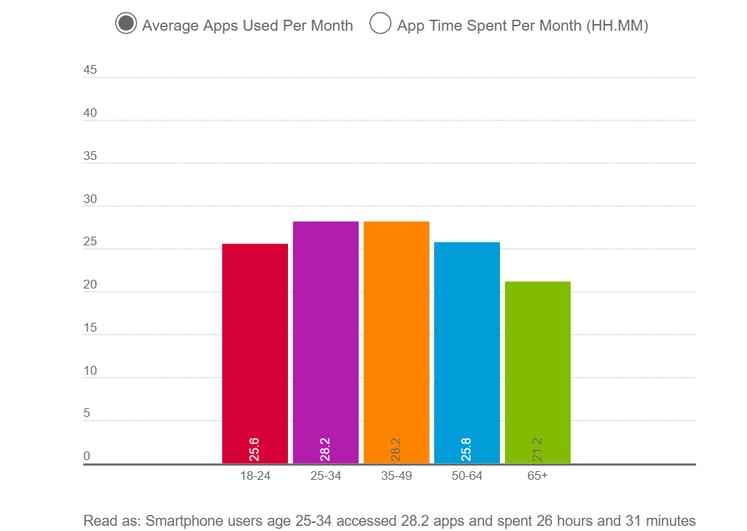 Why you should care: If younger Millennials use fewer apps but spend more time on them, then universities should worry less about making new apps for students to use and worry more about developing content that is optimized for the apps they are already using. (Hint: social media app usage leads by far over other forms of mobile apps, including gaming and entertainment.)
3. Facebook
It's not all about what you ate for lunch and where you're going for drinks tonight: Facebook, the social network that boasts of 1.6 billion monthly users, is becoming less a social network and more a "content network," says Dillon Baker. Facebook CEO Mark Zuckerberg recently explained that he sees Facebook's 10-year roadmap evolving in three stages: from technology to product to ecosystem.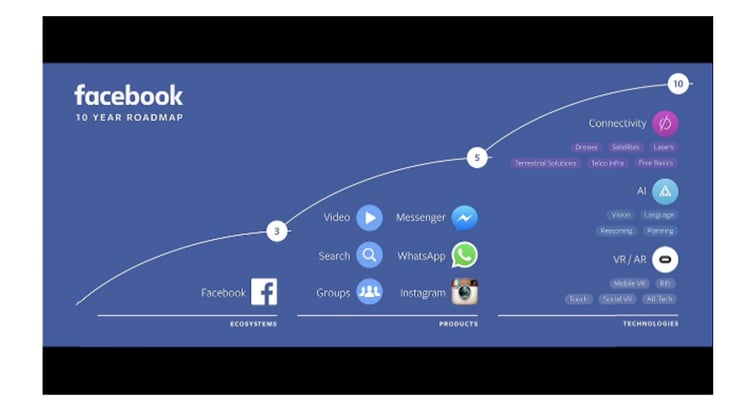 Why you should care: It appears that Facebook is no longer solely a place to keep up with family and friends, but rather, it's becoming a platform to find, discuss, and share the the content you want. Enrollment marketers should take advantage of this opportunity to do just that: share content that attracts and converts potential students by way of a social network that many of their targeted students use.
4. Snapchat
What do Red Bull, Sour Patch Kids, and People Magazine have in common?: We bet Snapchat wasn't your first guess. But a recent study reports that companies are now investing in Snapchat as a platform to target audiences with ads and other content. Another study concludes that 18- to 34- year olds spend an average of six hours each month on Snapchat (right behind Instagram's seven hours but still far behind Facebook's 25 hours).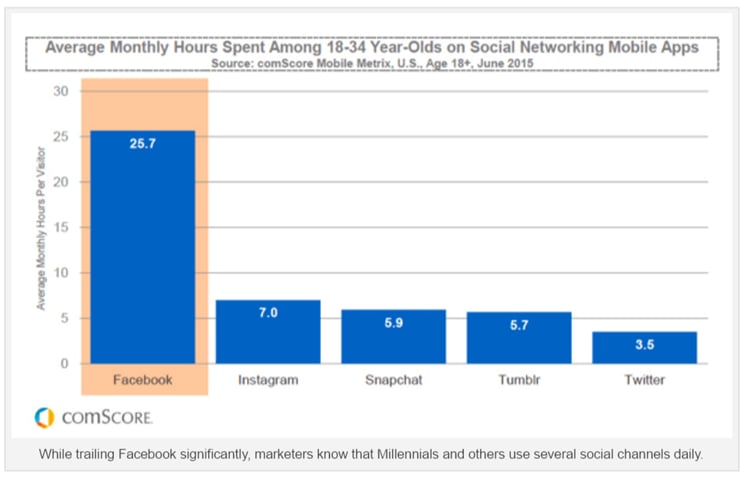 Why you should care: 76 percent of Millennials use Snapchat, so it's no surprise that various marketers have begun to advertise via snaps. While enrollment marketers may be slow to use Snapchat as a way to attract students, the reality is that Snapchat helps bring personality and character to a large institution, promotes events and activities happening on campus, and offers a lighthearted way of bringing informative content to both prospective and current students.
5. Ad-Blocking
What does it mean that ad blocking is a "growing global phenomenon?": Well, according to the Q1 2016 Advertising Benchmarks, it means that "...in order to continue its [digital advertising] global boom the industry needs to ensure clean ad delivery — meaning ads are viewable to the consumer…" While this may seem obvious, marketers need to be keenly aware that more than half of ads worldwide still don't have the opportunity to be seen due to ad blocking, invalid traffic, and low viewability rates across the digital platform as a whole.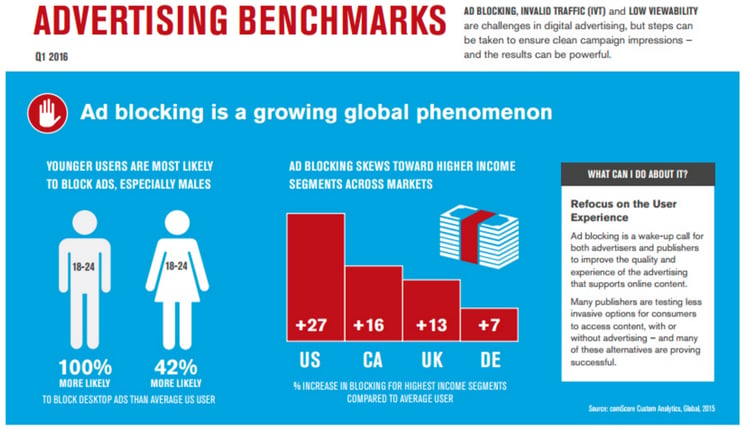 Why you should care: An infographic by Social Media Today shows that younger internet users, especially males, are most likely to block ads. Since users are largely in control of enabling ad-blocking capabilities, enrollment marketers should test less invasive options for prospective students to access content, with or without advertising.
6. Visuals
Seeing is believing: When it comes to consumer engagement, nearly half of survey respondents indicate that the use of visuals — photography, video, and infographics — are critical to their marketing strategies. The use of infographics is expected to increase by 60 percent compared to last year, but the greatest shift will be seen in the use of videos (marketers surveyed believe video usage will increase by 79 percent).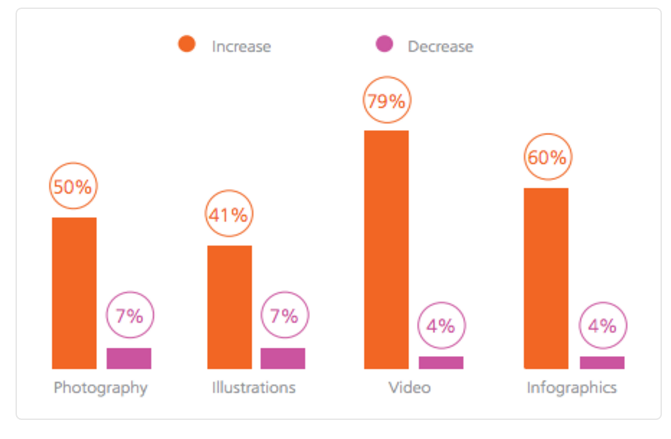 Why you should care: While enrollment marketers have a lot of factors to consider when forming their student recruitment strategy, the use of visuals like illustrations, infographics, and videos should rank a lot higher on the list than it currently does. Visuals should be used frequently throughout the website and in email content as a means of attracting the attention or evoking emotion from prospective students.
7. Mobile vs Desktop
Mobile, Mobile, what's the most used of them all?: As of 2014, mobile is the most-used digital platform, and time spent consuming digital media on mobile has only continued to grow over the last two years. People aren't abandoning their desktops/laptops completely, but people are spending significantly more time on mobile apps and the mobile web.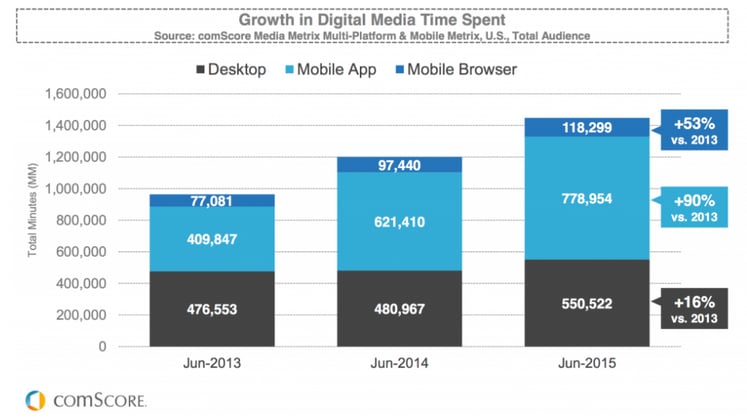 Why you should care: People are increasingly on the go. They get work and research done while on the couch watching last week's Game of Thrones, standing in line at the grocery store, or even after work at happy hour (don't disrespect the half-priced wine, guys). Enrollment marketers should optimize their website and email content — keeping "mobile user behavior and screen constraints in mind."
So there are your top 7 marketing trends to chew on as we near the close of yet another academic cycle. Don't worry, in about six months it's all going to change again anyways ;)
But seriously, enrollment marketers have a lot to keep up with in the ever-evolving landscape of media usage. While the amount of information surrounding media trends can be vast and sometimes overwhelming, an up-to-date awareness of trends in media is necessary in order to stay relevant with today's generation of prospective students.
Want to receive updates like this each week on the latest trends in higher education marketing? Sign up to receive The Minute, a 60-second update that will keep you in-the-know on news and trends in enrollment marketing.