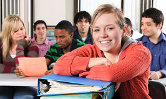 With all the great cutting-edge technologies out there it could be easy to overlook email marketing to your current and prospective students. However, a recent survey of college bound high school seniors found that 66% still check email at least once a day, and with email availability on most cell phones students are checking email more often throughout the day.
Still, gone is the novelty of "shotgun" emailing in the early years of email. Organizations were blasting emails to every possible name and email address in the universe, then crossing their fingers hoping that it would fall in the right inbox. The idea was that the more emails you send out, the more likely you would get inquiries. The problem was that the inquiry responses were either minimal, compared to cost, or the inquiries were unqualified, not really interested and weak leads.
In terms of a university's marketing menu, email isn't the saving factor since the study also found that the majority of them end up in the trash bin. Email cannot stand alone in your marketing efforts but can be a powerful marketing tool in your menu of options.
Here are some tips for successful Email Marketing:
Use What You Know – Whenever possible personalize and cater your message to whatever information you already know (or can capture) about the recipient. For example, if you know a potential student is interested in engineering send them information about that program. Don't send them your boilerplate generic message that includes information about Arts and Sciences and all of your programs.
Get Personal - Personalization is a two-way street. Not only should the personalization be to a specified target but the from should be personalized too. For a lot of our higher education clients we recommend sending emails from a specific counselor. Noel-Lovitz recently did a study and found that 94% of students want to communicate with a university's specific representative before making a decision.
There are lots of great technologies out there for personalization. We use a lot of them for our own marketing as well as for our clients. We have seen tremendous increases in responses just by using people's names, delivering variable content based on interests and sending emails from a specific person.
Follow the "Postal Brick Road" – Email gets great response when it follows a clear, direct-response optimized direct mail package. Email can be a great way to stay connected even if inquiries initially show lukewarm interest and don't follow through with the inquiry. Email is much more effective as a second or third communication effort - especially when direct mail is used to "launch" the initial marketing message. The recipients recognize your name (and the branded theme of the campaign) and are more apt to read the email. Here are some stats from real data we have captured from higher education clients in the last 2-3 years - on average, about 10% of respondents will respond after the initial direct mail launch, and after the first email follow-up that number jumps to 70%! This only works when you send a follow-up email that is properly integrated to the direct mail package and is sent within 2 weeks of when recipients received their mail.
Use Automatic "Trigger" Emails - Typically as much as 80% of inquiries are not followed up and are lost…that's right 80%! Part of the problem is that many universities have a manual process for following up with inquiries. In order to reduce the chance that leads will fall through the cracks, use an automatic "trigger" email to follow up for you. When an inquiry finishes responding to your communication an email is triggered automatically with specific information based on how that prospect has behaved and/or what he/she has shared with your institution.
The institutions that have chosen to rely on email by itself are experiencing a slow reduction in open and click-through results as prospective students get "tired" of ordinary, mass-produced, boilerplate looking emails. Don't eliminate email from your marketing efforts - just make sure you're not sending the same kind of emails that your institution sent in 2002! Email can still be an effective piece of your marketing menu if used appropriately and in conjunction with a full mix of elements including direct mail, web, mobile and social media.
Utilize Formatting For Mobile Readers - Results from recent studies suggest that more emails are going to be opened and read on mobile devices than on traditional computers by the end of this year. However, most click-through rates have remained low or even decreased by as much as 5%. This means that many readers are abandoning before reacting to the call-to-action.
Emails need to be rendered and formatted for mobile device screens. This process, known as responsive design, allows designers to reposition elements, reduce font sizes and reduce content to fit onto a mobile screens. Studies have shown that responsive designs increase click-through-rates which translates into increases in inquiry pools.