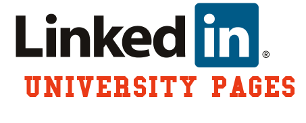 One of the first things I did when starting my college search in my junior year of high school was to look up different universities on Facebook. To be perfectly honest, if a university's Facebook page wasn't attractive, informative and engaging I would cross them off my list. We could go back and forth about whether I should have gone about eliminating colleges from my list this way, but the fact of the matter is I did. Although some universities had engaging content and thousands of "likes", I was disappointed at how difficult it was to learn what current students thought of the university, and more importantly how successful students were in their careers post-college.
Last month, University Pages were launched on the popular social professional networking site, LinkedIn. University pages allow high school students to explore the network at a school that they're considering and ask current students and alumni questions. In addition, University Pages allow students to discover what career path graduates from that university are on, which can be extremely helpful as it gives students an idea of what they can expect after graduation.
How exactly do these University Pages work? Let's say that I am a senior in high school and am very interested in graphic design. I log-on to LinkedIn, modify my search within the drop down menu for "universities", and search "graphic design". My results will show universities whose students have majored in graphic design, but also those whose alumni are actually working as graphic designers. One of the neat aspects of University Pages is that any individual who has listed the university in their education, if the university has a University Page, is automatically added to the university's network. The first thing one notices when on a University Page is a chart with three categories: where graduates live, where they work, and what they do. This is perhaps the most valuable aspect of University Pages, because it allows high school students to connect with students that currently attend the university as well as with alumni. This offers students a glimpse into what their futures might look like if they attend a particular university.
University Pages also offer the option to browse the school's 21 notable alumni and look into the university's demographics and financials. Similar to Twitter, you can "follow" different University Pages. This offers students the chance to receive updates on the schools they may be considering; everything from campus activities to scholarship opportunities.
I was skeptical at first because of my history with the social media pages of institutions of higher education, but after spending a considerable amount of time exploring these pages, I am excited to say that LinkedIn has done it. They've created a clean cut, easy to operate, and aesthetically pleasing tool that will truly help students to discern which university they should matriculate to. The ability to easily view accurate statistics on where alumni work, what they studied, and what they're good at, is something that until now was very difficult to trace. Its one thing for a university's website to boast about the success of their graduates post graduation, but its another to have the ability to actually view an alumnus profile, see what they've accomplished, and start a conversation with them.
LinkedIn's University Pages are going viral with 250 new pages being created each week. The launch of LinkedIn's University Pages opens a whole new window of opportunity for students, parents, and universities themselves. Its not just a web or a social media platform, but a platform that truly helps high school students begin to network, explore myriad career options, and of course make their first big life decision about where they should attend college.