Bear Bryant, the well-known University of Alabama football coach, is famous for his ability to win tight games by adapting his strategy throughout a game. The spirit of adaptation is what made the university successful for many years on and off the field.
So when UA's central graduate admissions office took stock of their enrollment management strategy, they knew that change and adaptation would give them a new opportunity to engage prospective graduate students with dynamic and relevant content.
The graduate school turned to Variable Viewbooks as a way to offer program-specific content to both existing inquiries and new prospects in a timely and efficient manner. In any larger university with multiple programs across several graduate schools, it can be difficult to get the right information to the right prospects. Variable Viewbooks allowed the graduate school to offer customized content in both print and digital formats.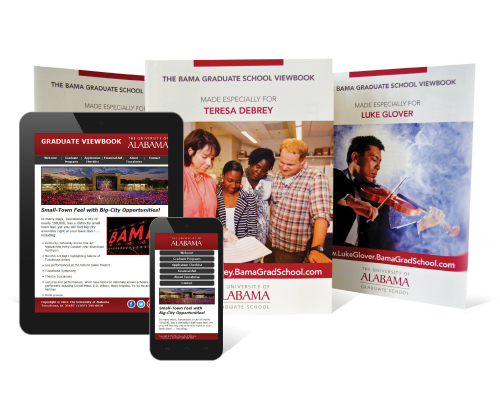 The marketing strategy involved the following 3-step process:
STEP 1: Promote personalized viewbooks via direct mail, email, and website pages.
The first step was to reach out to the university's existing inquiry pool of non-applicant prospects with a variable direct mail package combined with several companion emails that contained a personalized microsite link (PURL) specific to the individual.
STEP 2: Capture unique information about each prospective student on a microsite.
Once the recipient clicked or typed in the link they were taken to simple 3-page microsite with a short survey about their interest in graduate studies.
STEP 3: Deliver personalized viewbooks in print and online formats.
The survey information was used to deliver an immediate "virtual viewbook," which was customized to each individual person. That experience was augmented by a variable print viewbook that came in the mail within approximately 5-8 days.
As with any multi-touch enrollment marketing strategy, there are many important details operating in the background — too many, in fact, to thoroughly describe in one blog post. That's why the crafty content creation team at Direct Development put together the complete story in eBook format for you to download here.
Rest assured, the combined effect of the Variable Viewbooks was very useful in meeting the University of Alabama's primary objective: to increase brand awareness and engagement with the corresponding graduate school and programs that their prospective students actually were interested in.
Below is a summary of the results from the entire marketing campaign, and you can see more images, screenshots, and data in the full downloadable case study below:
High Visit Rate — prospective students achieved over 10% average visit rate

High Conversion Rate — over 50% of all visitors completed the graduate study survey and received personalized viewbook

Large Mobile Presence — 36% responded via a mobile device

Multiple Engagements — on average, a Respondent came back to their Viewbook 2-3 times after first viewing it

Personalized Emails Worked Best — the most read email was an email directly from an assigned admissions counselor with a personal message that automatically triggered after a new viewbook was created
You can download the full case study to learn more about how Variable Viewbooks were used effectively by the University of Alabama's graduate school.