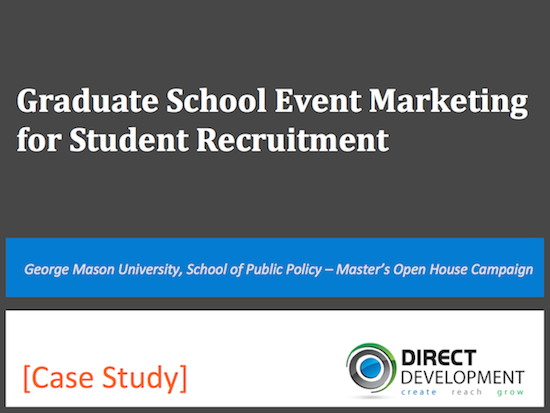 I have an awesome job. Each week, I get to work with a team of dedicated marketing pros at Direct Development. Together we work with great clients, and through our work partnerships we become invested in the goals of the institutions we serve. To top it all off, I get to write about the best experiences in regards to higher education marketing and enrollment managment, right here on this blog.
This week, I want to share with you a marketing success story in the form of a Case Study about a Master's Open House event for George Mason University. Specifically, this recruitment event was for the School of Policy, Government and International Affairs (formerly the School of Public Policy at the time of this campaign) and was led by Travis Major, the Director of Graduate Admissions for the school. This is a real multi-channel campaign that happened earlier this year, so the results are hot off the press.
I had the opportunity to partner with Travis after he connected with me on LinkedIn and from our interactions at NAGAP conferences (the place to be for anyone in graduate enrollment management!). Both the enrollment management team at GMU and the marketing gurus at DD contributed to making this event marketing campaign a true success story for how to attract prospective students using a graduate programs open house.
The Challenge
At the time, GMU's School of Public Policy had only seven master's programs, and needed to promote its upcoming Master's Open House to both existing inquiries as well as new prospects from outside lists. They needed to reach new audiences quickly, and wanted to let prospective students know that the open house was the best way to explore the different master's programs available at their Arlington, VA, campus. The event was about six weeks away when the DD team got involved, so the clock was already ticking before marketing strategy was in place.
The Plan
We came up with a marketing strategy that involved a direct mail launch using a trifold selfmailer, followed by two email transmissions to anyone who had not already RSVP'd to the event. We found highly targeted prospect lists from outside sources and combined those lists with in-house lists of inquiries and some GRE test takers. The goal was to invite all prospects to go to a personalized landing page (microsite) where they could learn more about the Master's Open House, request information on a specific graduate program, and RSVP to the event.
We wanted to capture more than just the people who were interested in coming to the event - we wanted to know the names of everyone who was even a little bit intrigued by the invitation. You know...those stealth prospects who fly under the radar...we wanted to capture those people, too. Essentially, we wanted to track anyone who was visiting the site, clicking through emails, or thinking about a graduate degree in a public policy-related field.
The Results
This was the first time the School of Public Policy had attempted a highly personalized multi-channel marketing campaign for one of their recruitment events. It produced above-average results compared to similar event marketing campaigns conducted by institutions similar in size and reputation to GMU. There were many positive results generated from this marketing effort (too many, in fact, to list in one blog post!).
To get the full story and understand how to execute a successful graduate school event, download the Case Study by clicking the link below!