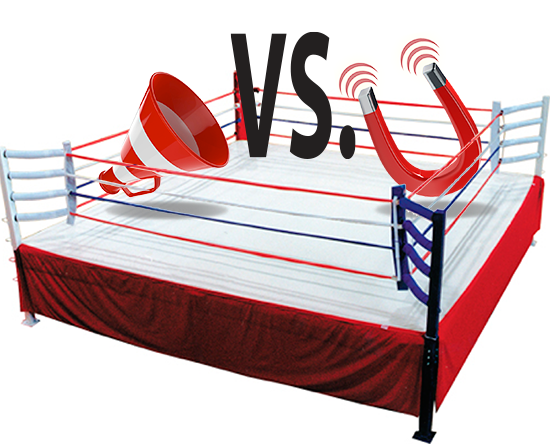 In the world of enrollment management and higher education marketing, most institutions tend to focus primarily on one of the two common recruitment strategies - direct marketing and inbound (content-based) marketing. And it makes sense, because there are many marketing professionals out there who essentially preach one vs. the other.
On the one hand you have direct marketing strategies that are very effective. They involve lists of prospective students, direct mail, email, microsites, etc. The playbook is essentially "interruption" using the best direct-response messages with the hopes of generating any sort of response from the prospect (i.e., visit your website, RSVP to an event, click to apply, etc.).
On the other hand you have inbound marketing, which is like content marketing on steroids. It involves blogs, social media, landing pages, and email nurturing. The inbound playbook is all about "attraction" using relevant content that is tailored to specific personas.
So, how do you decide between Inbound vs. Direct marketing for recruiting students to your institution? There are many higher education professionals asking this question, but the question itself is flawed.
It is not a question of either direct marketing or inbound marketing...the question is how much of each strategy you should be doing.
Here are tips to help you strategize how much you should be focusing on the two different approaches:
When to use Direct Marketing for Student Recruitment
When you have a specific audience (list) to market to
When you have a recruitment event to promote (either online or on-campus!)
When you have an established inquiry pool of interested prospects
When you need to increase the number of applications to meet your enrollment goals
For reminding applicants to submit all required materials
Remember that prospective students who are familiar with your programs, especially if they have inquired, are expecting to receive direct communications from you that remind them, invite them, or update them about your programs.
It works best to use an integrated marketing approach so that recipients are hearing the same message in multiple media formats, and multiple times over a short period of time. This type of "multi-touch, multi-channel" approach is proven to work better than single-channel methods.
When to use Inbound Marketing for Student Recruitment
When you need to build your institution's brand
When you want to attract new prospects you can't find on outside lists
To convert website visitors into inquiries
To encourage stealth applicants and existing inquiries to apply
To nurture accepted applicants to commit to enrolling in your institution
To inspire existing students and alumni to become your best promoters
Inbound marketing is a long-term approach to building and engaging your prospects, students and alumni. It doesn't center around a short-term "campaign" that has a 60-day window.
Instead, inbound is a strategy for recruitment that your team can continually develop over time, especially because you can track and analyze exactly which types of content are working better than others.
Different Strokes for Different Schools
The best way to approach your marketing strategy is to resist the urge to copy other institutions or graduate schools. Each school has a different marketing history, and there may be a variety of factors behind their marketing content that are contributing to their success (or lack thereof!).
For smaller, private schools, the right approach may require an aggressive direct marketing strategy to get your school in front of a population that is easily herded towards the larger, public institutions.
For larger universities, it may be time to use inbound marketing to finally implement a comprehensive content strategy that leverages purposeful blogging, engaging social messages, and simple landing pages that don't distract visitors with 27 different options.
And for small, niche graduate programs, traditional direct marketing may be too expensive to implement, and instead you may need to focus more on generating awareness through you existing students, alumni, and faculty networks (again, this would require an inbound strategy).
Bottom line: Don't get sucked into the pressure to put all your enrollment marketing chips in one basket! And don't get so overwhelmed that you just keep doing the same approach as last year. You can strike a balance between direct marketing campaigns to specific audiences, and inbound marketing to attract visitors and engage new students.
Interested in a new marketing strategy for your institution?