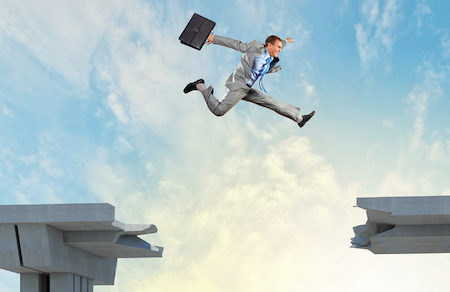 I was thinking about writing a blog post about the fact that summer is coming to a close, and that the time has come to gear up for (arguably) the busiest season of the year for Enrollment Managers. I thought about writing a traditional "5 things Enrollment Managers need to do to prepare for this Fall" post where I would talk about the importance of renting the right lists, optimizing your content for mobile devices, best practices for email, etc. But then a thought occurred to me...wait...they all already know they need to be doing these things!
So rather than tell you to do what you've already been told a million-bazillion times you need to be doing, I thought I'd write a post and dare you to try four new things that I am confident will make this marketing season one that your institution will remember for years to come. Dares that involves creativity, risk, and strategy, but dares that might result in giving your institution just what it needs to stand out from the crowd.
This academic year I dare you to...
1. Take a Risk
Try something new. Maybe you've had an idea for awhile now of how to make your open house(s) more engaging. Perhaps it includes renting a new multi-channel list that you've been wanting to test for awhile or producing a short two-minute promo video about the program or school the open house is for. (We have an awesome eBook on using prospect lists to recruit students by the way...check it out here!)
Have you wanted to try a virtual campus visit day and see whether it actually works? Now is the time! Maybe you want to host a Q&A session on Twitter about a specific program your school offers. Whatever it is, find some way you can take a risk this marketing season to do something you haven't done in the past. Students love - rather people love - new things and "outside-the-box thinking". Decide that you do have the time, you do have the resources and then, as our friends at Nike always say, "Just do it!"
2. Create a Great Piece of Content
We live in a world of content consuming fiends! You've heard the statistics, but to quote one of the latest and most shocking, the average American is projected to spend more than 15 hours a day consuming media (content) in 2015. The question isn't whether prospective students will be reading blog posts and watching videos on the fields they are interested in going into, the question is whether this content will be produced by your institution.
Maybe your Interior Design program is struggling. Have you thought about creating a free downloadable eBook on "10 Things to Look for in an Interior Design Program", and leveraging the book to generate leads? By producing great content and optimizing its reach with things like blogging and social media, that piece of content can actually do some recruiting for you! The more content you create and publish, the more it's read and shared, and the sooner your organization will become known as a thought leader and expert in the field.
Start small this fall! Create just one piece of really good content (eBook, video, blog post, etc.), optimize the content, and see what kind of traffic it generates.
3. Develop a Strategy for Social Media
Stop putting it off! You know you need to do it, you know it's going to take some work, but for the sake of all that is good in the world, it's time to find the time, sit down, and actually develop a social media strategy for your enrollment office. Too often universities take the "one size fits all" approach and wind up linking their Facebook posts to their Twitter posts to their LinkedIn posts, simply for the sake of "getting something out there". It comes across to prospects as disorganized, lazy, and incompetent - and we obviouslty don't want your prospective students thinking such things about you!
Social media isn't going away, we all know it. Take the time necessary to define your goals for social media. Be specifc! What do you want out of each network? How will you change your tone based on the social network you are engaging prospects on? It's not as hard as you might think, and I'll bet you a soda that if you do it right from the beginning of the year, you will be incredibly thankful.
I could talk about social media for hours, but I'll shut up after this one last tip: Don't take the "social" out of social media. Be casual with your audience at times and continually strive to only put out content that your specific audience will find engaging. Don't post just to post...Think before you post! (If you want more specific tips on developing a social media stratey, download our awesome Social Media Guide for G.E.M.).
4. Involve Current Students in Your Marketing
This Fall you have recruitment events, visit days, information sessions, web chats, etc. Connect with some of your current students with whom you have good relationships and ask them to help promote your events. They can use social media to like, favorite, and share your own posts about these events. Their endorsement provides a sort of "referral" that gives your marketing a real face, and more credibility.
On top of that, you will be growing your reach among people similar to your existing student-base, which (hopefully) is a good thing! It is even okay to ask some of your favorite students if they happen to know anyone who might be interested in coming to one of these events. Friends of your current students are much more likely to listen to you vs. strangers who are less familiar with your programs.
What do you think? Are you willing to take a leap of faith and accept these dares? I hope that if you can't do all of them, you atleast find the time to do one or two. It's time to break new ground and just try something different! Be innovate and creative and your institution will be noticed. Get excited because this academic year is going to be a memorable one...and a good memorable one at that!
So what do you say? Do you dare to try?
(I double-dog dare you!)
(Should you choose to accept the dare, we've included some resources that will provide a good starting point for you. I hope you will find them helpful.)