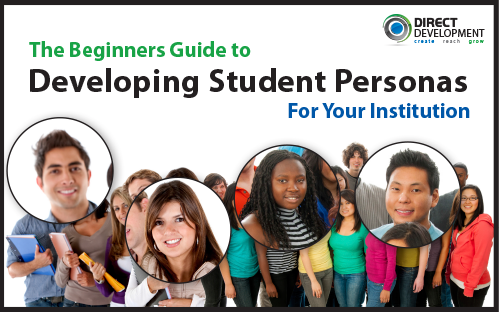 You may be familiar with the marketing term "persona" but do you know what that means in the context of higher education marketing and enrollment management? In other words, do you know how to properly establish student personas for your institution?
Most higher education professionals I meet have a good understanding of their target market. If I ask them to profile their typical prospective student for a particular school, they are able to provide some details about the audience(s) to which they are primarily marketing. Unfortunately, that's not quite enough to establish a proper student persona.
What Student Personas are NOT...
Student personas are not target markets. You can define your target market by a list of demographic criteria – age, gender, geography, etc. – and, yes, that will be helpful in determining the broader audience of people with whom you should be communicating. Student personas do incorporate demographic information, but they go much further than that.
Student personas are also not profiles of your current students. Your current students are very helpful in establishing student personas because you can learn a lot about the kind of students you are currently attracting. However, your academic programs may be a great fit for prospects who aren't currently enrolled at your school. And what if you have a brand-new program? You would not have any current students on which to base your persona. So, don't rely on just information about existing students to define your student personas.
What Student Personas ARE...
Simply put, student personas are fictional representations of your ideal student! They are just like real people, with real personalities, identities, life situations, goals, challenges, and media preferences. The difference is that they don't actually exist. Student personas are meant to represent a specific version of your ideal student – specifically the type of student you would like a lot more of at your institution!
Now that you know what they are, I'm guessing you have one of two possible questions on your mind:
(1) WHY do I need to establish Student Personas?
or,
(2) HOW do I establish Student Personas?
Both are great questions, and I'm going to attempt to answer them both at the same time! (Don't try this at home, folks.) I'm going to explain how student personas can actually define the content marketing strategy for higher education. By explaining how they work you will hopefully not only understand how to create them yourself, but also see the critical role they play in guiding your enrollment marketing strategy.
How They Work
In order to explain how student personas work let's start with the end in mind. Whether you work in undergraduate or graduate enrollment, you want to attract the right students to your programs, right? How do you know what to offer a prospective student? Do you start with a search package? Or maybe an event of some sort (either on-campus or online)? Do you send out brochures to see who inquires?
You can answer these questions without creating fully detailed personas, which is the traditional recruitment-centered approach. But you are a lot less likely to actually solve your prospects problems if you take that approach, because that approach is all about your institution.
In contrast, when you go through the process of establishing student personas, you have to answer more intimate details about the needs, goals, challenges, and preferences of your prospects. This approach is student-centric, and focuses first on your prospective student, not your instituion. It is part of a much larger strategy known as Inbound Marketing, which is like content marketing combined with context-using technology that leverages data to generate leads. (phew! that's a mouthful...more on that topic later!)
Here are common questions used to establish student personas:
What sort of academic background does this persona come from?
What type of family is this persona a part of?
What sort of jobs has this persona held?
What is the basic demographic profile for this persona (age, gender, income, location)?
What sort of demeanor does he/she have?
What are this persona's communication preferences?
What goals does he/she have?
What are this persona's biggest challenges?
Where does he/she go to find answers or do research?
What can we do to help this persona achieve his/her goals?
What can we do to help him/her overcome challenges?
Why might this persona NOT apply or enroll at our institution?
Frankly, you should not just involve your enrollment managment team in this process. You should involve current students, alumni, marketing/communications folks, faculty, etc. It's a great idea to inteview people and have them answer these questions. Then go throw the mud on the wall and decide what "sticks" in order to start with the best 2 or 3 student personas. We even have a handy Beginners Guide to Developing Student Personas for Your Institution that helps you do this with your team!

You see, if you were to sit down with your enrollment team and answer these questions, you would be well on your way to establishing a detailed, intimate description of a student persona. Once you define your personas, you can then start to answer the most important question:
"How can we help solve their problems?"
The more you understand the goals and challenges of your student personas, the better job you will do in providing useful educational content that will attract and convert those prospects into applicants. The math in this formula is pretty simple:
Start with one of their problems.
Create awesome content that solves that problem.
Promote that content to your student persona.
Repeat.
You can't solve problems if you don't know WHO you are solving them for. That is why it is so important to take the time to establish detailed personas. Knowing your student personas will ultimately drive your marketing strategy so that you are not just promoting your institution blindly, but instead are providing real value to prospective students by increasing your identity as a thought leader in your core competence areas.
Okay, okay...I admit that last line was a little too "jargon-y", so rather than take my word for it, I'm giving you a homework assignment. Download the Guide below and follow the steps on how to establish student personas for your school.
Once you complete your Student Persona Worhsheet, send it to me by email at tony@directdevelopment.com. I will analyze your personas and give you advice on how to improve them, or, if they are perfect, I will share with you some ideas for how to create engaging content specific to that persona.
(P.S. - There's one small catch. My wife is about to have a baby in September so if you don't hear back from me around the middle of the month it's probably because I'm sleep-deprived, so you'll have to wait till October.)