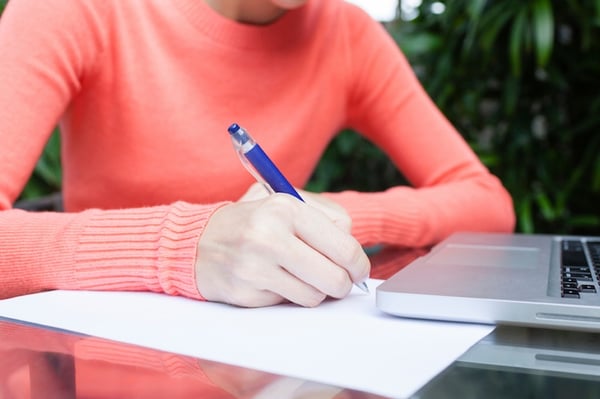 In the last few years, I've been doing most of my clothes shopping online.
I'm not averse to malls, and it is nice to try something before buying it. Most of the sites I visit, however, have extensive customer reviews. Without even going into a dressing room, I can find out whether the item runs large or small, whether it's too fragile to put through the washing machine, and even what it looks like on other customers.
Student-written posts on your admissions blog are a little like customer reviews. While you work in enrollment management, students are the ones who have bought the clothes, so to speak. And as a prospective student, I want to hear what they have to say.
We've found that student-written posts often outperform other posts on our clients' blogs, and it's easy to guess why. Not only are they writing from a perspective that allows visitors to your blog to "try on" your school, they're sharing their posts in their own networks — which are likely filled with members of your target audience.
So how can you work student authorship into your editorial calendar? Here are three strategies we recommend:
Target the Right Students
English and communications majors may have the strongest writing background, but it's essential to represent many different fields of study. Here's what to look for in your student participants:
Writing Ability
Ask for a writing sample. Look for quality of thought as much as quality of writing; while a good blog post demonstrates both, it's easier to fix messy prose than it is to rethink an entire section.
Involvement with the University
Does this student attend university-sponsored events with enthusiasm? Does he cheer for your team at basketball games? The more the student has embraced your school's culture, the better he'll be able to represent it in a blog post.
Experience in Extracurricular Clubs or Activities
Students who make the most of their time at school are great role models for incoming students, and they can give readers a look at what your institution offers. Whether they chose intramural sports, a service organization, or a debate team, their experience will appeal to someone reading your blog.

Demonstrated Responsibility
Look for a good academic records, leadership positions in student organizations, or participation in peer mentorship or other outwardly-focused positions. It's difficult to work with a student who can't meet deadlines or won't respond to emails; if you can avoid this at the beginning, do so.
Incentivize Them
No, we don't mean with money — though, if that's in your budget, so much the better. These are a few non-monetary reasons to mention when you ask them to write for you:
The opportunity to get published is a resume-builder for both undergraduate and graduate students alike, whether or not they intend to pursue a career in a writing-specific field.

Helping attract new students will build the community they care about.

Their unique perspective

is irreplaceable in telling your university's story.
Gift cards or university apparel are great motivators, as well, and they don't have to break the bank. Offer one reward for the best blog post to solicit higher quality posts from your student authors.
Ask the Right Questions
Some students may have blog post ideas without any prompting, but most will rely on you for prompts. Here are a few questions to ask to get them going:
Why did you decide to study psychology?

What did you find most challenging about your first semester freshman year?

How has your master's degree impacted your career?

What was hardest about the college application process, and how did you overcome it?

How has your involvement in a service organization changed your college experience?

What do you like about commuting? What don't you like?

How do you balance working full-time while pursuing a graduate degree? What do you recommend to others considering the same lifestyle?
Whatever the topic, it's often best to give students either a complete outline of what you'd like them to cover or a list of interview-style questions for them to answer. Set them up for success by being clear about your expectations regarding tone and length, as well. The less ambiguity, the better the end result will be.
College and graduate students are busy, but their perspectives are invaluable to your admissions blog. When prospective students visit your website, they'll find a voice they can relate to — which will stick with them far longer than your latest campus news update or a list of course selections.
Developing student personas will guide your editorial process, and a great way to start is by learning more about your current students. While you're asking students to write blog posts, why not ask them to fill out this worksheet, too?
Download our student persona worksheet to help identify your audience — and what they want to read about.