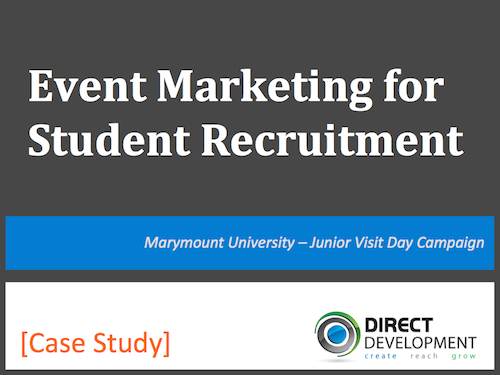 A few weeks ago, we shared a graduate school case study about event marketing for engagement and recruitment of adult students. (Click here to download the case study if you missed it!) Since we also work with enrollment-management professionals on the undergraduate side of higher-education marketing, it made sense to share another case study on event marketing for student recruitment – this time showcasing an example from an undergraduate program.
The DD team has worked with Marymount University for over seventeen years, and one of their most successful events has been their Junior Visit Day. Both the enrollment-management team at MU and the marketing team at DD contributed to making this campaign a true success story for how to attract prospective students – specifically high-school juniors and sophomores (aka, "rising juniors") using a campus-based event.
The Challenge
In order to engage with prospective applicants earlier in the enrollment journey, Marymount planned a special event specifically for juniors and "rising juniors" and needed to get the word out to inquiries and prospects from other list sources. The goal was to increase attendance at this major campus event, while also finding a way track which of these sophomores and juniors were interested in taking a closer look at Marymount, regardless of their RSVP status for the event.
The Plan
We came up with an integrated marketing strategy that involved a direct mail launch using a trifold selfmailer, followed by two email transmissions to anyone who had not already RSVP'd to the event. The goal was to invite all prospects to go to a personalized landing page (microsite) where they could learn more about Junior Day, request information about the university, and RSVP to the event.
We not only wanted to generate RSVPs to the event, we wanted to capture the names and contact information of every person who even showed a smidgen of interest when they received their invitation to Junior Day. Any contacts who just visited the site or clicked links on emails without registering for the event were tracked. Essentially, the marketing tactics allowed us to capture the information and site behavior of anyone who was considering the event.
The Results
Marymount has hosted Junior Day for many years. Due to increased tracking and use of highly personalized multi-channel marketing, the RSVP rate increase by an average of 40% over previous years. The campaign also generated a significant number of "soft prospects" (inquiries) who were unable to attend the event, which can be used in Marymount's future marketing efforts.
To get the full story and understand how to execute a successful undergraduate-recruitment event, download the Case Study by clicking the link below!