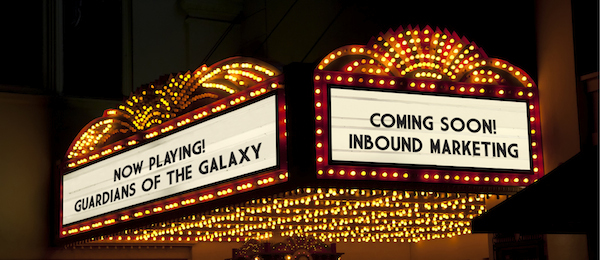 Sometimes it feels like the "next big thing" in marketing technology is just like another blockbuster hit that is "coming soon to a theatre near you!" And in many ways, Inbound Marketing can seem like just another industry term at a time when you already feel overwhelmed with technology, social media, and marketing tools.
But Inbound Marketing is not the next one-hit-wonder. It's a methodology that incorporates many of the things you're already trying to do - such as social engagement, program-specific landing pages, student blogging, and search engine optimization. You know...all that content marketing stuff? Yeah, that content only really does something for your institution when it is powered by an Inbound Marketing strategy.
Here's a simple formula to help explain how it works:
Educational Content + Conversion Strategy = Inbound Marketing
Everyone knows about "content marketing" and that using content is important for building your brand and getting recognized as a thought leader in areas that your institution specializes in. However, it isn't enough to just have a blog, be on social networks, and push out content. Seriously, just about any of your students with a keyboard and a free Wordpress account could create content and share with the world all about their experience as an undergraduate or graduate student (and let's hope it would be good content worth sharing!). But the chance of that content getting found or noticed is very low if they were not to use the principles of Inbound Marketing.
Inbound Adds Context to your Content
It is one thing to use content. It's another thing to use content within the context of a true Inbound Marketing strategy. As the fomula above suggests, Inbound Marketing takes educational content and applies conversion-centric strategies and techniques in order to generate prospective applicants.
You can use website pages, social messages, eBooks, videos, guides, events, landing pages, and more to get found online. Getting found is a good start, and you can take the next step to understand your prospects by developing Personas, tracking what content is being consumed, and then personalizing their next experience based on that contextual information.
Students Love Content
Before the internet, students were relatively uninformed. The applicant journey was linear and the common recruitment strategy is primarily all outbound direct mail by itself (single-channel).
Today, students are well-informed, thanks to the ease of access to information (thank you, Google). The applicant journey is fluid and random, requiring a multi-channel presence and thought leadership through content creation. Here's some sobering statistics:
50% of prospective students view college websites via mobile devices.
97% of students find college websites to be reliable sources of information.
76% of students used social media when deciding where to enroll.
Permission vs. Interruption
Inbound is decidedly a permission-based marketing strategy. It is incredibly effective because it starts with your prospective student in mind. Here's the basic process on how permission is the launching point from which you can engage and recruit prospective students:
Align the content you publish with your prospect's interests
That content earns you permission to market to those prospects
Prospects convert to applicants
Applicants convert to students
Delight those students (and alumni) so they become the best promoters of your brand
Of course, numbers 3 and 4 above assume that you are doing the right things to convert prospective students at their respective stages, but that's the whole point of adopting an inbound, permission-based marketing strategy in the first place! There are several key themes to doing Inbound Marketing the right way, and you have to be willing to jump in with both feet and not just dip your toe in water.
In addition to what I previously mentioned about the importance of leveraging content, you also need to recognize that people go through lifecycle stages as they interact with your institution, and that each stage requires different actions.
As you learn more about your prospects and applicants over time, you can better personalize your messages to their specific needs.
Also, Inbound Marketing is multi-channel by nature because it approaches people where they are, in the channel where they want to interact with you.
And finally, you will need a technology tool (e.g. HubSpot) that has advanced browser tracking capabilities, and the ability to link up with your existing CRM platforms. This will allow you to see REAL DATA on publishing and analytics so that you can actually know what content is working, when it is working (i.e. at what lifecycle stage), and which people it is resonating with (i.e. which student Personas). There's a zillion other things these technology tools can do, but more on that later
Inbound Marketing is About...
There's a lot to drill down and get muddy with when it comes to Inbound Marketing, and many people just want the simple answer to "What is it all about?" So here it is:
Building trust, not skepticism among your prospects
Leveraging content to generate interest in your institution
Being loved, not ignored by your students
Outsmarting, not outspending your competitors
Now, I realize that many of you want to explain this to other colleagues and/or professionals in the enrollment management and higher education marketing world. So to help you out, I made a simple eBook slidedeck called "Introduction to Inbound Marketing for Higher Education" which you can use to share with others.
In the coming weeks we will be diving deep into specific tactics of Inbound Marketing in an effort to break it down in digestible topics that make sense for enrollment marketing. Stay tuned!