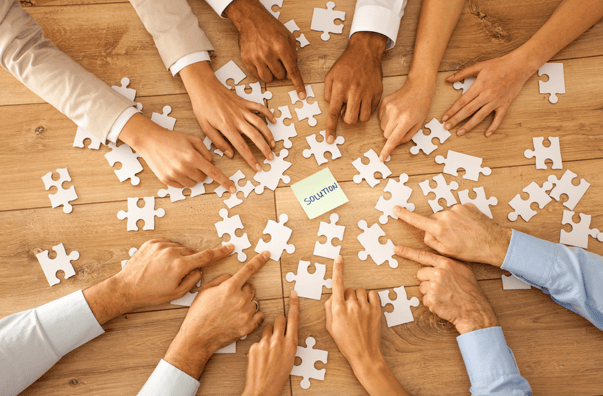 You've heard it before, and it's true: content is king.
Your prospective students are looking for information to help them decide which program to pursue and which school is the best option. That's why many institutions are blogging regularly, developing guides, eBooks, and white papers.
However, creating great content may not be enough to tip the scale in attracting the right student to your program. You need a plan to get the information in the right hands.
Inbound marketing helps give context to your content. It helps you develop a strategy to get the right content in front of the right prospective student. Why show a potential MBA student information about your education program? Give them what they want!
Maybe you're already on board with the idea of inbound marketing. You may be thinking, "I believe in inbound marketing for enrollment management, but how are we going to get busy faculty members and staff to drop what they're doing and help our admissions department develop content?"
That's where a great resource comes into play: outsourcing. Many schools are turning to outside resources to help them develop content that their prospective students want to read.
It can be tricky selecting an outside resource. Will they get our culture? Can they write from our perspective? Which parts should we do in-house, and which parts should be outsourced? These are legitimate questions that must be answered when developing your content strategy and selecting an outside resource.
We've written this blog post to help you get a clearer view of what working with an outside marketing firm really looks like.
Getting help with your blog
A blog is a must-have for any inbound strategy, but it can be difficult to come up with the topics that potential students want to read. Also, it can be a bear to manage the editorial process. Taking all of this this on in-house means extra deadlines, brainstorming, and writing. If you have a robust admissions office and willing help from faculty, you may be able to pull it off.
However, if your admissions office is like most schools', you probably have plenty on your plate without blogging, too. An outside marketing firm can help you bring a team of creative minds to help you plan and execute an extensive content marketing strategy.
So what does this look like?
An outside team can help you brainstorm content ideas, create and implement an editorial calendar, and write posts with the right voice for your readers. And it doesn't have to be an all-or-nothing deal; many successful collaborations involve the marketing firm creating some or half of the content while the admissions office is responsible for the remainder. Every school is different!
Getting help with premium content
As any marketing firm will tell you, premium content is the place to start with your content brainstorm. Often, it's most effective to work backward: develop ideas for premium content offers and think of blog post ideas that connect to (and ultimately offer) that premium content.
Premium content is the single most important piece to moving prospects down the enrollment funnel. A lot of institutions we talk to have a hard time coming up with ideas for premium content, and rarely have the staff to devote to the time it takes to produce the quality that readers expect.
And while premium content should be something more valuable than a simple blog post, it doesn't have to be a term paper, either. Here are some quick examples of premium content:
The Current State of IT in Wisconsin (or Virginia, or Texas; wherever your school is)

Guide to Financing Graduate School

Opportunities for Professionals with an M.S. in Criminal Justice
Career Choices For Health Sciences Grads
Given the design challenges unique to premium content, this is the most important thing to outsource. A good marketing firm should have the right resources to design a professional-looking (and -sounding) premium content offer for your readers.
We often find that most schools already produce some sort of content in the form of research papers, resource guides, etc. A marketing firm will help you repurpose some of this content and turn it into downloadable format. They can also divide it up and make it into a series of smaller downloads that keeps readers coming back for more.
Getting help with research
Many of the premium content offers and blog posts you'll want to write (or have written) will require specialized knowledge that neither you nor your marketing team have. And for these topics, you'll need to approach faculty and staff outside your admissions office for their expertise.
We've often heard it said that enrollment managers have a hard time getting people outside their offices to engage in the enrollment management process. The question is: can you get them to sit down and actually write out a blog article or contribute enough content for a premium content piece? Here are some tips:
Start with faculty whose programs need more students or whose programs are new. Your computer science program might be at capacity, but if your environmental sciences program is new and needs increased enrollment, approach their faculty first. They will be more likely to contribute.

Instead of sending an email requesting faculty or alumni to write the piece, interview them and write the piece yourself. Asking the right questions during a phone call will ensure you get the right information for your blog post or eBook. This can be easily outsourced to the marketing firm you work with.
Sound daunting? It can be, if you barrel down the inbound marketing road without a plan for how, when, and with what resources you are going to develop content. This is where an outsourced marketing firm can help you ease the transition from traditional interruption marketing to inbound's permission-based marketing.
Want to try outsourcing out? Contact us for a FREE content creation brainstorm session!