This article is a summary of the educational workshop presented at the NAGAP 2014 Annual Conference by Tony Fraga (Direct Development) and Fran Reed (Marymount University). Click here to access the original presentation slides.

"The average American consumes almost 60 hours of content each week across TV, radio, online and mobile." (Source: Nielsen-The Cross-Platform Report Q3 2013). That is a staggering amount of content! So what does that mean when we're talking about using multi-channel marketing to recruit students? It means you need to know how both Generation-X and Millennials (gen-y) are responding to different media.
Important Media Trends
DIRECT MAIL

: Yes, schools are still using direct mail! It works, but is most effective when combined with other media. Also, 78% of people read their mail over a trash can (yikes!), but the age group most likely to respond to a mail piece is 22-24 year-olds!



EMAIL

: Email is the 2nd most popular online activity. Both Millennials and Gen-X do respond to email marketing, but in different ways. Oh, and in case you haven't already heard, more emails are opened on mobile devices vs. desktop computers. Yep...we're there.



SOCIAL MEDIA

: It is no surprise that social networking is the #1 online activity. More than 60% of 18-34 year-olds do social on mobile.



MOBILE

: In higher ed marketing, 40% of prospects are responding to recruitment marketing via a mobile device. The age group with the highest smart phone penetration is 25-34 year-olds (ahem, grad schools!)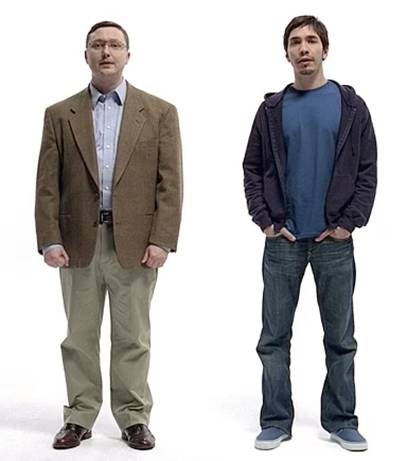 Remember these guys?? Kudos to Apple for a terrific marketing campaign.
These guys are textbook representations of Gen-X vs. Millennials. If you can't figure out which guy represents which generation, here's your hint: the guy on the left knows who Voltron is...the guy on the right is more familiar with Teletubbies.
Here's what works for BOTH generations:
Variable-content marketing
Mobile-optimized response options
Simple designs with clear calls-to-action
Multi-touch campaigns
Here's what should be DIFFERENT:
How much copy is used in your messaging
Generation-specific images
What prospect lists you use to promote your programs
List Tactics
Speaking of lists, there's some important things you should know when it comes to using and developing good lists for student recruitment.
Test-Taker Lists, such as the GRE or GMAT lists, are best when used in a multi-channel marketing campaign that uses direct mail and email together. These lists usually come with program-specific interests, which you should use to your advantage (more about this later). Typical results from test-taker lists are 1.5% - 2.5% response rates.
Outside Lists are the hardest to figure out for graduate student recruitment, but they can be successful with proper targeting and testing. There are different types of lists available on the market, but the right list for your school's programs really depends on your unique audiences. Definitely look for multi-channel lists that offer to send out a matching email blast to the postal records - those lists tend to perform better (which makes sense because you are using more than one touch to promote your programs).
In-House Lists are the best prospective students to market to, but keep in mind that you only have these folks because of your other marketing efforts, including the above 2 list sources! All lists have a shelf-life, so make sure you are regularly building new inquiries by using outside and test-taker lists.
Developing Audience Profiles is the most important thing you should do when it comes to establishing a solid recruitment strategy. There are several Audience Profiling Questions that an enrollment management professional should answer in order to create unique audiences. Answering these questions will help you decide what marketing approach works best. Here are some examples:
Which publications/blogs are your prospects reading?
What undergraduate fields of study are most common for your prospects?
Are there any associations whose members fit your criteria?
There are many more, but you get the idea. The important goal is that you have to first develop unique audience lists before you can do the fun, innovative marketing stuff!
Variable-Data Technology
Variable-data technology is used in direct mail (variable-data printing), personalized emails, personalized microsites (PURLs), SMS text, and dynamic website content. It basically allows you to change content "on the fly" so that you can use highly personalized and relevant graphics and copy that is specific to an individual.
In direct mail, you can use variable-data printing to produce different versions of full-color invitations to an Open House. You can also use personalized QR Codes instead of generic ones so you know exactly who is scanning the code from your mail piece.
With personalized microsites you have the ability to continue the same highly relevant communications by tailoring the site to each individual prospect. The other benefit is that most form fields can be pre-populated, making it easier for people to RSVP to an event, or request more information about a specific program. This is accomplished by making personalized URLs (PURLs) for each person you have in any of your lists.
The PURL link becomes the primary call-to-action in direct mail and emails surrounding a particular campaign.
But the REAL reason to use personalized microsites is because of the immense amount of tracking information it gives. Plus, you can then execute marketing automation to follow up with prospective students according to their preferences.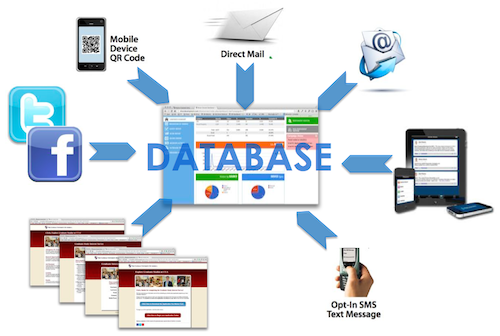 Marketing Automation for Graduate Enrollment Management
Most enrollment management professionals think they are already able to track this kind of information about their prospective students. The reality is that this information is either too hard to access, or they do not really have the advanced tracking capabilities they think they do.
Here are some things you should be able to know about your prospective students:
Who visited your website? (not just clicks, but actual names of real humans)
Which in-house segment achieved the highest response rate?
Which outside list had the highest conversion rate (i.e., completing a web form)?
Which people cannot attend your info session, but still want more info about your grad programs?
Which people are actually clicking your social network icons and checking you out there?
So, what is the point of all of this great tracking and data? The point is to use it to establish Marketing Automation so you can provide prospective students with the content they care about at the right stage in their engagement journey. Capturing rich data on your students is great, but if you don't actually do anything with it, what is the point?
The real work is in making the decisions about "Who gets what?" and "When should they get it?". Your enrollment team can handle this, but they may need the help of tools that use variable-data technology. Variable-Data Technology enables marketing automation.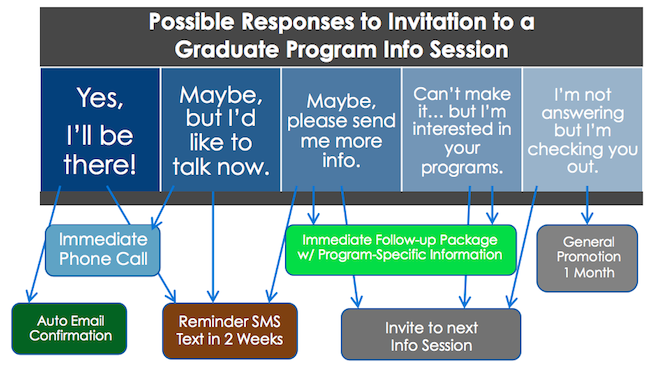 Remember, everyone in your office likes following up with the really interested prospective students who are raising their hands and just about ready to apply. That's easy. My question for you is, who is following up with the B and C prospects? You know, the ones who are still reading about your programs, opening your emails, checking you out, but not quite ready to give you a phone call? Not only can you capture these people, but you can actually give them what they are most interested in!
Lessons from Marymount University
In the full presentation slides you can see comprehensive results from Marymount University's various event marketing and student recruitment campaigns. You can also find the 3 Marketing Lessons that they have learned based on real data captured through the use of the above marketing strategies.
To access the slides in either PDF or Slideshare format, simply click the button at the bottom so we know you are not a robot.
(Phew!) That's all for now. It's not easy condensing a presentation with 70 slides into a single blog post...maybe I should start doing live recordings? Let me know what you would prefer!