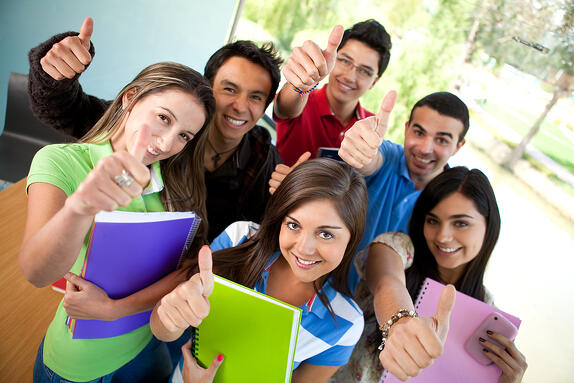 As you probably do, most high-school students see advertisement on websites (pop ups, banner ads, etc.) as extremely annoying. The age of the billboard is over, people! Because today's high-school students have been born into a society that has advertised to them from as far back as they remember, these students have developed something of an immunity to the more traditional "direct ads".
While high-school students are well aware that the college admissions process is highly competitive, they are also aware of just how many universities out there "want them". Now, more so than ever before, the mailboxes of high school students are pounded with colorful and often personalized pieces of direct mail that say "We Want You" or "You Belong Here".
So how do you attract these tech-savvy, internet-addicted, content-consuming fiends to your institution?
Simple! You become the creator of the content that they are consuming!
Here are five ways you can start creating awesome content that attracts high-school students to your institution:
1. Swim in Their Pond
The best way to give high-school students the kind of content they want is to meet them where they're at – and guess where they're at? Yup, you guessed it. They're online! I know you all don't need convincing that today's high-school students are BY FAR the most active when it comes to social media.
If your institution isn't active on social media, stop reading this blog post now and go make a Facebook Page and a Twitter Profile and then download our social media guide for higer ed...no joke! Social Media is the cornerstone for engaging with today's high-school students. It is the lens by which they see the world and interact with others. Be there or be square (as they would say)!
Remember: High-School students are spending several hours a day surfing the web for good content. Get in the water with them, produce quality content, and watch as they begin to swim on over to YOUR pond ;).
Check out these awesome resources for creating content around "where high-school students swim":
2. Be Funny
Nothing gets engagement like a funny post, photo, or video. Try to be funny (without trying too hard) and you'll find that your engagement with high-school students will increase. Dedicate a day of the week to share something that will cause your followers to smile and laugh!
This could be a joke, a funny photo, a Vine, a GIF, etc. Take a break from the seriousness. High-school students understand that college "is no joke", but at the same time, give prospective students a break from the stress-overload that often comes around college application time. Give them an opportunity to see you in a new, not-so-serious, light!
Check out these awesome resources for creating fun content:
3. Make use of Social Media Trends
The great thing about social media trends is that, well, they're trends! Because they are popular, by joining in on these trends you expose yourself to a wider variety of people. Hashtags are now not only popular on Twitter, but they are becoming increasingly popular on Facebook. According to Facebook's latest update to their algorithm, the likelihood of your posts actually being seen by your followers increases when you use a hashtag.
Throwback Thursdays (#tbt) is a popular social media trend that high-school students LOVE. #TBT encourages people to post "throwback" pictures and status updates. Another social media trend is #MotivationMonday. On #MotivationMonday people post quotes, photos, and videos that motivate them to start off another week on the right foot. Jump on the social media trend bandwagon and start attracting new students to your Facebook page!
Check out these awesome resources to help you rock at Social Media:
4. Keep Your Cool
Remember what was "cool" in high school? High-school students, regardless of where they might fall on the socially-erected totem pole of popularity, value "coolness". One's "coolness detector" is at its peak in the high-school years. Don't be sales-y, don't sound desperate, just be real! Don't publish articles on "Why Your School is the Best" and don't create a video with a bunch of students holding up "Apply Now" signs...please...it's simply not cool. Take the time to be creative. Don't publish content just to publish content. Be intentional about it and put a lot of thought into it!
Remember, high-school students KNOW that they are valuable to you. They expect you to want them. They expect you to "make a good case" in trying to get their attention and get them to apply. Keep your cool!
Check out these awesome resources to help you create content that "keeps you cool":
5. Take the Time to Create Images and Videos
These videos don't have to be professional videos that cost thousands of dollars; they could be as simple as slideshows with images and overlaying text (and of course some music in the background!). These high-school students, as a whole, are a visual generation. They've been born into a visual world and therefore they digest content more easily and more quickly when it is presented in a visual format.
Give them the opportunity to connect with your institution through video. In two minutes, provide them with a snapshot of your school's economic department or the dining facilities or the social scene!
Check out these awesome resources to help you create awesome visual content:
Finally, remember that today's high-school student is a content-consuming fiend! They actually want to consume your content, they just want the content they are consuming to be good! Don't stress out. Start small! You won't become a content-creating king overnight. But it is time to jump on board the content marketing train. Need help? No worries, that's what we're here for :)
image from: italianschoolpistoia.it