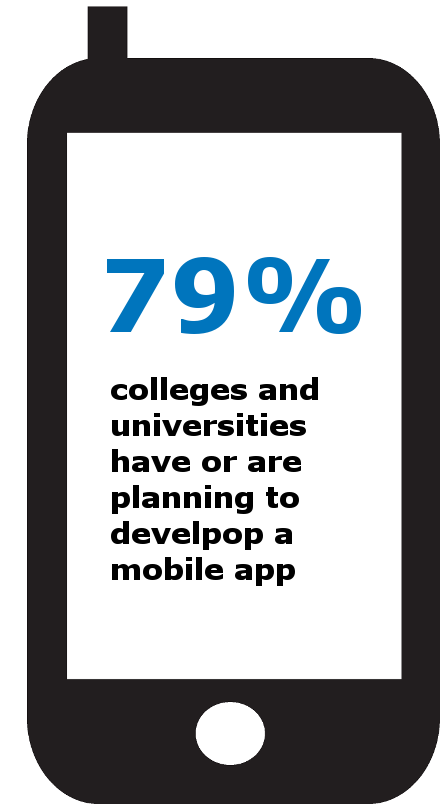 According to a survey conducted in 2013 by Campus Computing, 79% of higher education schools had developed a mobile app or planned to develop one by the end of 2013. It's understandable since 25-34 year-olds maintain the highest smartphone usage, the most widely targeted age range for most graduate schools, and the 17-24 age group is right behind them.
Many schools are using mobile apps to reach current students with features such as class schedules, grades, news, and campus maps. Still, as a recruitment tool, having a mobile app falls short of expectations, especially when it is not part of a larger mobile design strategy. And for the enrollment management professionals out there, you don't always have to wait for your entire institution's website to get on board with a mobile design strategy.
Many schools (graduate and undergraduate alike) are able to get started with recruitment oriented subdomains and microsites that are completely mobile-optimized, even before they are able to develop their own mobile app.
Due to all the buzz about mobile apps out there and the legitimate benefits they offer, schools often run head-first into an application development project without first thinking about the big picture and the big picture includes Responsive Design.


Here are 4 reasons why thinking "Responsive Design" is more important than thinking "Mobile App":
#1 - Responsive Design enhances SEO
Websites act as a funnel and when prospects visit your site they are "funneled" into a specific area (hopefully your online application). With responsive design, web content managers have only one place to make content changes. They can incorporate specific keywords on a single set of web pages hosted within a single URL. Also, Google ranks sites designed for mobile much higher than traditional sites and internal links consolidated into one web page helps the Google web crawlers reach your website faster. Google has no way of ranking or crawling your internal mobile app.

#2 - Responsive Design encourages readership
These days prospects expect everything to move at the speed of light. Faster service and even faster results! Today's content pages need to be optimized for mobile devices and abandonment rates show that non-mobile optimized pages encourage readers to leave pages rather quickly - your application page for instance. Responsive design encourages content readership across multiple devices and platforms. According to Google's 2012 The New Multi-Screen World Study, 90% of people use multiple screens to accomplish a single online task. That means your prospects might start browsing on their phone, initiate your application on a PC, and then submit the application on a tablet. Multiple screens using a single technology.


#3 - Responsive Design is easier to maintain
Even though the pages using responsive design look differently depending on the device used, it is actually just a way of developing a website to automatically format to the screen. This provides just one place to maintain your content. With one place to create and update content - designers, managers and site maintainers can easily keep content fresh and up-to-date. No more aging and stale content! Mobile apps still have multiple pages to maintain and create. Plus, according to a survey done by Noel-Levitz, 73% of students said they were interested in a university's mobile app but only 20% actually downloaded the app.

#4 - Responsive Design = More conversions
In Noel-Levitz's 2013 E-Expectations Report - 68% of students viewed college web sites on a mobile device and 70% said that a school's website heavily influenced their perception of that school. That means that the design of your website is really important and it better be formatted to be seen on a mobile device. Based on some reports, conversion rates increase by as much as 5%. As I mentioned earlier in this article, prospective students often use multiple devices for a single application.
So the next time you feel the urge to jump on the mobile app bandwagon take a step back and think about the bigger picture. Responsive design offers much more than your one-size-fits-all mobile app. Plus, responsive design will grow with you as your brand develops and changes. Your users won't need to download anything and you won't have to develop a new application every time a change is made.
Want to learn more about responsive design and multi-channel marketing?
Check out our presentation - Integrated Marketing How to Communicate with Prospects using a Cross-Media Approach:
In this presentation you will:
Know the latest media trends in student recruitment.
See how a mobile-optimized page should look.
Learn about cross-media direct marketing for GEM.
See a real-world example of a cross media marketing campaign in action.