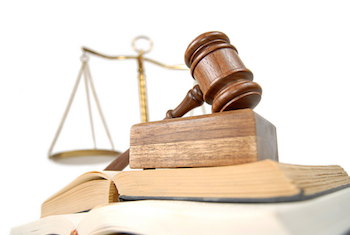 Everywhere we turn we hear the bad news about law-school enrollment. According to the American Bar Association, law-school applications are down nearly 13.4 percent for the 2013-14 school year from the already sliding numbers of applicants in 2012.

Many law schools are lowering their enrollment forecasting to confront the realization that decreased demand for newly graduated attorneys translates to fewer applicants in the pipeline. Why take on the time and expense of law school if there is a reduced chance that you can get a job post-graduation? Today, law schools face increased competition to reach a shrinking pool of interested prospects while at the same time meeting expectations with fewer resources.
This trend follows the soaring enrollment numbers from the economic boom of the early 21st century, when demand in the legal profession peaked. Even as the economy began to slow down, enrollment continued to increase. In 2010, law school enrollment was at a 10-year high at 52,500. However, according to some analysts, law schools were slow to react to the economic collapse of 2008, and with a slower than expected recovery, enrollment numbers are not guaranteed to rebound soon.
There is hope in looking at other programs affected by the economic fluxes of our global age. For instance, interest in business schools dropped significantly in 2009 when business growth was stagnant and economic activity was stalled. However, MBA enrollment rebounded in 2013 and is set to increase in 2014.
The secret? MBA programs adjusted to the changing environment by lowering enrollment expectations and adapting methods of student recruitment.
Outbound multi-channel marketing for MBA programs has been very effective in the last few years.
The use of the latest recruitment methods to reach today's MBA prospects
–
mobile devices, PURLs, QR Codes, Campaign-specific microsites, etc (while using targeted prospect lists)
–
has contributed greatly to the enrollment rebound.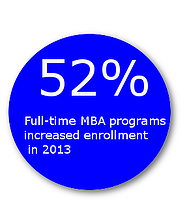 MBA programs are beginning to explore the benefits of
inbound marketing
as well. This "attraction marketing" help these programs to plan for the future, when the next major shift in enrollment methods is needed.
Here are five tips to sustain your law school in the next 1-2 years:
Test New Sources. If you've only used LSAT test-taker data or your house list, consider new sources of prospective students that you've never used before. Yes, this can be risky and/or costly, but if you do not try different sources you will never build your inquiry pool.


Recruit Internationally. A lot of future growth as forecasted by admissions professionals have come from international enrollment. Spread your tent-pegs!


Embrace Multi-Channel. Today's students (yes, even law school prospects) expect to be reached over a variety of media channels. Don't worry about finding the "best" channel - instead focus on integrated multi-channel marketing that has a common theme across direct mail, email, social media and your landing pages.


Use Variable Content. Today's personalization technology is much more available and affordable than ever before! Variable Content Marketing allows you to use the data you have in order to cater your message to each individual. This means no more traditional marketing that sends a single message to all prospects. Instead, consider using variable-data printing (VDP), variable emails and dynamic landing pages to change content on the fly.


Develop a Future Pipeline. Inbound Marketing, also known as attraction marketing, gathers interested prospects through content marketing using blogging, social media and SEO. This enables you to leverage content to capture new visitors and convert them into inquiries without the hard sale. This usually takes longer than traditional direct marketing and can set up a healthy pipeline leading to new applicants.
The key to weathering the changing environments and industry fluxes of student recruitment is to change with them. See dark clouds forming? Expect rain and bring an umbrella.

We think that just as MBA programs were able to withstand the pre-recession, recession, and post-recession environments, law schools can rebound. There is always going to be a need for legal-savvy people in our world defending us, protecting us, and pursuing our causes.


Interested in learning more about the student recruitment strategies discussed in this article?