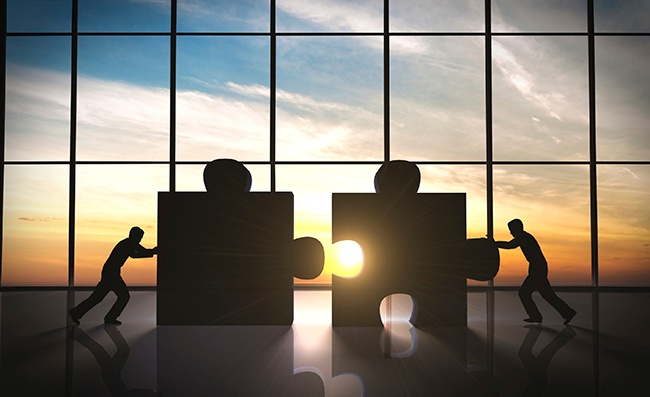 Do you remember the last group project you were assigned in school?
Maybe it was in college, maybe high school. But if I had to guess based on my own experience, I'd say that you probably didn't enjoy it if you didn't get to pick your group. Perhaps your teammates didn't respond to your emails or did a shoddy job on their part of the work — or maybe they didn't do their work at all. (Raise your hand if you worked overtime on that project and still received a lower grade than you wanted.)
What was missing in your group? Attention to detail? A collective purpose? The right skills and experience?
Maybe it's these long-dormant sentiments toward the group projects enrollment managers did years ago creeping up in their subconscious, or maybe it's simply a desire to keep most work in-house, but sometimes admissions offices are hesitant to add new members to their team by hiring a marketing agency for their inbound strategy.
However, with the right team members — who are just as on board with your mission as you are — working together can be productive and painless. Here are three reasons to consider hiring an agency to help you implement your inbound marketing plan:
1. Expertise
Malcolm Gladwell famously claimed that it takes 10,000 hours of practice to become an expert in something.
Inbound marketing consultants spend 40 hours a week implementing inbound marketing strategies. (Assuming two weeks of vacation per year, this means it would take about 5 years for an individual to reach that expertise benchmark.)
The larger point, however, is that marketing agencies know what they're doing. Through research, experience, and plenty of trial and error, they've learned what works and what doesn't and will help guide your strategy accordingly.
And usually, they specialize in a particular market or industry. At Direct Development, we have a particular focus on higher education institutions. Not only do we maintain and sharpen our skills in the broader marketing world, but we also pay special attention to new trends and best practices of higher education marketing.
As technology continues to disrupt our digital landscapes, it's even more important to stay in tune to industry news, tools, and trends. A marketing consultant specializing in your industry will be on top of this already — so you don't have to be.
2. Cost-effective Manpower
We get it; cost is a deterrent. When your admissions office decides to spend more resources on marketing, it's easy to think that keeping things in-house is your best option.
However, your current admissions staff is likely already overwhelmed with responsibilities, and implementing an inbound marketing strategy on top of everything else you already do may not be realistic or produce the results you want. Hiring a marketing professional may help, but you'd gain the expertise of only one individual.
When you hire a marketing agency, you hire a team: individuals with skill sets in areas ranging from writing to web development to graphic design to social media. Not only will these skill sets increase the quality of your inbound strategy, but the number of individuals at your aid will also reduce the time it takes to produce great content.
Finally, marketing agencies may have partnerships with software companies that can get you discounts. At Direct Development, our partnership with HubSpot means a lower subscription price for our clients than you'd pay on your own.
3. Results
More expertise and manpower may sound great, but if it doesn't lead to real results, what's it worth?
Luckily, you can easily check out an agency's track record by contacting their other clients. When you are considering a contract with a marketing agency, ask for client references — and then, get on the phone. (Can you imagine if you'd been able to select teammates for that group project by their GPAs?)
Not only will the agency be able to direct you to other clients, but they may also be able to send you a case study or two with hard data to show what they've done for their own marketing or for other clients. Find out.
Successfully implementing an inbound marketing strategy can take a lot of work, but you don't have to do it alone. Research your options to find out how to optimize your group project!
Do you want to learn more about what a partnership with a marketing agency looks like? Follow the link below to request a free consultation.