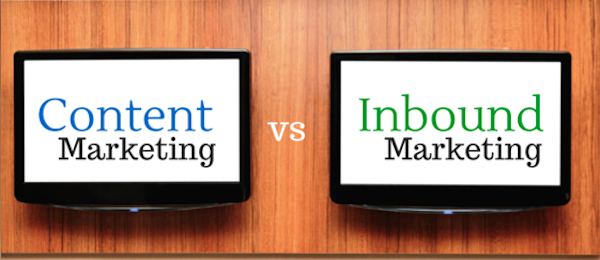 Do you remember when the high-definition (HD) revolution first started?
Everywhere you turned brands were flashing colorful ads of their latest HDTV or HD-Camera or even the opportunity to rent a movie in HD. Within just a short window of time, if a product or service did not support HD, it became sub-par—I mean who had even heard about standard definition (SD) until HD became a thing?
I think SD vs. HD is an excellent analogy to help better understand the relationship between content marketing and inbound marketing. Here's why:
If you were to place an HD television and an SD television screen next to each other, broadcast the same network, and ask a seven year old—or a seventy-seven year old for that matter—what the difference was between the two TVs, they'd likely say "one is clearer than the other."
They're not going to discuss the fact that the SD version is streaming 480p while the HD version is streaming 1080p, and therefore the HDTV is an incredible technological advancement and is therefore superior to the SDTV.
Content marketing and inbound marketing have a similar relationship. From a spectator's view, content marketing and inbound marketing seem almost identical. While they are very similar, there are some key differences that make inbound marketing "HD" and leave content marketing back in "SD."
What is Content Marketing?
At the core, content marketing is about using content—things like video, webinars, blog posts, eBooks, infographics, etc.—to attract more people to your institution's website. Adopting a content marketing strategy focuses on attracting prospective students with valuable and educational content. Content marketing proposes that by simply producing enough high-value content more students will be attracted to your institution's website, convert into applicants, and ultimately enroll at your institution.
What is Inbound Marketing?
Inbound marketing provides a context for the content you are creating. It takes educational content and applies conversion-centric strategies and techniques in order to generate prospective applicants. Inbound takes your content and tracks it with marketing technology in order to help you better understand what your prospective students are reading, watching and downloading so that you can send them more content that is highly relevant to them. By developing student personas, and establishing effective marketing automation, you can personalize a prospect's next visit to your website based on that contextual information you have already gathered about them.
So What's the Big Difference?
Essentially, developing an Inbound Marketing strategy provides the game plan for your school to do content marketing effectively. While content marketing works, inbound marketing takes content marketing to a whole other level. Inbound leverages the power of the unique and compelling content you are creating in order to attract and convert more of your institution's or graduate programs' ideal students.
Inbound provides the strategy and purpose for your content marketing. It's clearer, smarter and more comprehensive—just like an HDTV.
Want to learn more about the power of inbound marketing for your institution?