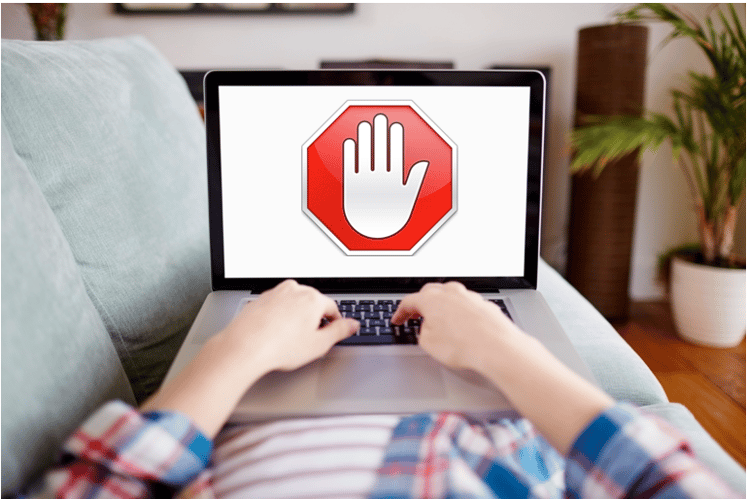 Ad blocking started as an initiative by independent web developers who wanted to improve the user's online browsing experience.
Since 54% of people don't trust banner ads, 50% of all ad clicks are accidental, and 33% of people find digital advertisements "absolutely intolerable," it's no real big surprise that web surfers across the globe are downloading ad-blocking software like it's the new iOS update.
While ad-blocking software like AdBlock is making waves and generating headlines in the marketing and advertising worlds, no one's really talking about how this new software is affecting the recruitment strategies of enrollment marketers.
Here are three things all higher ed marketers need to know about the rise of ad-blocking software and some thoughts on how to respond:
1. Today's "ad impressions" aren't exactly what they use to be
If you haven't heard about it yet, AdBlock just might be your new worst enemy. AdBlock is a free web browser app extension that blocks ads that appear on the sites of online publishers, social media, blogs, news sites, and the like.
AdBlock currently has 400 million users, the heavy majority of these users being Millennials (a demographic that kind of, sort of, really matters to you as a higher ed marketer).
Think about it: if millions of Millennials are regularly using ad blocking software, where are the 100k quality impressions that your digital ad agency promised you coming from?
An impression isn't counted when AdBlock is enabled because, technically, AdBlock doesn't just hide ads, it prevents them from ever loading. Digital advertising agencies therefore like to blame the less-than-exciting click-through and completion rates of your ads on your institution's failures to have relevant content that these ads link to (things like better landing pages, more exciting information sessions, better event microsites, etc.).
It doesn't take a rocket scientist to conclude that the quality of the prospects your digital ads are appearing in front of is drastically decreasing as more users download adblocking software.
2. Tech giants like Google and Apple are growing more and more anti-ad
To make matters even more interesting, Apple's release of iOS 9 last month came with the ability to enable ad blocking software on all Apple phones and tablets, which many predict will only continue to dampen the ROI of digital ads.
Apple has told users that by downloading these "content-blocking" apps, users will use less data when web surfing since displaying digital ads usually cause longer page load times. Who wouldn't want to use less data, save more money, and browse ad-free?
Last month, Google announced that its browser, Google Chrome, will begin blocking Internet ads that use Adobe's Flash technology — a move that will likely prompt advertisers to abandon the video format entirely. This is Google's latest attempt at encouraging marketers to move away from paid ads and focus on creating awesome share-worthy content instead.
Large companies like Google and Apple pay AdBlock a pretty penny to lift the ad barrier on sites that matter most to them. Unfortunately, unless your institution has a Googlesque budget, you are unlikely to be able to afford to block the adblockers.
3. The amount you spend on digital ads each year is comparable to a full-fledged Inbound Marketing retainer
I think the real reason we spend so much money on paid ads is because we either feel like there is no other choice — everyone's doing it, so therefore we have to — or because we don't know the benefit of inbound marketing because we aren't measuring it properly.
According to this survey by The Educational Marketing group, 3,420 nonprofit institutions (public and private, 2-year and 4-year) spent, on average, $179,693 on marketing efforts last year. 25% of this, about $45,000, was spent on digital advertising — things like banner ads, sidebar ads, social ads, and lightbox ads.
Many institutions are more than willing to throw tens of thousands of dollars towards digital ad campaigns that have — on average — a less than 0.06% click through rate, and yet hesitant to partner with a marketing agency and launch a comprehensive inbound marketing strategy that has incredible data-backed success rates (for the same price!).
A comprehensive inbound services retainer should include things like blog post creation and optimization, leveraging content on social media, developing relevant and personalized landing pages, and the strategizing and creation of premium content pieces (things like videos, guides, and infographics).
The war on digital advertising is only getting more complicated and unpredictable. If higher ed marketers want their programs to grow in quality and quantity, it might be time to embrace change — change that thousands of marketers across the world, both inbound and traditional outbound marketers, say works.
Interested in learning more about how to develop an Inbound Marketing strategy? Download our eBook!