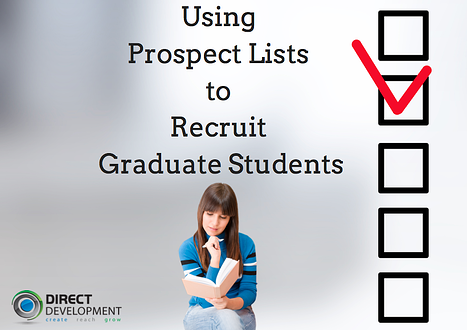 One of the common questions the DD Team gets asked by graduate enrollment managers and marketers is "What prospect lists work the best for attracting potential graduate students?" The answer I like to give is, "I don't know...(yet)!" I know what higher ed marketers are looking for when they ask that question. They want that "holy grail" of lists that has a great response rate, is affordable, and that they can go back to each semester for recruitment efforts.
Here's the BAD news (because we always want the bad news first so we have something to look forward to ;)... there is no such list. Sorry to say, but in the world of graduate school marketing, it just doesn't work like that.
Now for the GOOD news...there is a way to determine what prospect lists are going to work best for your
graduate programs. That method involves the "3 T's"of list marketing strategy: Target - Test - Track.
KNOW THY AUDIENCE (Target)
Before you can even begin to think about what lists you should use, you first have to establish your audience profiles, also known as "personas" in the Inbound Marketing world. To do this you need to go through the process of brainstorming with your enrollment management team to answer key questions that will help you determine a very specific profile of your audiences. Here's a few examples:
1. What publications or blogs do your prospects read/subscribe to?
2. What are the most common undergraduate fields of study your existing students have?
3. What type of jobs do most of your applicants have at the time they are applying?
There are many more Audience Profiling Questions you can go through to establish a complete profile of your target market, which you can find in our new eBook "Using Prospect Lists to Recruit Graduate Students" - but don't download it yet because I want you to read the rest this blog-post so you are fully inspired before having to do any actual work.
CHOOSE WISELY (Test)
Okay, so you already know your audience fairly well? Great, now you need to go through the process of researching potential outside list sources and selecting 2 or 3 that have the best chance of performing well for your graduate programs. Sounds easy, right?
If your graduate school has never rented outside lists before (either postal, email, or multi-channel) then you are basically starting from scratch. I highly recommend working with a list marketing professional who can help you navigate the list world and advise you on the best lists for reaching your unique audience(s). (NOTE: Extra points if you can find an un-biased list broker who is not inclined to sell you lists influenced by commission-based offers!)
If you already have experience with prospect lists, the next step is to look at the results. I know what half of you are probably thinking: "Tony, we've used outside lists before and they don't work." I hear that about 50% of the time from grad schools who have tried direct mail or e-blasts to outside sources. Almost always the marketing strategy involved is single-channel (i.e., either direct mail or email by itself), with little to no personalized or relevant content.
Folks, ask yourselves honestly, if you were to be the recipient of your own marketing collateral, would you open it?
It's the year 2014. If your outbound marketing campaigns are not multi-channel, multi-touch, and highly relevant, and do not feature a simple landing page that looks awesome on a mobile phone, just stop. It's not worth the expense if you aren't going to do it right!
FOLLOW THE LEADERS (Track)
Lastly, you have to be tracking each list and each segment separately. This is the huge key to finding the right prospect lists for your programs - you have to track who is responding to each media touch-point, and attribute that back to each list source.
I know this sounds obvious, but many enrollment teams are simply so busy with their core workload that they don't have the luxury to stop and track all of the details of "who" did "what" and "when/how" they did it. Or in other cases, there are 3 different systems they would need to import and export data out of in order to find the answers.
Make sure you set yourself up with a marketing tracking system that (a) is simple and (b) allows you to track each list and audience segment separately.
But alas, I admit that this blog-post is not enough to tackle the entire topic of how to use prospect lists for graduate student recruitment! So, I made a simple eBook on this same topic for you to take to your enrollment team. Enjoy!