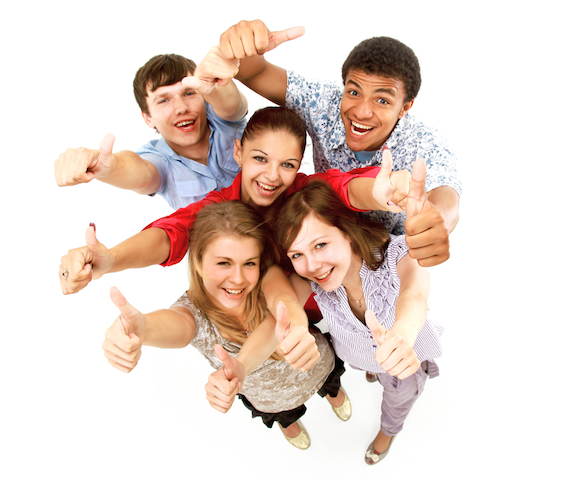 It was almost as if they didn't want me to apply. The experience was frustrating, confusing, and legitimately exhausting. As I clicked the red "x" button in the top left corner of my browser (yes, I'm an Apple guy), I left University X's website more confused than when I had first arrived. I distinctly remember throwing my hands in the air and then turning to a friend of mine (who was also checking out the websites of the schools he was interested in) and saying,
"You'd think by now colleges would get it! You'd think with the abundance of technology out there today, schools would be able to easily create personalized websites - or something like it - that would give prospective students the information they desire...and only the information they desire!"
Maybe my reaction was childish. I was a high-school senior at the time, and I guess I should have known that sometimes, regardless of how fast your internet connection is, you need to be patient when it comes to finding the information you want from a website (yes, I am a millennial). Let's pretend though - just for a moment - that my reaction wasn't childish, but actually the norm.
Similar to my own generation, Generation Z (or whatever we're calling them!) was born into a world where instant access to information was not just a luxury, but an expectation. They expect to be able to answer any question they might have (via their internet-enabled smartphones) in a matter of seconds. Call them spoiled-rotten scoundrels if you want, but the reality is - well - that this is the new reality.
Today, more so than ever before, you need tools that will meet the needs and expectations of "the modern high-school prospect". Your school needs a tool that will:
Offer a way to access quick information as an alternative to an encyclopedia-sized website

Attract prospective students (and keep their attention) by providing an innovative and engaging experience of your institution

Provide an easy and quick way for prospects to access the information they want, in the way they want it

Have the ability to track these prospects and receive detailed analytics on how these prospects interact with you
I know what you're thinking (I may be a marketer by day, but I'm a psychic by night), "Zach, this is a nice idea, but something like this doesn't exist. And if it did, I wouldn't have the budget for it anyways." Allow me to bring back my rude high-school senior self again when I say, "WRONG and WRONG!"
Let's talk about Variable Viewbooks. No, not those jumbo-sized extremely expensive magazines that you've printed in the past with little to no increase in prospects, but a fully variable, three-format, engaging viewbook that gives prospective students access to an entirely customized experience of your school.
Through a simple form on a landing page that has the same look and feel as your website, prospective students answer a few questions about their interests (major, athletics, financial aid, Greek life, etc.). Upon completion of this 3-4 question form, prospects are brought to their very own, completely personalized online viewbook. Here the prospective student can easily learn about the major he is most interested in, the athletic program he wants to check out, and what kind of social scene your school has.
Did I mention that a week or so after the prospect views his online viewbook, a completely customized print version of the viewbook shows up in his mailbox? I could go into more specifics and explain to you exactly how they work, but rather than make this post longer than it needs to be, feel free to watch this two-minute video on how these amazing tools work!
I remember spending hours upon hours clicking through the websites of different universities trying to answer the questions I had about specific programs, majors, costs, etc. Believe it or not, I actually crossed a couple of schools of my list solely because their websites were outdated, difficult to navigate, and failed to sufficiently answer the basic questions that I had.
Today, there is even more noise surrounding high-school students as they begin to think about where they want to go to school. Every school has the typical mail pieces, emails, and campus visit days, but high-school students are already used to seeing mainstream, traditional-looking media.
What if you tried a new approach? What if you gave them an opportunity to learn about your school in a fun, simple, and engaging way? Be different and students won't block you out. Variable Viewbooks allow them an opportunity to connect with you in a different way, and through multiple media formats. Meet them where they're at. Give them the information they want in the way that they want it.
To wrap things up, here are the three "Becauses" of Variable Viewbooks:
Variable Viewbooks are worth it...
Because they're more affordable than you think! Variable-Data Printing (VDP) allows you to only print content that is relevant and specific to the interests of each prospective student. This produces a much smaller viewbook than the large (and heavy) viewbook of yesteryear (meaning lower postage costs). They are also printed "on-demand" so there is no inventory stocked in a mail house or somewhere on campus.
Because mobile usage isn't going away! The online component of Variable Viewbooks is probably the most valuable format because (1) it uses responsive design, (2) it can be accessed anywhere, from any device, and (3) you can know exactly which pages are being accessed.
Because they capture more information! The most important aspect of these prospective student engagement tools is found in the real-time tracking and reporting that you can capture with Variable Viewbooks. Online dashboards allow you to track responses and behavior of each individual prospect so you can better understand what he or she is interested in. Most dashboards are able to export lists of records for integration with your existing student CRM. (To see an example, check out our very own Direct-Connect Dashboard.)
But to really understand the experience of Variable Viewbooks for your prospects, you need to experience them for yourself...
(image source: AES Education)