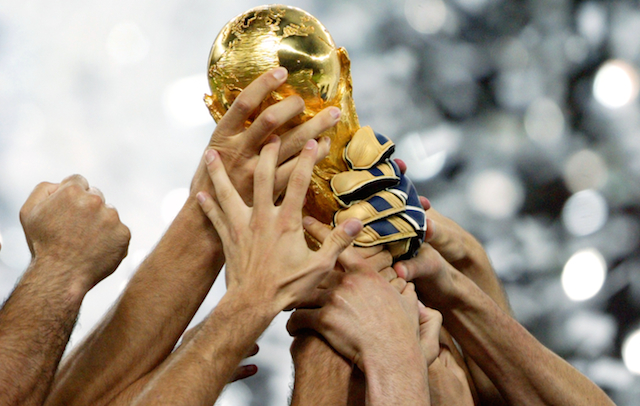 If institutions were equivalent to the national soccer teams that enter the World Cup tournament, where would your institution stand? Don't worry if your school is not a major powerhouse like Germany, or Argentina. You're likely more akin to a country like Costa Rica – you made it into the tournament, but you're not necessarily favored to win the final game. Rest assured, there are some important lessons for enrollment managers to learn from the world's largest single sports event.
Here are three lessons about student recruitment and enrollment management inspired by World Cup soccer. (WARNING: These ideas are highly influenced by (1) my World Cup fever, (2) my experience working with higher education institutions of all sizes, and (3) my two awesome DD co-workers from Argentina!)
#1 Rankings can be Overcome by Better Strategies
Spain was the defending champion and came into the World Cup ranked #1, yet they didn't even make it out of the first stage of the tournament. In soccer, rankings are important, but they are not everything. The same is true when comes to marketing your institution to prospective students – even if your programs are not ranked as high as other regional schools, you can still out-market the competition with better recruitment and engagement strategies.
The way to do this is to give prospective students more of what they are looking for – uniquely! Each inquiry you generate has specific questions in mind as they consider your institution. Following up with them with relevant answers and additional content within the timeframe in which they are inquiring makes a significant difference in the likelihood that they will convert to applicants. Here's a simple formula to keep in mind:
Timeliness + Relevance = Increased Response
Frequency of touches is also important. Enrollment managers cannot just rely on email blasts to get the word out about events, application deadlines, etc. You have to engage your prospects through additional channels like direct mail, social media, SMS Text, and phone calls. Data from enrollment marketing campaigns show that students are 3-4x more likely to respond to multi-touch vs. single-touch communications.
#2 Not Winning Doesn't Mean You Lose
In the World Cup group stage, a team can still proceed to the next stage without winning all of its first group-stage games. Out of a group of four teams, the top two teams move on. Certainly it is best to win all games, but many teams are successful with a tie or a loss.
If "winning a game" is equivalent to enrolling a new student, and if "losing a game" means a prospective student selected a different institution, then let's say a "tie game" corresponds to a prospect not selecting any institution and putting off the decision to apply.
So many admission teams are so focused on driving prospects through the stages of the enrollment funnel that they primarily focus on inquiries and applicants, and forget to re-market to soft prospects. But just because those prospects don't apply now or show up to your event does not mean they are not great potential for down the road (i.e., not a win today, but you still can move to the 2nd round with these prospects). Re-marketing to non-applying prospects 3 or 6 months later will be more effective than searching for new, cold suspects to market to.
Yes, you still need to get the word out about your school and programs to new audiences each year, but don't just give up on the folks who are already in your funnel while you do that. They are 10x more likely to respond to you if you follow up with them within 12 months or less.
#3 Well Organized Teams are Better than a Superstar
I love watching soccer superstars work their magic on the ball and create amazing plays. But even the best players aren't enough to win the World Cup. They need a well-trained and organized team to make it to the final stages.
Similarly, your institution cannot rely on any one strategy to engage and recruit students. You need a well-organized marketing approach that includes a variety of media channels to ensure that prospective students do not fall through the cracks. Here is quick list of strategies that should each have a role in your enrollment marketing strategy:
Prospect Lists: There are great lists out there of prospective students that fit the profile for your institution. If done correctly, you can build a healthy inquiry pool by targeting regional students using postal, email, or multi-channel lists.
Direct Mail:

Print still works well when it is integrated with other channels and when it is personalized with variable content related to the interests of your prospective students. Some niche graduate programs may not be a good fit for direct mail if the target audience is too narrow.

Landing Pages & Microsites:

Your main website is not always the best place to direct prospective students. If you are using email or direct mail it works better to direct prospects to a Landing Page or Microsite so you can get better tracking and direct them through CTA's (calls-to-action).
Trigger-based Emails:

In addition to larger "batch-type" emails, you can create triggered emails set to react to different actions your prospects take. These emails will have a higher open and click-through rate because they are relevant to the content and recent activity taken by that prospect.
Social Media:see next bullet) that can help students make good decisions about your programs. You must have a solid social media strategy in the place first!
Inbound Content:

This is content you have that helps prospects in their journey as they become enrolled students: guides, ebooks, alumni success stories, field-specific content from professors, financial aid calculators, career placement studies, etc. Use this content as a magnet to attract and convert new prospects into your enrollment funnel.
That last strategy – Inbound Content – really deserves its own article, so stay tuned for when we next post on Inbound Marketing for higher education and enrollment management.
And there you have it – solid lessons for enrollment management professionals inspired purely by my World Cup fever. Good luck to Argentina in the final match!
(Photo Credit: Information Security Buzz)