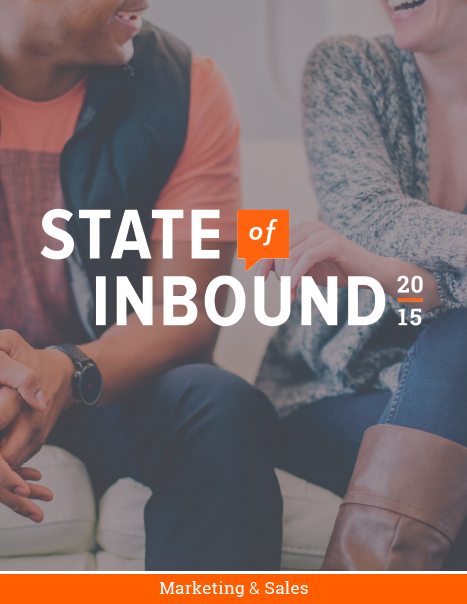 If you work in higher education and have anything to do with enrollment management, marketing/communications, or alumni development, you have likely heard about inbound marketing. (If you haven't, you will soon!)
Regardless of whether your institution has recently started doing inbound marketing, or whether this is a new strategy you are considering, you still need to prove the ROI of your communications plan to justify your likely-shrinking budget.
That's why you need to know what to take away from HubSpot's latest report—State of Inbound 2015—which includes new research gleaned from surveying 3,957 marketers from over 150 different countries! (And no, these are not just HubSpot customers.)
If you have about 54 minutes, go ahead and skip to the bottom to download and read the full 73-page report. Oh, wait...I'm sorry...you work in higher education and probably don't have time to finish this blog post! That's why I took the time to summarize key statistics you should take note of, including images of the best charts and graphs that higher ed professionals should focus on.
Here's what higher education marketers need to know...
Proving ROI & Managing Website Are Top Challenges
Most colleges and universities are either about to revamp their website or recently completed a facelift. And when you get your website into the 21st century you eventually figure out that websites can no longer be just "digital brochures" about your programs.
Your website needs fresh, updated content that provides valuable resources to your personas. So it makes sense that most marketing professionals agree that managing all of that website content takes a lot more work than the executive board may realize!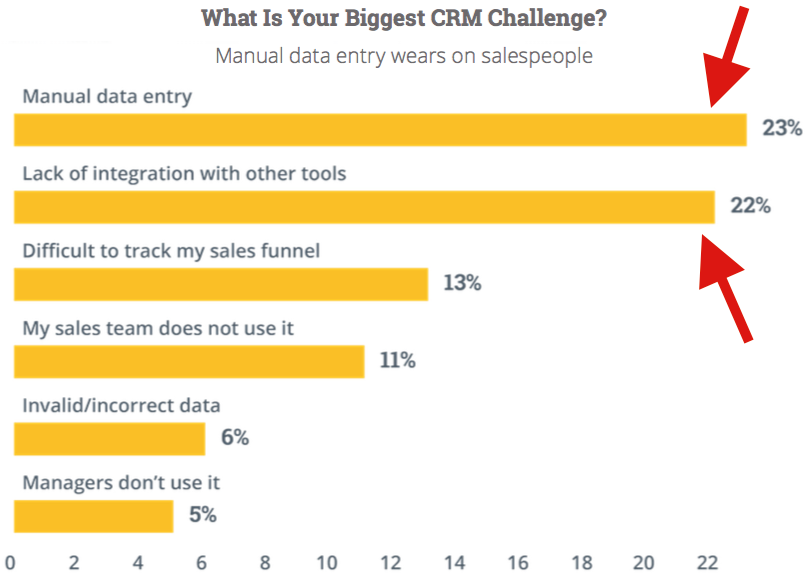 The need to prove ROI is nothing new, and the report goes on to highlight that it is the top challenge by far for larger companies (which is how most institutions operate).
Increasing & Converting Prospects Is the Top Priority
Much of the State of Inbound 2015 report is devoted to "lead conversion", which translated for higher education means "prospective students". Interestingly enough, the top two priorities by far across all industry types were "Increasing number of contacts/leads" and "Converting contacts/leads to customers".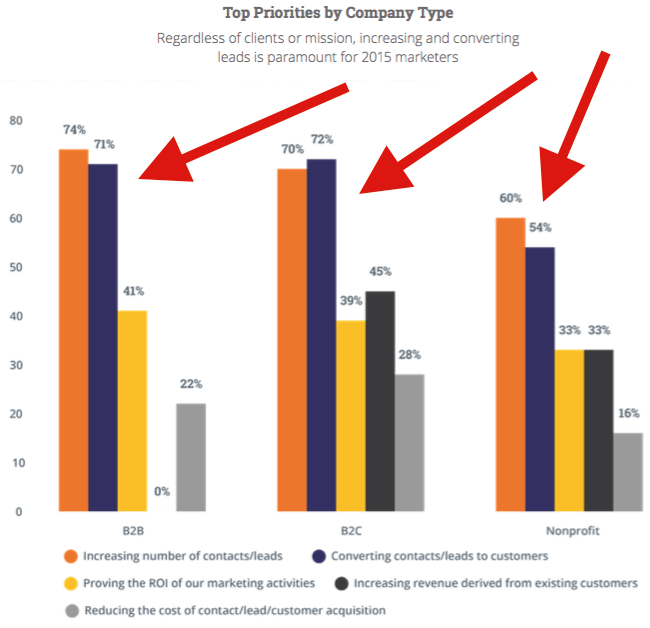 Paid Advertising Is the Most Overrated Marketing Tactic
Paid ads — think print ads, TV, billboards, radio — are, of course, likely to be less preferred by marketers already doing inbound marketing. However, what's really striking from this report is that even the folks who are doing outbound marketing agree with the inbound marketers on this point.
And both sides agree by far that paid ads are highly overrated.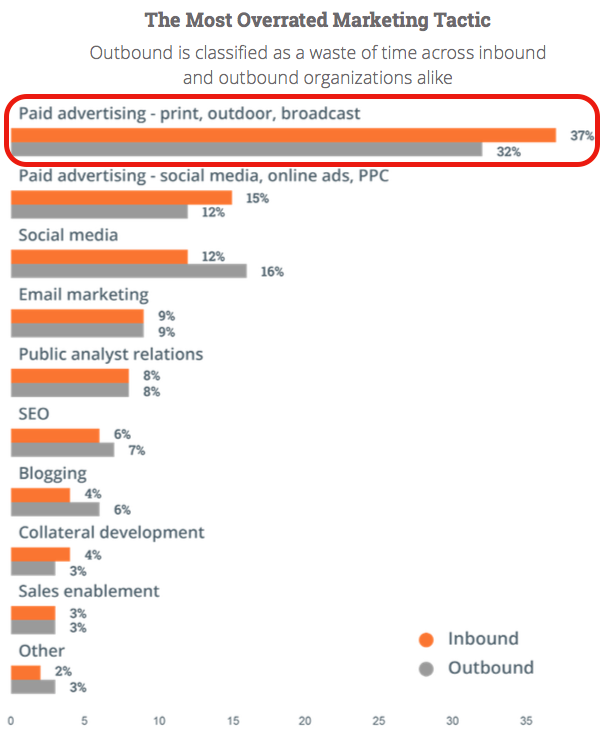 3 out of 4 Marketers Prefer Inbound Marketing
As with most of the best higher ed marketing strategies, inbound marketing was birthed in the for-profit B2B and B2C industries first. Yet often higher ed professionals hesitate on how much attention to give to inbound tactics.
I understand the hesitation, and believe me, there are marketing strategies that simply work better for businesses than for institutions. But in this survey of nearly 4,000 marketing professionals, here's what they chose when asked their preference between inbound vs. outbound marketing approaches: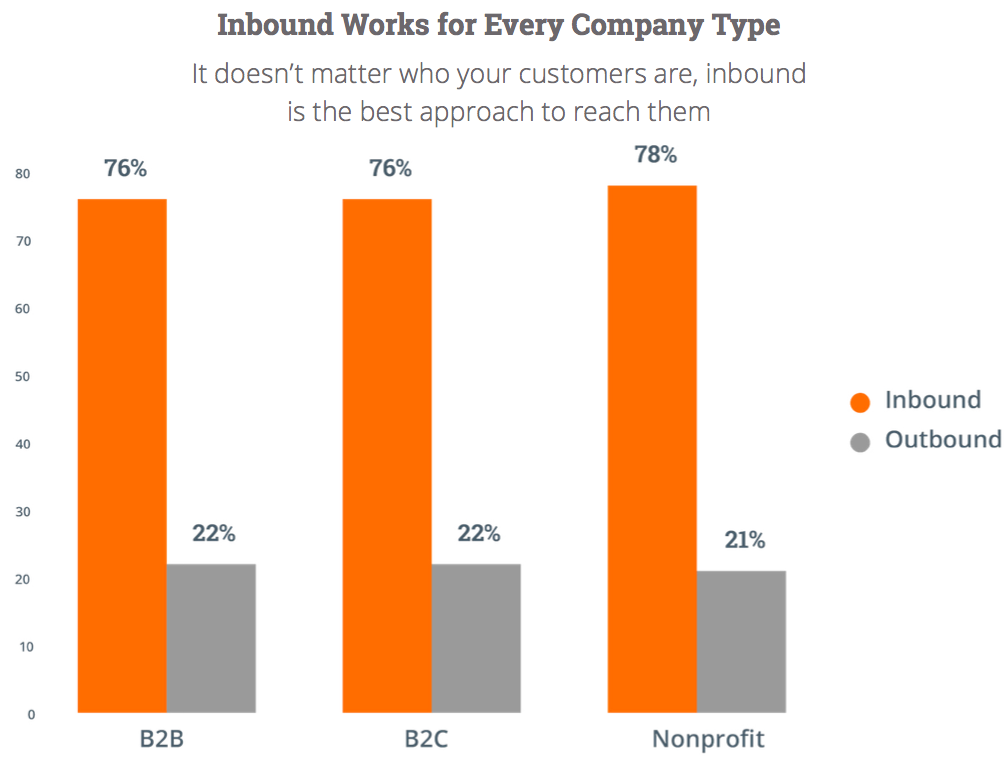 ---

"Inbound had a 75% likelihood of being the marketing approach of choice, while outbound had only a 25% chance. This 3:1 ratio remained consistent across all company types (B2B, B2C, and nonprofit)."

---
Bottom line—inbound marketing is the preferred approach for schools to engage prospective students in the digital age.
More People Are Outsourcing Content Creation
Compared to 2014, more marketing content is being written by freelancers and agency partners. Although in-house staff is still the largest source of authorship that number is decreasing in favor of outsourced solutions.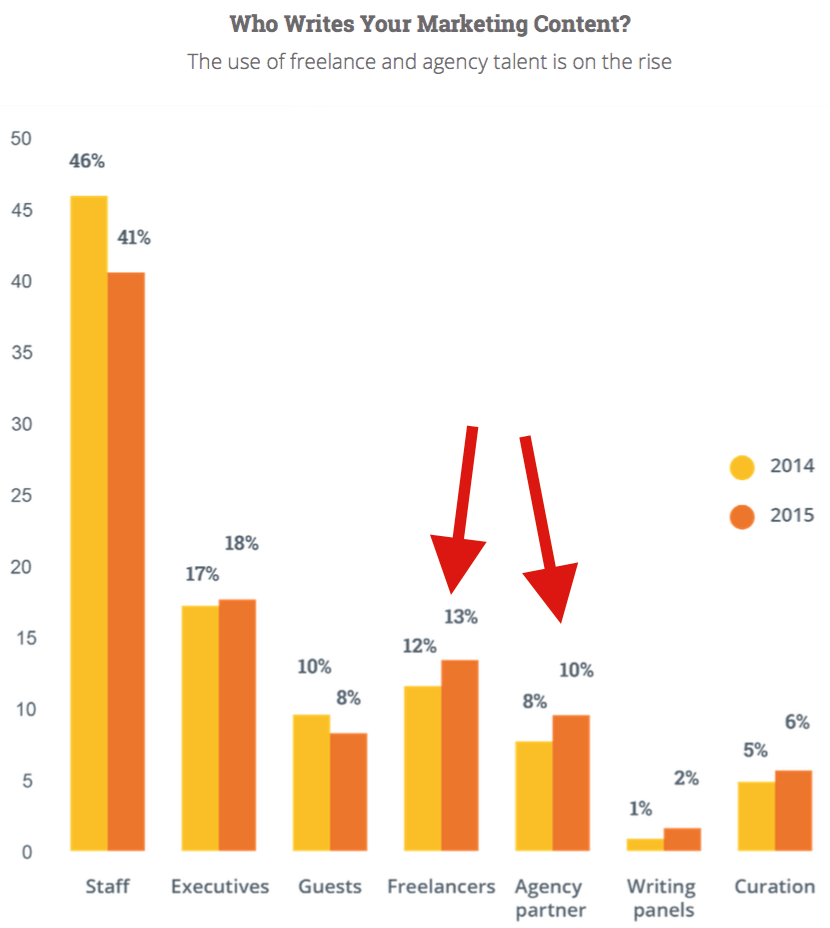 The Smaller Your Budget the Bigger the Inbound
At Direct Development, we often work with enrollment managers and marketing/communications folks to strike the right balance between inbound and outbound marketing campaigns. Both can be effective, but they need to be integrated the right way.
The chart below is very revealing because it highlights the challenge that many small and medium-sized departments (ahem..grad schools!) face when testing a direct marketing campaign for the first time. They try one multi-channel campaign to the best targeted lists of prospective students and cross their fingers hoping for big lifts in applications submitted.
The challenge is that one outbound campaign is never enough.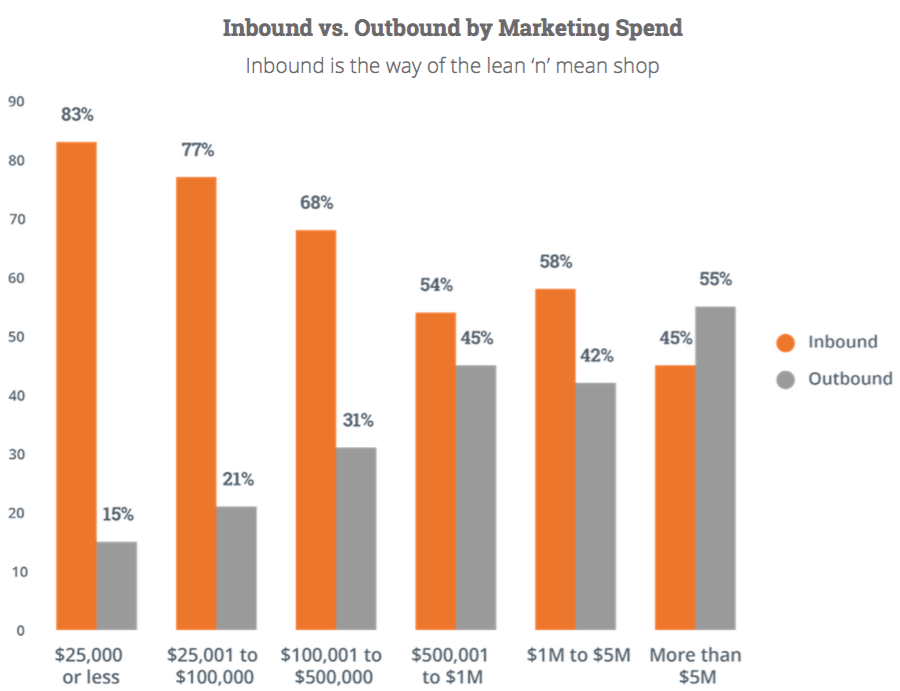 Put plainly, unless you can afford to do enough traditional outbound marketing campaigns to get a positive ROI, you may need to rethink the balance between inbound and outbound in your communications plan.
You Need to Know Your Metrics
One of the most significant problems for higher ed professionals is that they simply don't know what they are really getting from all of their digital communications. They know general information like how many clicks a web banner received, but often they do not know which communications are generating new leads (and re-converting existing inquiries).
Was it the social messages? Was it the video? Was it the blog post? Was it the mailing?
It's not enough today to just have Google Analytics running on your website. You need to know your metrics in order to understand how your content is working for you, to know which topics are getting the best results, and to make better decisions to adjust your strategy week-to-week (Yes–THAT frequently!).

Too busy to keep the pulse on your metrics 3x/week? Then you may want to seriously considering partnering with an inbound agency that can do this for your team, and allow them to focus on their core work.
CRM Is Plagued by Manual Data Entry and Lack of Integration
The State of Inbound 2015 report goes deep into marketing and sales processes, which for higher ed means communicating with inquiries and engaging prospects to take a desired action—subscribe, request more info, apply, schedule a visit...whatever!
CRM systems are critical to enabling communications teams to quickly and easily nurture prospects through the Applicant Journey. So when survey participants were asked what their biggest CRM challenges were, the top two choices were "Manual data entry" and "Lack of integration with other tools."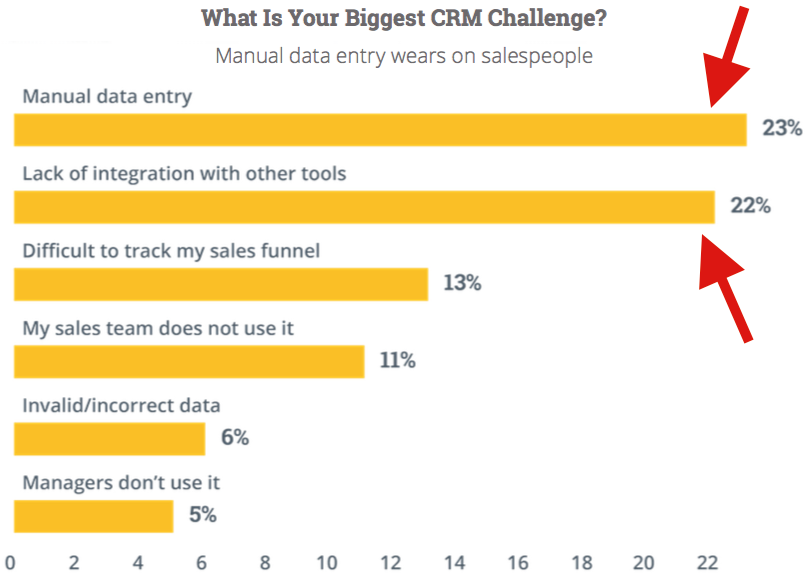 If you are a VP for enrollment, director of graduate or undergraduate admissions, or VP of university marketing, you need to consider how your CRM may be holding your staff back from making better connections with your inquiries (and ultimately nurturing them towards the desired action).
Inbound Is Crucial for International Student Recruitment
Got international students? Want more?
One thing is for sure, you know they are reading everything they can consume about your school, your programs, your housing options, tuition costs, and especially admissions requirements.
And the new research from the SOI 2015 report confirms the popularity of inbound across the globe: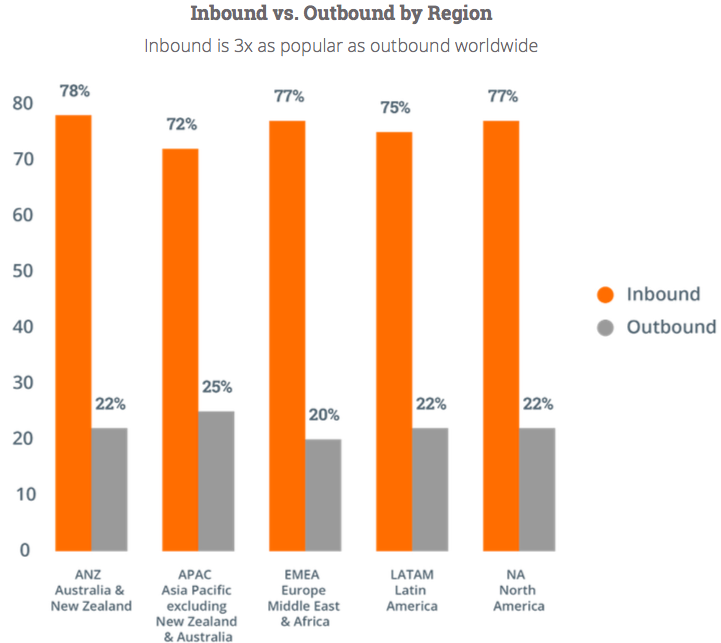 Budgets Aside—Everyone Is Winning with Inbound
I found this final key stat that I want to leave you with smack dab in the middle of the SOI 2015 report (page 25). I saved it for last because I think it is arguably the most significant chart to pay attention to right now because it effectively settles any argument about budget constraints.
I'll let the chart just speak for itself…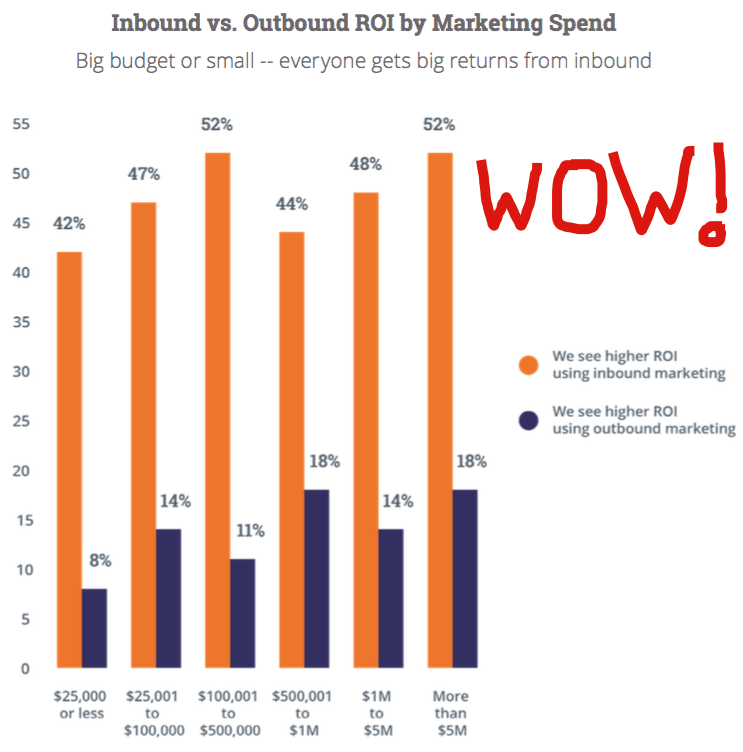 Marketing communications professionals big and small, nonprofit and for-profit, are seeing higher ROI from inbound vs. outbound marketing. No, this doesn't mean you should stop your outbound campaigns—but for those of you who are on the fence about starting an inbound communications strategy, the results are here to support making that move.
You just have to be willing to put in the time and effort to see the results grow over 6 months, 12 months, 18 months, etc. And if your institution is addicted to the instant-gratification of short-term, 60-day outbound campaigns, you need to help them look farther down the road to experience higher ROI.