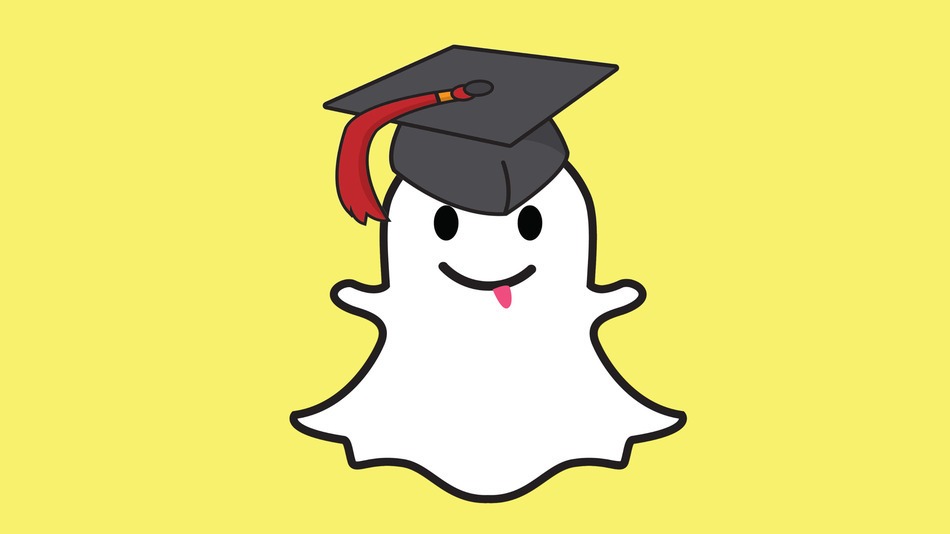 If you've never seen the white ghost above, it's time to familiarize yourself with the latest — and arguably, greatest — social media app, Snapchat.
According to Business Insider, two-fifths of 18-year-olds in the U.S. use Snapchat multiple times daily to communicate with family and friends. That's a higher proportion than those saying they use voice calls multiple times daily. Snapchat's popularity is growing fast, and it's time that higher education institutions learn more about its usability and decide when to start snapping.
Here are four answers to four of the most common questions brands, organizations, and institutions like yourself, ask about the latest and greatest number one photo sharing app:
What exactly is Snapchat?
Snapchat is a mobile app you can download to your smartphone, which allows you to "chat" with friends through photos, videos, and captions. The unique thing about Snapchat is that photos are only viewable for a few seconds, after which they self-destruct. When someone takes a picture, Snapchat gives them the option to choose how long the recipient will be able to view the photo, anywhere from one to ten seconds.
Snapchat allows you to add simple filters to the photos, doodle on images with their paint tool, and write up to 31 characters within a slim textbox that can be placed anywhere on the image. Snapchat also allows you to take videos (up to ten seconds in length, and similarly self-destructing), which are also customizable.
How is Snapchat different than other social networks?
Snapchat is more instantaneous than other photo sharing apps like Instagram. In many ways, Snapchat has become an alternative way of texting. The photo expiration feature allows for a more realistic feeling of conversation than even texting does, in so far as once something is said, it can't be repeated verbatim or referenced later.
Another key difference is the "My Story" feature that Snapchat provides. This allows users to post a story — to a newsfeed of sorts — which can then be seen and watched by the friends in their network. Snap Stories were designed to show your Snapchat friends what you have been up to in the past day. Stories exist for 24 hours and can be replayed as many times as you want within that timeframe.
Is it really worth being on ANOTHER social network?
Snapchat is well on its way to becoming the king of social engagement—so in short, yes! Here's why, though: Snapchat allows you to see how many people view or screenshot your story. This can help you to know what kind of content your students are interested in, what kind of content they are taking the time to save via screenshots, and what content they couldn't care less about.
At your university, chances are there are many events that take place every week. What if you started publishing a Snap Story each Monday morning of all of the events that were to take place at your school that week? If you want to use Snapchat purely for admissions purposes, consider snapping pictures of important application deadlines or upcoming campus visit days to remind students to submit their application or apply for the event!
This kind of quick, back-and-forth conversation is something that is difficult to accomplish on other social networks like Facebook for instance. Snapchat is designed to be quick, simple, and funny. Snapchat is all about relationship building and, more so than any other social platform, allows you to connect with your students and prospective students in a fun, casual, and quick way.
Won't students find it weird to connect with their school on Snapchat?
A common concern about Snapchat for institutions is the "creepy" factor. Some people believe that Snapchat isn't worth it because their students don't want to be "watched" by their institutions. Several universities have decided to test Snapchat out anyway, and they've found that students are willing to follow them without the university having to get their attention by following them first. In an interview with CollegeWebEditor.com, Beth Brashears, a Digital Media Student Recruitment Specialist at Eastern Kentucky University, said:
Snapchat is not being used by marketers because Millennials feel like it is an infringement of their privacy if used incorrectly and not many people have found a good way to use it without coming across as a disruptive marketer. We found a way around that by offering good news, being available, but not sending students personal Snaps unless they send us messages first to avoid being overbearing.
Snapchat helps institutions to deepen their relationships with their followers (whether they be prospective or current students), show true character and a human side to a large institution, and promote events and activities happening on and around campus. Snapchat provides a fun way to interrupt the day and provide some character and fun content for students to watch and interact with.
So what do you think? Is your institution ready to start Snapchatting?
Looking for some help with your institution's social media strategy? Request a free social media consultation!