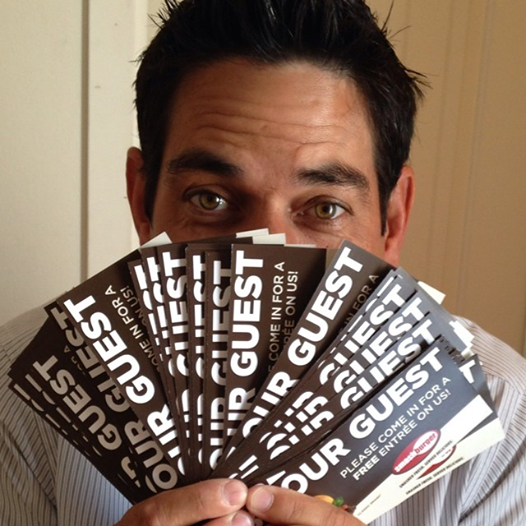 What if your local postal delivery person decided that he was tired of lugging duplicate copies of the same type of mailer and instead of delivering to the houses on your street he simply trashed them all to lighten his bag? Or, better yet, what if he gave all of the coupons to one of his friends who lives in his delivery route, instead of delivering them to the other 167 homes?
Sounds ridiculous, right? Well, I'm here to tell you that it actually happened in my area a few weeks ago - and I can show you the dozens of free Smashburger coupons that my friend received from his postman! I asked my friend how he kept getting duplicates of the "FREE ENTREE" coupons from Smashburger, and he said his postman told him there was too much mail for him to deliver because he gets "too many coupons in my mailbag" and he was going to "throw them away anyways", because he believed "people don't want these type of mailers."
And so my friend - being the Asian-who-can't-ignore-a-deal that he is - told the postman to give him all the coupons instead of trashing them. And since then, he has been enjoying free lunch at Smashburger almost daily.
Now, in case you don't know, I'm a marketing guy, and I've been losing sleep asking myself the question "What if other postal workers are trashing the direct mail that Direct Development designs and produces for our clients in higher education?!"
But then it hit me...I know WHY that mail got trashed!
The postman didn't want to lug all the extra mail he is being dumped with because there is a huge proliferation of bulk mail that qualifies for the USPS's Every Door Direct Mail program. It basically means that local restaurants and businesses can forgo having to put a name or address on mailers if they agree to put a mail piece in every single home within a carrier's route. This programs saves the businesses a lot of money on postage, but it means you and I are getting "mail bombs" dropped in our neighborhoods, regardless of whether or not we are actually good customers for those businesses.
So, what does this mean for direct mail as a part of your marketing strategy? Should we all be concerned that any random postal delivery person who is tired of seeing large quantities of the same mailer will trash our institution's marketing pieces?
Not necessarily! It really depends on how your school uses direct mail. Does your strategy involve traditional, bulk direct mail that is very generic and essentially the same message to all prospects? If so, then yes, you should be concerned - not so much that your mail will get trashed by the USPS - but that you may be guilty of sending student recruitment materials that are too generic to be noticed.
However, if your recruitment strategy involves highly personalized direct mail, with content relevant to the individual recipient, then have no fear! Not only is it less likely that your postman will consider that mail as "junk," you will also be increasing your chances that your prospects will actually read your mail!
At this point, I realize that it would probably be helpful for me to share my best advice on how to execute a personalized direct mail campaign that actually works. Instead of just sharing my tips, I'll give you access to comprehensive resources that you can click to read or download real examples of marketing that works.
Articles & Resources to Improve your Marketing Strategy:
Learn how to target the right prospects using lists in our eBook: Using Prospect Lists to Recruit Graduate Students


Understand how to recruit students from multiple generations in this blog post: Recruiting Students From Multiple Generations


See examples of how other institutions used variable-data-printing to improve their direct mail to promote on-campus events:

Watch a Video on how VariableViewbooks work better than traditionalviewbooks:
I encourage you to take the time to implement at least one of the above strategies, because seriously, you don't want what happened to Smashburger to happen to your Institution!