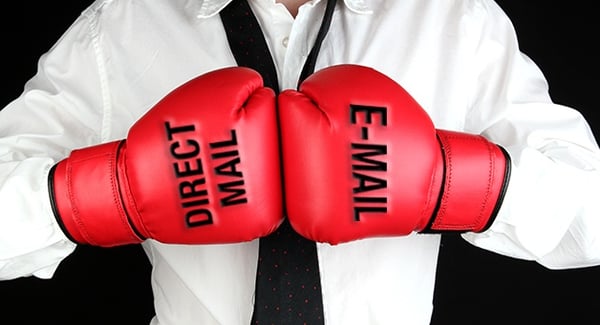 As the digital revolution has taken the world by storm, more and more higher education marketers have turned away from traditional direct mail marketing (postcards, magazines, etc.) and moved toward social media and digital marketing.
But don't abandon your direct mail campaigns just yet! While digital marketing certainly is the future, direct mail marketing still plays a crucial role in reaching out to prospective students in a way that email and social media marketing can't.
Even if an email is seen, it's often abandoned and buried in a busy and overcrowded inbox. Furthermore, 30% of email users change their email addresses annually. Much of the remaining 70% change their email accounts regularly.
The beauty of direct mail is that it is intrusive. That's right, intrusive. There are no filters that can block an incoming piece of mail and there's nothing to keep a piece of direct mail from getting from you into the hands of a prospective student (even if it's only for 3 seconds).
Additionally, one survey found that 73% of consumers prefer receiving mail marketing over other digital marketing. Not only does direct mail deliver content straight into the hands of prospective students, but also the majority of available data is postal. Some estimate that the figure for available emails is approximately 20% of postal addresses. By using digital-only methods, you could be missing 80% of your target market.
Both digital and mail have characteristics that cater to different audiences. If you want an effective marketing strategy, the question isn't "Direct mail marketing or digital marketing?" The real question (and this is where I see most marketers go astray) is "How much of each should I use, and how can I integrate them into a successful multichannel campaign?"
Here are four ways that we answer that question:
1. Track Your Campaigns
The digital revolution has brought about easy and cost-effective ways to track which records visit your landing page or website. This is big! It allows you to test different marketing tactics in order to maximize efficiency and efficacy in your marketing campaigns. For example: you can test whether students respond better to a postcard or to a trifold, or you can test which list providers have the best data.
Once you track and analyze your data, you can make the right decisions on budgeting, marketing improvements, time allocation, etc.
2. Know Your Audience
Personalize your outbound material and communicate to potential students in their language (whether it be online or in print or in other media). Students appreciate when universities take the time to personalize their marketing. Variable Data Printing is a great way to catch a prospective student's attention.
3. Use a Landing Page, Not Your Website!
Landing pages are sites that cater to a particular campaign. Studies have shown that directing potential students (and all consumers, for that matter) to a landing page rather than a website yields better results. Be sure to make your call-to-action clear and distinguished.
4. Integrate and Time the Multiple Channels to Work Together (Teamwork!)
As always, the more touches (modes of contact between your admissions office and a prospect) your campaign has, the better your chance is of getting a response.
Touches should be as varied as possible and include mail, email, SMS text, social media, etc. The key is to time the touches appropriately so that a person isn't being bombarded with your school's marketing. A general rule of thumb is to leave one week between touches. Along the same vein, be sure to use the same color scheme and logos for each touch. This builds your school's brand awareness with the student and increases the likelihood of someone taking a closer look.
Though the marketing industry continues to change, direct mail marketing is still an irreplaceable component. Putting energy and resources into innovating your direct marketing strategy will mean real prospects — and students.
Want to check out a case study on using smart direct marketing tactics for student recruitment?