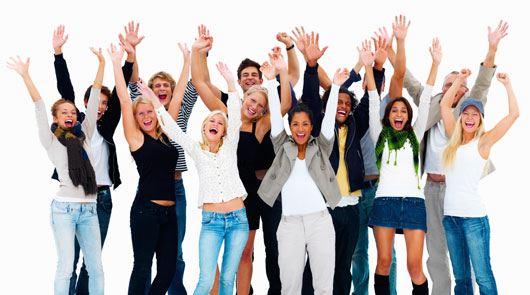 Once they have sent in their checks and are enrolled as students, your job as an enrollment marketer is done, right? From this point on it's up to the academic counselors, professors, and the overarching experience that your institution offers to delight your students while they are in school and ultimately cultivate them into happy alumns once they graduate, right?
What if I said, "false"!? What if I sugested that it is actually important as an enrollment manager to remain an active participant in the lives of current students and alumni and continue to cater to their needs even once they have reached the last stage in the enrollment funnel?
The fourth and fifth stages of inbound marketing for higher education are all about delighting your current students and alumni so that they become promoters and advocates for you institution. But you're an enrollment manager and you don't handle current student and alumni affairs, right? Wrong! Before you get mad at me and close your browser, please hear me out.
So what do I mean when I say that you need to D.E.L.I.G.H.T. your current students and alumni?
This is what I mean:
Discover what they are passionate about
Discover what they are passionate about and what they are interested in! If you are catering to current students, take the time to host "admissions sponosored" events throughout the year and use this time to do something "fun" that can also be used as a marketing resource down the road. For example, bust out a video camera, some cookies, and a cardboard sign that says "come tell us why you're passionate about Direct Development University, and enjoy a cookie...or two".
Why would you do something so ridiculous? Well believe it or not, college students actually want to tell you how they feel about you! If you entice them with some cookies (and they better be homemade) and give them the opportunity to speak on film, students will tell you what it is they love about your institution, thereby giving you great content to use.
Engage with them regularly
Swim in their pond! If students truly are spending hours upon hours on social media (and the studies say that they are), then in order to engage with them you need to meet them where they are at! Get on social media, write blog posts that generate comments, create inspirational promotional videos, etc.
The goal is to give students an opportunity to connect with you in a personal way by showing them that you "understand", that you "get it". For example, you could write a blog post on "Top Ten Places to Pull All Nighters on Campus" or "Why Soul Searching in College is Normal". The point is that you are showing students that you care, and more importantly, that they still matter to you!
Listen to them
After you have discovered what your students are passionate about and started engaging with them, it is time to listen to what they are saying. Your existing students and alumni can and should be your greatest resource, but you first need to hear what they have to say (in order to find the good content worth sharing!). Remember that in order to listen to them you need to create an opportunity for them to speak. Surveys and feedback forms are a great way to gather information about what students love about your institution as well as what specifically it was about your institution that helped your alumni get to where they are at in the world today.
What if you went a bit further though and did something "cool"? What about a Twitter Q&A session where members of your enrollment team (or student services) asked current students to describe (in 140 characters or less) what they love most about your school or graduate program, and what ideas they have to make it better? Then you can favorite and re-post the best content, while showing your current students that you care.
Inspire them and be inspired by them
Inspire them to share your content on their social media networks by sharing theirs! Yes, I am suggesting that you pay attention to who is interacting with you on social media and re-tweet, favorite, like, and share the content they are posting...espescially the content they are posting about you.
Remember that students actually desire to connect with you. If they have decided to attend your school, or if they have graduated from your school, chances are they actually like you! Give them reason after reason during their college journey to grow in love for you – remember that the more they love you, the more likely they are to share "you" with others.
Give them good content
Furthermore, give them content – like blog posts, images, fun videos, etc. – that are "share-worthy". If you publish good content, your students WILL share it with their networks. In the mind of the typical college student, good content is worthy of being shared even if they are not particularly interested in what the content is about.
Why is this so important? Because by sharing your content, they are introducing your organization to their networks. Perhaps your post gets shared again? Now your organization has been introduced to three pools of networks...it's what we like to call the ripple effect.
Help them by being a good resource
Be a resource for your current students. Let them know that you are there to answer their questions. College students (and Millennials in general) have this special ability to see right through you – they can smell your agenda from a mile away. Be real with them and let them know that their questions actually matter to you and you do care about how their life post-graduation has gone. Prove to them that they are more than just a number! Choose to take the time to simply be there for them...fifteen years down the road when they are the CEO of a successful start-up company and they get an "ask letter" from your alumni development team, they are going to remember how you treated them...trust me they will!
Track them during their college experience and after graduation
No, not in a creepy way! By track I mean stay up-to-date with them. As I mentioned earlier, your job as an enrollment marketer should not stop once the student has enrolled. It should also include a continual process of cultivation and relationship building. Yes, I understand that this is typically a job for your Alumni Relations department, but I am suggesting that you come together on this one.
You see, by delighting your current students, you are ultimately starting the alumni engagement process early. By delighting your alumni, you are actually helping the enrollment folks out because if you delight your alumni correctly, they will become the biggest advocates and promoters of your institution thereby attracting more visitors, and ultimately more applicants. It's a win-win for everyone!
Feel free to share your thoughts on this using the comment form below! Do you agree that enrollment management professionals should not stop engaging students once they enroll?