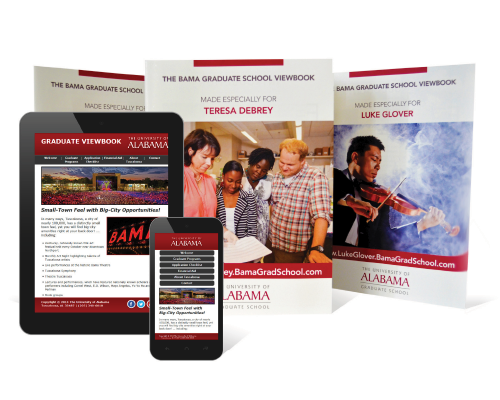 Let's talk about Variable Viewbooks. No, not those jumbo-sized extremely expensive magazines that you've printed in the past with little to no increase in prospects, but a fully variable, three-format, engaging viewbook that gives prospective students access to an entirely customized experience of your school.
Today—more so than ever before—you need a recruiting tool that will meet the needs and expectations of "the modern prospect". Your school needs a tool that will:
Offer a way to access quick information as an alternative to an encyclopedia-sized website

Attract prospective students (and keep their attention) by providing an innovative and engaging experience of your institution

Provide an easy and quick way for prospects to access the information they want, in the way they want it

Have the ability to track these prospects and receive detailed analytics on how these prospects interact with you
Through a simple form on a landing page that has the same look and feel as your website, prospective students answer a few questions about their interests (major, athletics, financial aid, Greek life, etc.). Upon completion of this 3-4 question form, prospects are brought to their very own, completely personalized online viewbook. Here the prospective student can easily learn about the major or program he is most interested in, the athletic program he wants to check out, and what kind of scholarships your institution offers.
What if you tried a new approach? What if you gave them an opportunity to learn about your school in a fun, simple, and engaging way?
Be different and students won't block you out. Variable Viewbooks allow them an opportunity to connect with you in a different way, and through multiple media formats. Meet them where they're at. Give them the information they want when they want it and in the way that they want it.
To wrap things up, here are the three "becauses" of Variable Viewbooks:
Variable Viewbooks are worth it...
Because they're more affordable than you think
Variable-Data Printing (VDP) allows you to only print content that is relevant and specific to the interests of each prospective student. This produces a much smaller viewbook than the large (and heavy) viewbook of yesteryear (meaning lower postage costs). They are also printed "on-demand" so there is no inventory stocked in a mail house or somewhere on campus.
Because mobile usage isn't going away
The online component of Variable Viewbooks is probably the most valuable format because (1) it uses responsive design, (2) it can be accessed anywhere, from any device, and (3) you can know exactly which pages are being accessed.
Because they capture more information



The most important aspect of these prospective student engagement tools is found in the real-time tracking and reporting that you can capture with Variable Viewbooks. Online dashboards allow you to track responses and behavior of each individual prospect so you can better understand what he or she is interested in. Most dashboards are able to export lists of records for integration with your existing student CRM. (To see an example, check out our very own Direct-Connect Dashboard.)
But to really understand the experience of Variable Viewbooks for your prospects, you need to experience them for yourself...