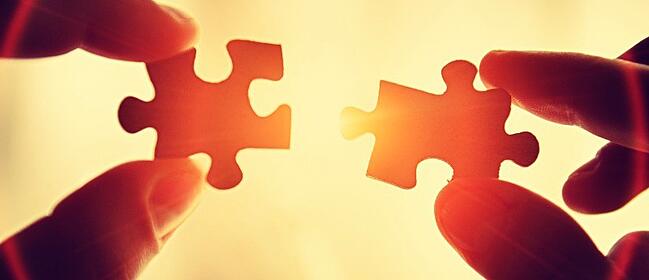 The second stage of Inbound Marketing for donor development is all about connection, and this week I want to dissect the basic tools necessary to convert website visitors into supporters for your nonprofit organization.
Today there are so many different approaches that nonprofit organizations can use in their communications strategy. The following four tools may seem obvious to you, but the reality is that many nonprofit websites are not designed for conversion. Let's look at these four inbound tactics that can increase your chance of making a real connection with website visitors to convert them into trackable prospects in support of your mission.
Use Calls-To-Action to Entice Visitors
Most people think Calls-To-Action (CTAs) are just buttons, but actually a CTA can be images, blocks of text, or other types of graphics that direct visitors to take some sort of action. CTAs should stand out and be obvious to the user.
The problem with many nonprofit websites is that their pages are typically clustered with competing graphics, headlines, and images, some of which are actual CTAs and some are not. Visitors have too many choices and can go in several different directions on your website. Instead, CTAs should be clear and obvious, and visitors should know what they will get (more or less) by taking the said action.
The reality is that the development or communications staff in your organization needs to be able to use CTAs for any of the following content promotions:
fundraising events
blogs
eBooks/guides
mission reports
photo galleries
videos
peer-to-peer fundraising information
volunteering opportunities
giving opportunities
advocacy opportunities
Regardless of what it is, your website needs to be filled with clear CTAs that direct visitors to get more information quickly. It's not just about getting website visitors to give you another gift — it's about giving them access to the content they care about.
Set Up Landing Pages for Each Content Offer
The second inbound tactic for converting mere visitors into interested prospects is to set up separate landing pages (LPs) for each content offer you have made a CTA for. Once a website visitor clicks a CTA, they should be directed to a simple and clear site page that is solely about that specific content offer.
I know this is not a new concept. Yet, amazingly, many nonprofit marketers have difficulty creating and using landing pages. There are a variety of challenges — laborious internal IT processes, software complexities, time constraints, etc. — with my favorite one being "the person who handles our website is too difficult to work with!"
But there are huge benefits to setting up dozens of landing pages that provide access to valuable content about your cause or mission! Here's just a few to consider:
LPs make it easier for your visitors to get what they want.
LPs help increase your Indexed Pages, improving your SEO.
LPs allow you to offer dynamic content that is relevant to individual prospects.
Gate Your Content with Forms
Now, why go to all the trouble to make custom CTAs and set up Landing Pages for your content? Because you get to use FORMS to capture your browsing site visitors! That's the whole point of taking the time to attract new donors with remarkable content (which is the first step in the Inbound Methodology).
Now, for the third time in this blog post, I'm bringing up a concept that is not quite rocket science. You're probably thinking "what's the big deal about forms?" And you're right...forms aren't supposed to be a big deal to your site visitors if you follow good inbound strategy!
In other words: if I am browsing your website and see a CTA with a content offer I'm interested in, click that CTA and go to a Landing Page that has a picture of the downloadable content and instructions on how to access it, then at that point I expect to see some sort of a form.
The key is to make sure you don't ask for too much information, but also not too little. The rule of thumb you should follow is that the greater the value of your content, the more form fields you are justified in using.
Use Technology to Implement Contact Tracking
Finally, the fourth and most important tactic used to connect with visitors on your website is to implement contact tracking. This is where you use some sort of marketing software technology to track people who have completed any form (contacts) and follow their every move.
There is a variety of solutions out there. At Direct Development, we happen to be big fans of HubSpot's marketing platform because these guys basically wrote the book on Inbound Marketing. By using this type of technology, your entire development staff can track the following activities taken by your constituents:
Which website pages they are viewing
Which CTAs they are clicking within your site and any of your LPs
Which social messages they are responding to and/or sharing
Which video they are watching (and even how much of the video they watch!)
Which email campaigns they are clicking through
Which blog posts they are reading
You get the idea. Inbound Marketing combines your powerful, mission-related content with today's marketing technology to allow you to capture real interest from visitors to your website. And today I've just been talking about the 2nd step of the Inbound Methodology for donor development. The next two steps we will be covering in upcoming posts!
Want to learn more about connecting visitors to your mission with inbound marketing? Download the eBook!