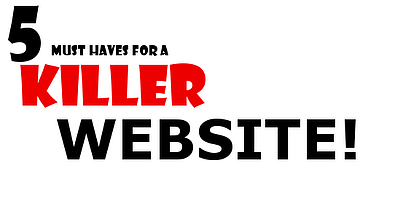 As we approach the busy fall fundraising season we thought it would be a good time to say something about the importance of making sure your organization's website is ready to handle the influx of donor activity. Since you are planning your year-end appeals, it is essential that you continue to update your website. You are planning your year-end appeals now, right?
We have found that a lot of smaller and medium nonprofits are under-staffed and short-budgeted and really appreciate a lot of guidance on matters such as website development, donor engagement, technology, etc. They have a hard time juggling their program (the reason to exist) with management (the result of existing) and all of the administrative tasks associated with running and expanding a nonprofit. So this blog was created to help you boil things down and make your life just a little easier. We love helping change the world for the better!
Ok, let's get to it. Here are 5 Must Haves For a Killer Donor Website:
1 -Don't Fosselize - Let Your Site Evolve.
First and foremost, a website is an evolving entity. Don't think that you are going to create your website, launch it, and then forget about it. You should develop a Content Marketing Plan to update the content and structure of your website on a regular basis. Just like a new car, as soon as you drive your site off the lot the clock starts ticking. Aging content (especially dates from past events) shows that you are an out-of-date organization. Donors are less likely to trust their money will go to good use. Plus, Google's new site ranking system values regularly updated content so this will increase your SEO success.
2 - Loud and Clear - What Do You Do Again?
Donors want to know what they are giving their money to, so having your mission statement front and center goes a long way to showing what you stand for, why you exist, and what a donor's money will do to help. Be specific in your statement and write a compelling statement about your program. This gives donors and potential donors a reason to get behind your cause.
3 - Go Viral - Let Your Visitors Spread The News.
The ability of social sharing should always be present as much as possible on your site. This is especially important with how often you are going to be updating your content. As you add new and fresh content to your site your visitors are going to be excited to share. Add social sharing to your master navigation and any article you post. Don't forget your donation page! Also, integrate with social media as much as possible.
4 - Be of One Heart And Mind - Branding.
A simple and concise brand across all online and printed materials is crucial – this is especially true for campaign-specific material. If you do an annual appeal, the same look and feel should run throughout your entire universe. Couple this with compelling content and even more compelling imagery and you've got a winning combination! Donors like to see consistency. This is nowhere more important that on your donation page. Studies have shown that branded donation pages raise more money and have higher average donations than nonbranded pages.
5 - A Call To
Arms

Action! Millard Fuller

–

Founder of Habitat For Humanity and a master fundraiser

–

always tied an ask to a specific purpose. Donate this amount to buy a bag of nails, he would say. This was highly effective and he built his nonprofits on this idea. A call to action [these days Call To Actions (CTAs) are in the form of buttons on a webpage or a PURL link on a printed piece] asks the reader or visitor to do something specific. This is fundraising 101 and clears up any ambiguity of what a donor is being asked to do and they know exactly what their money will go towards.
It was very difficult to pin these down to just 5 Must Haves but I think these are some good starting points (obviously online giving is a given). Stay tuned to this blog for future must haves to make your site a donation machine!
Interested in seeing a real-life donor website transformation? Click the image below to take a look at this side-by-side comparison of a recent project: