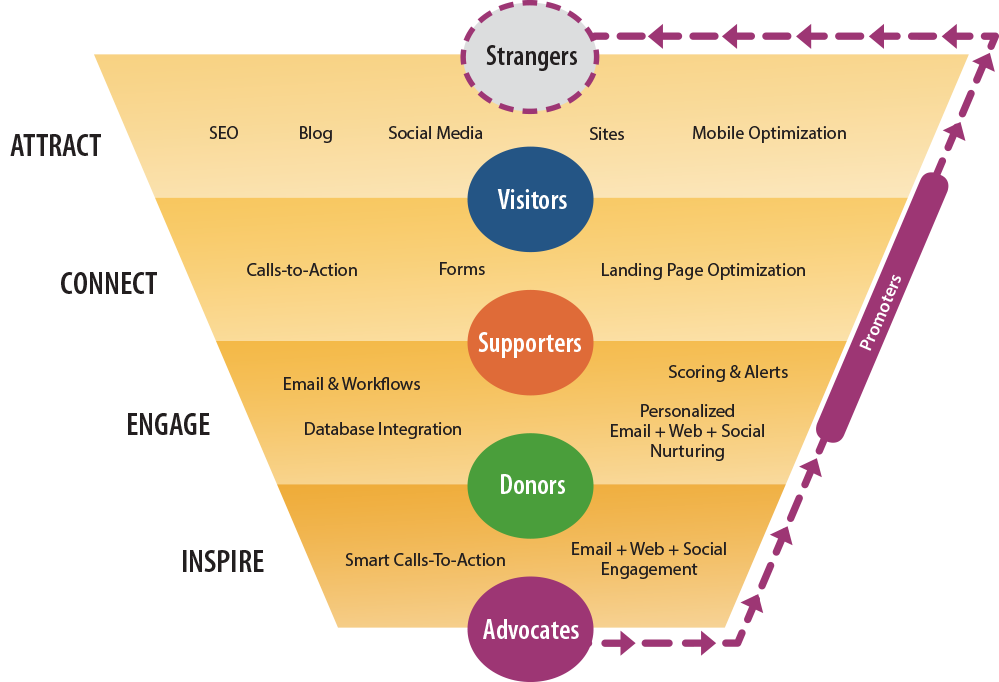 Most nonprofit organizations are great at communicating with donors, members, volunteers or advocates using traditional, outbound marketing strategies. These interruption-based communications typically include direct mail, e-blasts, printed newsletters, magazines, etc.

Alternatively, inbound marketing approaches communications from a different angle, allowing nonprofit organizations to start from the vantage point of their audiences — using personas — for the purpose of providing engaging content that appeals to the goals, problems, and relative situations of their constituents.
However, before going deeper into the technical aspects of this strategy, I realize there is a growing need to answer the bigger question of why your nonprofit organization needs to embrace inbound marketing in the first place.
Here are 6 reasons to consider inbound marketing for your nonprofit…
Reason #1 — Nonprofits Have a Goldmine of Content
Whether you work in development, membership, or marketing/communications, you know that your organization has powerful stories (content) that could be pushed out to your audiences. I'm talking about content that is sourced from your mission field (positive, life-changing experiences), your advocates (why they support you), leaders in your organization (related to vision), and yourself!
The problem is that most organizations are not leveraging that content. It either exists and is not being purposefully promoted, or it doesn't exist because the need to tell more stories hasn't yet been realized.
Reason #2 — Your Social Media Admins Need Guidance
Many nonprofits we work with do not have an overarching strategy to guide their social media efforts. I bet your organization probably has a halfway decent presence on Facebook and Twitter, but I bet the person(s) responsible don't feel entirely certain that what they are posting is actually producing any real fruit.
Engaging social content is just one part of a good inbound marketing strategy, and having a strategy in place would help establish a purposeful approach to the "Who, What, Where, and When" for whomever is administering your social media communications.
Reason #3 — Google Wants More Indexed Pages to Boost Your SEO
Organic search results are extremely powerful in directing a prospective donor's or member's research process. No matter how pretty your organization's website may be, without regular publishing of fresh content on landing pages that consistently use unique keywords, you will have a hard time attracting new visitors to your site. So, it is extremely important to be able to quickly produce landing pages filled with keywords pertaining to your areas of mission/thought leadership in order to increase your SEO results.
Reason #4 — You Need to Blog Effectively
Piggybacking off of #3, one of the easiest ways to increase your indexed pages is to blog regularly. And frankly, most organizations probably need multiple blogs tailored for different personas. We're talking about blogs built around attractive premium content, using simple Calls-To-Action (CTAs), designed to get clicked, downloaded, read, shared, etc. (all properly branded according to your organization's branding guidelines, of course!).
Reason #5 — The Advocate Journey is Not Linear
Today's constituents don't just go to your website, read one story, subscribe to your e-newsletter, and then click the "Donate Now" button to give you money. In between each of those steps is online research, live events, communication with friends, social engagement, etc. That's the nurturing part of the advocate journey, and realistically your constituents go back and forth in their decision process.
The way you can best nurture the relationship is by providing personalized content that prospects actually care about. But wait, how do you really know what that is unless you can track them individually as they are checking you out? You need powerful inbound marketing tools that enable you to see that information in real time.
Reason #6 — Your Organization Needs More Promoters
Most donor development and member recruitment strategies involve some sort of funnel that ends with the person either making a donation or signing up for membership. Inbound marketing strategies go another step by developing your existing members/donors into advocates — critical evangelists who promote content that gets seen by strangers. By tracking and measuring the reach of the content your promoters are sharing, you can understand which topics are resonating and actually working to effectively bring in new prospects.

There are more compelling reasons why adopting an inbound marketing strategy is essential for both nonprofit charities and membership associations. But you don't have to take my word for it. I, myself, am hesitant to adopt new marketing ideas until I see the data behind them...and the data doesn't lie!
To that end, we put together a Statistical Guide with 12 Inbound Marketing fun facts, charts, and graphs so you can see the industry trends related to different aspects of inbound marketing. Enjoy!