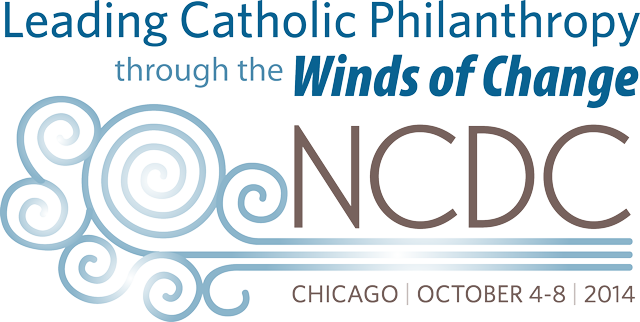 Certainly Catholics are not the only people doing professional fundraising today. Nor are they the only ones doing Christian fundraising. Yet, when the annual National Catholic Development Conference (NCDC) gathers each year (most recently in Chicago just over a week ago), it is one of the (few) large gatherings of professional religious fundraisers in the world. For this reason alone (aside from any specifics of its many-faceted content), its thematic thrust is worthy of attention.

The Direct Development team always has a contingent present at this annual event. As such we are often privileged to be presenters and have many opportunities to engage one-on-one with our existing and potential clients. Since we did not present this year, we had more time than usual to simply "work the turf" and take in what others were saying, discerning trends and absorbing the concerns of the hundreds of development professionals in attendance.

In the wake of this "trends in fundraising" conference, I wanted to quickly share with you 8 take-aways.
These pithy challenges and proclamations are gleaned from the conference's keynote address, given by NCDC's President and CEO since 2001, Sister Georgette Lehmuth, OSF (Franciscan Sisters of Our Lady of Perpetual Help, St. Louis, MO). Sister Georgette has been leading the charge among Catholic fundraisers for many years, just recently having been named one of the NonProfit Times' "NPT Power and Influence Top 50" for the 9th consecutive year.
The theme of this year's NCDC conference, as we have highlighted in
recent blog posts
, was "Leading Catholic Philanthropy through the Winds of Change." Indeed the "winds of change" could be tangibly felt in the conversations and general "buzz" among conference participants. It was like the weather in Chicago…windy!
Are you ready now for the 8 take-aways? Have I prepared the ground sufficiently?
Here goes….
1. See the movie: When the Game Stands Tall.
Sister Georgette used this powerful recent movie (see trailer here) as an analogy to stress many of the values and approaches to mission that should boldly characterize Christian fundraisers and people of good will. The movie tells the dramatic story of a high-school football team with a multi-year undefeated record facing the questions of change, love, brotherhood, sacrifice, passion, honesty, and soul-searching to discover what is really important in life. You could very possibly find solid inspiration in this movie for yourself and for the fundraising team that you lead or participate in. Check it out. For Sister Georgette, it was enough to build an entire keynote address on!
2. The foundation of Christian mission is love of God and love of neighbor.
This one really needs no comment. It is painfully obvious. But, as it is sometimes easy to forget amid the pressures of financial stresses, it is something we need to constantly keep before us in our prioritizing and guiding principles. Let's write it on our hearts!
3. The primary role of philanthropy: Expand Our Missions!
It can be tempting to limit our fundraising vision to simply maintaining the (good) work that our organization has been and is currently doing. This is generally easy to do but may not contain the openness to change and ongoing adjustment that often comes with "reading the signs of the times." We should always be thinking about inspiring our donors with both "maintenance" and "expansion" where appropriate. This can be intrinsically motivating.
4. What is in our "ask"? Invite and engage the community faith!
Fundraising appeals need to inspire and motivate. But for what end? The ultimate purpose of inspiration and motivation is ACTION. We must lead our constituencies to DO something. There must always be a CALL TO ACTION (CTA) of some sort. This "ask" or CTA can be simply presented as some kind of guilt trip (many Christians, unfortunately, are sitting ducks for this approach) OR our "ask" can more maturely take the form of a bold invitation to a person who we already honor as being generous and motivated as a "fellow person in the community of faith." Donor relations are peer-to-peer relations. From this perspective the goal of the invitation is fraternal engagement rather than guilt relief!
5. Stand tall for ethical fundraising. Period.
Fundraising professionals, including professional consultants, are called to keep their priorities straight: their work on behalf of their organization/client is all about their organization's/client's mission. Temptations to "maximize profits," or take unfair advantage of fundraising windfalls at the expense of client success must be rejected as a matter of ethical business practice. "Any means to a good end" cannot be the motto of professional Christian fundraisers or of Christian fundraising organization themselves. There is a real need to line up fundraising methods with organizational mission and purpose. Donors who are worth their salt will readily see through anything less.
6. There is no future for "same ol', same ol'." Change is inevitable. Change or die!
There is much that can be said on this topic, and it remains one of the most challenging issues for professional fundraisers and organizations that are locked into comfortable and "what we have always done" strategies. Let's face it: not many people enjoy change. It can be very uncomfortable, very hard. When speaking forcefully of the inevitability of change, Sister Georgette was clearly referring to change in HOW we do our work (communication methods appropriate for our times, for example), change in the TOOLS with which we do our work (technological change, for example), change in the ATTITUDE with which we do our work (no more "we've always done it this way" as the rationale for the status quo), and change in our frame of mind toward those we serve if necessary (everyone is our brother or sister, a child of God, made in God's image and likeness just like us!). Very challenging stuff. Change or die!
7. Today's decisions are more about the future than about today.
This one is a mouthful, and worthy of some reflection. When you have a chance (outside of work hours when you are not rushed or pressured), take some time to reflect on this statement. None of us can completely control the future, of course. Yet, the more we can approach each decision we make as a professional fundraiser today as really being a decision about what our future will look like, what our future can be (in Christ), the more thoughtful and careful we will be about each decision. There is always a lot at stake in organizational decisions, but particularly if decision-makers have an eye to the future.
8. Exhale! Let go of anxiety! We CAN stand tall together!
Sister Georgette ended her challenging keynote address with an appeal to the power of the Holy Spirit and a reference to Pentecost. Acknowledging clearly that we are surrounded by the "winds of change" in our fast-changing world, she encouraged us as professionals to resist the tendency to be filled with anxiety and to trust God by working together, by "standing tall together" in the face of those winds. We have the opportunity to see the winds of change in our profession like the wind of the Holy Spirit who came at Pentecost to those first fearful Christians. The wind of the Spirit literally swept away their fear and anxiety as they worked together to forge something totally new in their world: the Christian movement. The early Christians were known in their world often due to their identification with and sacrificial service to their fellow men and women in dire need (when others abandoned such people). If we are open to it, we can do the same. Exhale! Let's trust God as we work together!
Personally, I was very moved by Sister Georgette's words. Here at Direct Development, our team is committed to being of professional service in any way we can to help Christian organizations and people of good will to engage in fundraising in the spirit of this keynote address. We firmly believe that much is at stake not only in fundraising success but also in the methods that professionals use to accomplish that success. Ethics is more important than the bottom line.


I bet you are a little inspired (and a little nervous) about the future of our industry. The expert team at DD can help you withstand the winds of change. Schedule a free consultation!