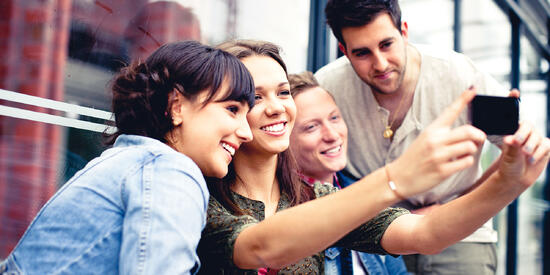 Last week, Forbes Magazine hosted its third annual 30 Under 30 gathering in Philadelphia. 30 Under 30 is a gathering of the biggest and brightest stars in 15 different fields who are all under the age of 30. As Forbes says, "Never before has youth been such an advantage. These founders and funders, brand builders and do-gooders aren't waiting for a proper bump up the career ladder. Their goals are way bigger -- and perfectly suited to the dynamic, entrepreneurial, and impatient digital world they grew up in."
What if the non-profit world was about to encounter a generation of people who would be willing to donate 50% of their income to a cause they cared about? What if this so-called "selfie-obsessed" generation cared less about being well-off and cared more about the prosperity of a cause that is close to their heart – and what if that cause was your cause?
What if this generation were here right now – how would you engage with this generation? What if I told you that the way to engage them were radically different than the way you engaged their parents and their grandparents?
Let's take a moment and dispel the myth that Time magazine spread about Millennials being the "me me me generation."
Despite the prevalent generalization that defines Millennials as self-centered, narcissistic, and entitled, this simply is not the case – at least when it comes to charitable giving. Not only do Millennials give, they give generously. We have read a lot about how their consumer habits have already changed, and will continue to change the marketplace (think of Amazon and Apple Pay for starters). Likewise, they will be a powerful force in charitable giving, and the numbers show that they aren't waiting to make their fortunes to support good causes.
A recent study performed by students from the Oxford Said Business School surveyed 2,000 professionals born since 1982. They found that 66% of so-called Generation Y are willing to donate half their income to good causes, and many said they would donate to tackle issues of poverty and unemployment in particular. Others were more concerned on fixing issues in their local communities and would be more likely to donate money to an organization that serviced a cause that was "closer to home".
So how will the social sector begin to adapt to the Millennial? When will Non-profits realize that this powerful generation needs to be "fed" differently from previous generations?
Because many of you are probably familiar with these statistics on Millennials, I thought I would take it to the next level and not only inform you of the "why" behind engaging these young people, but the "how" behind engaging them as well.
The means by which to engage Millennials can be summed up in one word – CONTENT.
By now you've heard all the buzz around inbound marketing for nonprofits. Even if you haven't studied much about the term 'inbound marketing,' you're already thinking about how to integrate your social media, events, website, and online giving in order to attract a wider donor base, particularly a wider younger donor base (aka the Millennials!).
As I discussed in a previous blog post, Millennials want to feel that their support isn't something that's just desired, but something that's really needed. If your organization is passionate about an issue they are passionate about, and if you focus more on the mission than you do your actual organization, they will get behind you.
But what kind of content will attract Millennials to your organization? (Although I could go on and on, let's simply focus on three kinds of content today):
Blog Articles
Millennials read differently than their parents and grandparents – but they still do read! Instead of going to the library, Millennials read blog articles. Millennials prefer to find their information via user-generated content – which encompasses social-media posts, photos, blogs, email, texting, and talking to others about media – rather than finding their information on major news websites or talk shows with biased hosts.
What does this mean for your organization? It means you sure as heck better be blogging! Since the research says that Millennials actually like to give to charities and that they spend an average of 5 hours a day reading user generated content like blog posts, there better be an article out there talking about your cause where they can come into contact with you! They're actually SEARCHING.
They are spending several hours a day surfing the web for good content. Get in the water with them, be discover-able! Send a Millennial a letter featuring a story about a Haitian orphan whom your organization serves, and it will end up in the trash; publish the same story on your blog using keywords and social media posts, and watch as new contacts (I bet they'll be Millennials!) stream to your website.
Short Videos
Videos have an advantage over other donor marketing tools as they add the "human touch" element that is often even more powerful than a well-written story. Whether it be through voice overs, images, interviews, or music, videos are often perceived as more personable than traditional media.
Guess what? Yup, Millennials LOVE videos too! In fact they spend hours a week watching videos online. Take the time to create at least one good video a fiscal year. These videos don't have to be professionally done videos that cost thousands of dollars; they could be as simple as slide shows with images and overlaying text (and of course some music in the background!). Millennials as a whole are a visual generation. They've been born into a visual world and therefore they digest content more easily and more quickly when it is presented in a visual format.
Give them the opportunity to connect with you through video. In two minutes, share your cause with them! Give them a reason to care and let them know why their support is so crucial. Don't be sales-y, don't be desperate, just be real!
Share-Worthy Social Media Posts
Finally, let's take a quick moment to talk about social media. I know you all don't need convincing that Millennials are BY FAR the most active generation when it comes to social media. If your organization isn't active on social media, stop reading this blog post now and go make a Facebook Page and a Twitter Profile and then download our social media guide for nonprofits...no joke! Social Media is the cornerstone for engaging with Millennials. It is the lens by which they see the world and interact with others. Be there, or be square (as they would say)!
Assuming you are on social media, it is important to write and publish posts that will not only generate comments and likes. You need to go beyond that. Create posts that are "share-worthy". If you publish good content, Millennials WILL share it with their networks. In the mind of the Millennial, good content is worthy of being shared even if they are not particularly interested in what the content is about. Why is this so important? Because by sharing your content, they are introducing your organization to their networks. Perhaps your post gets shared again? Now your organization has been introduced to three pools of networks...it's what we like to call the ripple effect.
Take the time to think before you post. Always ask yourself, "Is what I am about to post share-worthy"?
You see, the Millennial is a box-breaker.
The Millennial wants to alter the course of history. Millennials are not satisfied enough to vote for a Congressional representative they believe will impact social change, they want to start a movement that changes the world themselves. The corporate world has recognized the Millennials are worth adapting for, isn't it time the social world also adapts?
The question remains: How will you engage this powerful generation? How will you attract these young people to your organization and show them (not tell them!) why your cause is worth being passionate about and worth fighting for?
Want to learn more about how your organization can better engage Millennials? Request a consultation from one!