Your nonprofit's website is one of your organization's best assets. It is the place where people can stay up-to-date on what you are doing and become familiar with your mission. They can meet your volunteers, see the faces of those that you help, and easily donate to your cause.
The important role of your website in your organization's marketing makes picking out the perfect template for it a necessity. No matter where you look, though, there will be hundreds of template to choose from — so trying to figure out where to start can be a challenge. Different templates serve different purposes and have different useful features. As you browse through all of your choices looking for the perfect setup for your website, here are a few things to look for.
1. Lots of Visuals
You've heard is said that "a picture is worth 1,000 words," and this is true in the nonprofit world more than anywhere else. People want to see what you are doing so that they can feel connected to your mission and the people you are serving. So show them!
Look for templates with large, full-width pictures. If possible, find a template that will allow you to overlay these images with text in order to give a powerful quote or fact about your work along with your pictures.
On your homepage in particular, pay attention to the space available for images. This is the page that will receive the most traffic, so you want it to draw people in. Having space for a main pictured followed by space for smaller, supporting pictures or something similar to that model is an important layout to look for.
World Wildlife Foundation does a great job incorporating visuals on their home page. Their use of a full width picture coupled with smaller pictures below makes it easy to take in the information on the page. The text overlaid on the picture helps WWF to make key points and spark visitors' interest.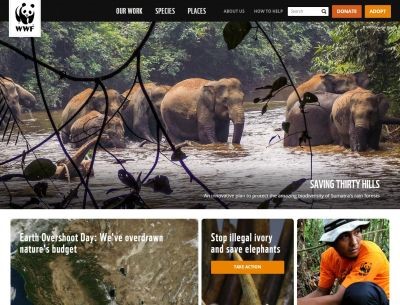 It is important to look for templates that will allow for pictures on internal site pages as well. Although you do not need to include pictures on every page, it is helpful to continue to have visuals throughout your site to keep people's interest as they browse. Having pictures on your internal pages can also help to support the message of a page.
The Kimbell Art Museum uses pictures well on their internal pages by using them to help with navigation. The use of pictures on this internal page makes the page easy to read and simple to interact with providing a pleasant user experience.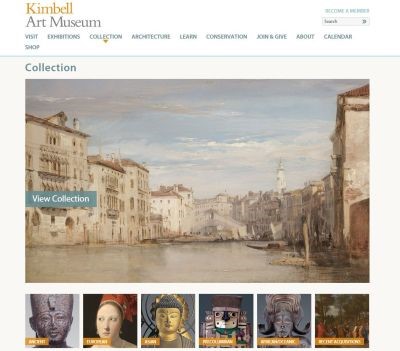 2. Tiers
When it comes to telling your nonprofit's story, using tiers is a great way to present a clear message.
Full width tiers can help you to layout your text well. This in turn allows users to clearly understand how your content is segmented without feeling overrun by information.
Tiers also help to draw your visitors further down the page. As they continue to read the information on each tier and want to learn more they will scroll down your home page and eventually begin to browse the rest of your pages. Spread out, well organized content makes your site more inviting while still continuing to be informative.
5by5 does a great job using their tiers to explain their mission clearly: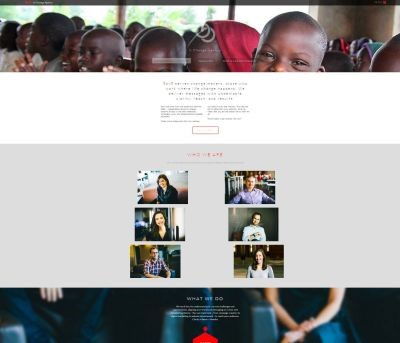 3. Simplicity
Simplicity is an important part of any template. Having a simple template will allow you to present a clean, clear message without overwhelming your visitors.
Having your pages broken into large sections with large text and a clear color scheme are ways for your site to keep a level of simplicity.
Another way to ensure that your site maintains simplicity is through your navigation. Look for templates that have navigations on a contrasting background color or are in a drop down. This will help people to see where they can go on your website and get where they need to go.
Having a simple page can also help you call for donations to stand out.
Water Is Life does this well. Their page is laid out in large blocks with short text that is easy to read. Their menu is at the top of the page on a black header so it stand out and the "Donate" button stands out as well because it is larger, colored, and located on the black tier.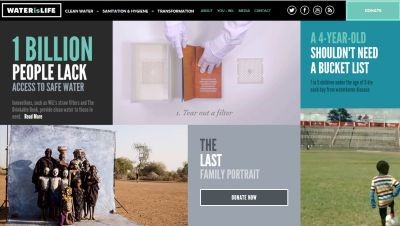 4. Responsive Design
While you are putting all of this time into choosing a stellar template, make sure that it not only looks great on a computer but also on mobile! Confirm that a template will adapt for those viewing your site on mobile before committing.
Three avocados does a great job converting their site for mobile. Their text is large and easy to read and their links are large as well making the site easy to navigate.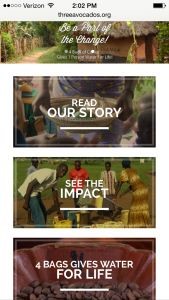 Keeping these few tips in mind while you choose your organization's website template will help you to create a stellar site that will spread the word about your work.
Revamp your website by requesting a free website audit below!