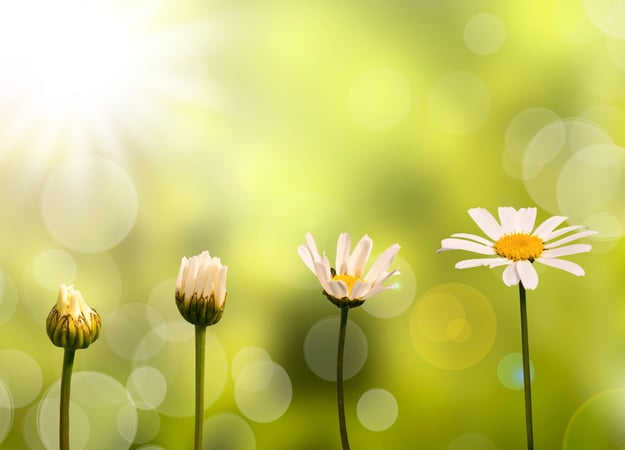 Every nonprofit has a non-donor constituents (supporters) — these are the people who have done something in support of the organization, but have yet to take that critical next step and make a donation to the nonprofit's cause. The third stage of the Inbound Methodology for nonprofits is designed exactly for these types of constituents. And that's because it is all about nurturing.
When you first think about "nurturing" your supporters, it sounds like a young mother consoling her 3-year-old who just experienced his first bee sting. It sounds as if the development staff is supposed to pamper their constituents, but that is NOT what we mean by nurturing.
Instead, think of engaging your prospective donors with relevant content that appeals to their specific interests in your mission (remember - it's about your mission, not your organization!). Here are 3 inbound marketing methods for engaging your non-donor supporters to determine which people are ready to be nurtured towards giving:
1. Lead Scoring
Lead scoring enables you to assign values to different actions taken by the prospects you are tracking on your website through your marketing platform (e.g. HubSpot). This is important because not all supporters carry the same potential value for giving. Yes, you can certainly decide to give all of them the same exact treatment, but then you're doing what just about every other development team is doing. Remember how your organization is supposed to be "different"?
There are many different ways to score your prospects and assign values to various actions. The actual method you use does NOT matter! What matters is that you are consistent and that you apply scores to actions of real value to your development goals.
Here are some examples of the kinds of supporter actions that might be worthy of scoring:
Multiple visits to landing pages or website pages that have content related to evaluation-stage and/or support-stage topics. (e.g., a prospect with multiple visits to the "support us" or "ways to give" pages of your site is likely considering how to give support in the near future).


Social sharing, liking, re-tweeting, favoriting, or some other posting of content put out by your organization (especially content related to spreading the word about the need to support your mission).


Length of time watching your video content (you can use awesome tools like Wistia that enable you to track exactly what parts of a video someone watched, skipped through, or replayed).


Frequency of total activity within a short period of time (e.g., a constituent may not have spent a long time on any one page or social site, but he/she may have performed 10 actions in 3 days, which shows increased interest).
Again, you need to define for yourself what actions are of high value vs. others. The bottom line is that lead scoring can help you determine which supporters to focus on and nurture using...
2. Targeted Emails
Email nurturing is the process by which an institution sends a series of targeted emails designed to ease a prospect towards the next step. And by "targeted" I mean "filled with relevant, engaging content" — and that means you need to actually know what your prospects care about.
You can use targeted emails for a variety of fundraising and donor development campaigns. In the case of nurturing a non-donor supporter, the main goal is to get them to make their first gift. And the way you get them closer to that step is through a series of email communications that are NOT all about giving.
Notice the emphasis on the word "relevant" - if you don't send relevant content in your email series, then you're not really nurturing your relationship with your supporters. You're just sending bulk emails that everyone else sends.
Start by sending more stories that are related to the content that person is consuming on your blog.


Then follow up with information about other supporters like them who have great experiences after deciding to make a gift to your organization.


Then share more mission-specific stories that show where financial support is needed.



And THEN, finally, you may be ready to send that person an email about making their first gift!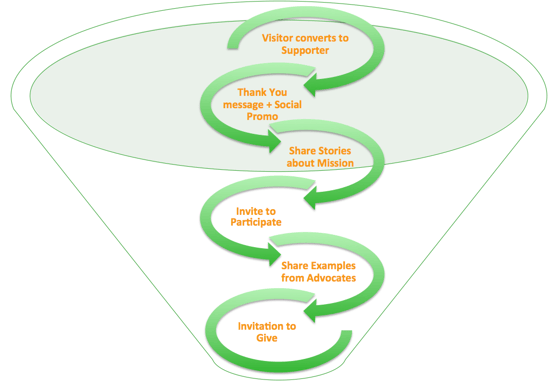 A successful engagement strategy uses the information gathered from lead scoring and activity tracking to trigger various marketing automation actions, such as a series of nurturing emails.
And that brings me to the final method...
3. Marketing Automation
Email nurturing sequences aren't the only thing you can do with a good marketing automation platform. You can also do things like:
Send SMS Text Message triggers

Notify development/communications staff with alerts to certain activity (so they can follow up in a timely manner)

Send a direct mail package that is personalized to a specific prospect

Add only certain supporters to a specific marketing list
There's a lot more involved in closing the loop with your non-donor supporters, and I am really only scratching the surface with these three methods. But the bottom line is that, no matter what your situation, you do not want to be stuck sending the same communications that went out two or three years ago. You need to consider Inbound Marketing tactics to help attract, connect, engage and inspire constituents through the donor journey.
For more information about how to engage donors with Inbound Marketing, you can download our Nonprofit Marketing Guide #3 in our 4-part series on Inbound Marketing for donor development: