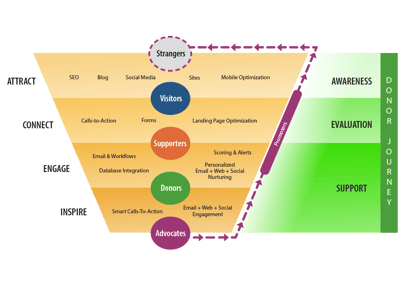 Did you know that according to Blackbaud's interactive report, The Next Generation of American Giving, nearly half of Gen X donors actually fund-raise on behalf of the organizations they donate to? Did you also know that (according to the same report) 57% of Millennials indicated they wanted to see how their donation was put to use? These two groupings (Gen X and Millennials) account for at least 31% of all donors. Now while most nonprofits are keeping with their Baby Boomer and Mature core donors, I'm sure our readers are beginning to see the writing on the wall and going after the goldmine of younger donors. The goal is to create not only donors, but donors who become advocates!
In a recent post I introduced the concept of using Inbound Marketing For Donor Development. Inbound marketing is the key to attracting younger donors to become lifelong advocates for your organization. (By the way, the largest demographic to increase their digital media usage in 2014 was the Baby Boomers, so inbound works for them too!)
Now that you're convinced you that you need to use inbound marketing, I want to begin to give you more tools that you can use to go after these potential donors. In this post I want to introduce you to the Inbound Marketing Methodology. In subsequent posts we will dive into further details of each step in the process. But for now I will give you an overview of the stages.
In the Inbound Methodology there are 4 stages to take constituents from strangers to donors and on to advocates. Like anything you need to have a plan! So the Inbound Marketing Methodology gives you a roadmap to identify where a constituent is on the road to buying into your program.
Here are the 4 Stages of the Inbound Methodology:
1 - Attract
This stage involves attracting strangers (those who do not know about your organization) through the use of shareable content and SEO tactics which drive them to your site pages. Strangers become visitors to your site.
2 - Connect
The 2nd stage involves connecting with visitors and converting them into supporters by using educational content that appeals to their interests. Give them what they want!
3 - Engage
The 3rd stage involves engaging with supporters through nurturing actions designed to direct prospects towards making a donation.
4 - Inspire
The 4th stage involves inspiring donors to become your best advocates with relevant opportunities to spread the word about your mission.


Since inbound marketing is all about content marketing there are specific types of content that your organization needs to create to target your constituents in each of these stages. For instance, creating a blog using SEO and keywords will attract visitors to your site and increase readership.
Stay tuned for upcoming blog posts that dive deeper into each stage of the methodology.