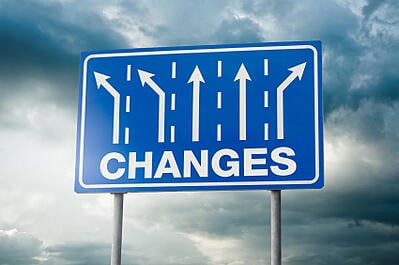 As the team at DD is gearing up for the upcoming NCDC conference in Chicago we started to reflect on this year's conference theme – through the Winds of Change.
We all know that the nonprofit and fundraising worlds are evolving at the speed of light. Some organizations see this as something to resist, even loathe. But therein lies a great opportunity! Change, especially changes in constituent management, provides the opportunity to reach new audiences, adapt your mission messages, and in the long run acquire life-long donor advocates. It gives you the opportunity to reach groups of people that wouldn't otherwise know about the great work your organization does to change the world. With a little planning, your organization can weather and even thrive in this changing environment.
Looking ahead at the rest of 2014 and into 2015, here are some of the trends we see emerging in the nonprofit fundraising world:
Responsive Design Will Become Mandatory. Organizations that have not already designed their marketing and website using responsive design will begin to see the attention of their donors shift towards other organizations. More and more people expect to be able to make quick donations via mobile devices.
By the way, 1 in 3 people in the United States access the internet using their mobile device. If your website and donation page aren't formatted for mobile devices you can kiss them goodbye before they can read your mission statement.
Multi-Channel Marketing Will Reach Further. You know the age-old adage, "You can't be all things to all people?" Well, that's not exactly true in the fundraising world. Different donor groups prefer to be reached through different methods. One group may prefer online giving while another group responds more positively to direct mail. Multi-channel marketing (using different media channels such as direct mail, PURLs, mobile, email, etc) offers a great opportunity to use all of the available channels within an integrated appeal that provides the best opportunity to reach donors using the media they respond to.
Global Events Will Shape "impulse giving." Our world is constantly in crisis, so it seems. It could be the fact that these crises have always been happening, but now we have 24/7 media coverage. These global events pull on the hearts of millions because the images and details of the crisis reach millions. With easier-than-ever one-time donation technologies, concerned citizens can contribute to any global cause at the click of a button.
While life-long donor advocates can be very profitable, a large portion of these responders are one-time, small-amount donors giving impulsively. A research project conducted by the Pew Research Center observed the number of people donating in this way during the coverage of the Haitian earthquake in 2012. In a donor campaign titled Text To Haiti Pew found that of the donors for this specific campaign, "89% heard about the Text to Haiti effort on television, and 50% made their contribution immediately upon learning about the campaign. An additional 23% donated on the same day they heard about it."
Impulse giving and the ability to capture these donations easily and using a variety of channels can be very profitable.
Inbound Marketing Will Rise. Nonprofits are beginning to think about developing their "pipeline" of future donors and know that younger donors respond well to personalized messages, soft asks, and attractive causes. Inbound marketing provides a way to accomplish all of these and more by "attracting" future donors instead of "interrupting" them with a wholesale and generic message. Start by developing a blog, embrace social media, or develop an email newsletter list. For more about inbound marketing for nonprofits check out last week's post.
A lot of nonprofits respond to these changing times with fear and trepidation, but as long as you stay informed (like read this blog regularly!) and embrace new methods your organization can face the future with confidence. Stay tuned for more information on Inbound Marketing and trends later in the year for 2015 and beyond.
Attending the upcoming NCDC Conference in Chicago? Sit down with us and let's chat about your donor development programs!