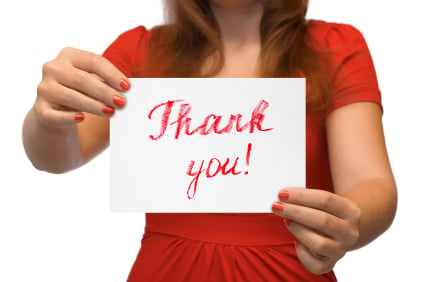 Photo Courtesy of speakupforsuccess.com
Here it is again! It seems like every year around this time development offices come alive with the buzz and busyness of crafting and producing year-end appeals. Since this is a make-or-break effort for many nonprofits, a lot of energy and resources are devoted to these appeals. I've seen entire offices working late into the night folding letters and stuffing envelopes.

While year-end appeals, donor acquisition, and traditional fundraising letters get all the glory, one piece of communication that is often overlooked or treated as an afterthought is the Donor Thank You. If you don't know by now, every single instance of donor engagement is a potential source of development.

I recently gave a donation to well-known nonprofit organization and quickly received a receipt for my donation. While the receipt was prompt in the form of an email, it was simply a letter with the words "Thank You" and the amount I gave. There was no other engaging communication. I thought to myself, here is a missed opportunity to engage me as a donor. (I know my donation is minuscule compared to some donors but sheesh!)
Don't make this mistake! Every piece of communication is an opportunity. If done right, Donor Thank You communications can:
Build Trust
Build Internal Culture
Build Loyalty
Build Your Active Donor Base
Here are the essentials of thanking donors: When, How, and Where.
When do I say thank you?
Instantly. There are many ways to say thanks (we'll get into some different ways later in this article) but one must-have is the instant response email. Wait, you aren't capturing or asking for email? Well, start!

If you are capturing email addresses, send the donor a quick email response. Did you know that 70% of website donations aren't followed up because of a development office's neglect? Usually this is because the office hasn't automated the direct response to any donation. With today's technology there is no excuse not to have an automated donation follow-up email sent to the donor instantly.

Quickly. If you are writing a traditional Thank You letter try to get it out the same day you receive the donation. Again, with the up-and-coming technology of Variable Data Printing (VDP), this can be done automatically. For instance, DD's Direct-Connect Platform is integrated with a VDP program that automatically sends out letters using variable photos, content, etc.

Annually. Even year-end contribution statements can raise money! Don't just send the report from your accounting software without adding a personal touch. Again, here is a chance to say thank you.

Often. Even if you say thank you in a letter or an email it is ok to say thank you more than once. Even better to show a spirit of gratitude by saying it often and in multiple ways.
How do I say thank you?
If you haven't read my earlier blog post, it is important to focus on mission, rather than organizational need. This is the number one rule of nonprofit communcations. Donors want to know how their donation has made an impact, not how it has helped to keep your offices open or have a great Christmas party!

If you are new to the fundamentals of letter writing you can learn some simple tactics of writing a great fundraising letter in one of our previous blog posts about letter by clicking here.

Sometimes an effective thank you communication doesn't even have an overt ask but solicits buy-in by telling a story. A few years ago I was a part of an organization that only communicated to me by asking for money. This to me came off as offensive since I didn't feel as though I was getting any value out of my donation. Stories give donors value by showing their impact! If I had seen how my donation was making a difference I would have been more likely to stick around and invest my energy (and money) into the organization's program. Plus, if you are emailing the donor you can link to story to your website (assuming that your website is designed as a funnel encouraging people to move to your donation page).

Use inclusive statements. In Thank You communications you can build donor loyalty by making them realize that they are part of the team. Even though they may be miles away you can help them see how they are directly involved by supporting your program. Statements like, "Together we fed more than 8,000 hungry children this year. We just wanted to say thank you for being a part of XXXX's family. Here is an example of someone we helped this year..." have huge impact.
Where do I say thanks?
In the areas that I've already mentioned there are some other ways that you can show your gratitude.
Do you host an annual gala? Give your biggest donors "reserved" seating.
Say thank you on video! Create a personalized thank you video and send to them. You can also send a general thank you and post it on YouTube. Make sure you give "exclusive" access only to donors.
Publically honor a donor at an event.
Send a postcard from inside the organization. Give them insight into how the organization is running. Make sure you highlight your culture and re-iterate how you are changing the world through your program.
Don't be afraid to pick up the phone and chat. This is a tricky one because you want to make sure it is purely a thanks and not a solicitation.
HAPPY THANKSGIVING!!!
How does your organization say thank you? Share your ideas with us in the comments section!