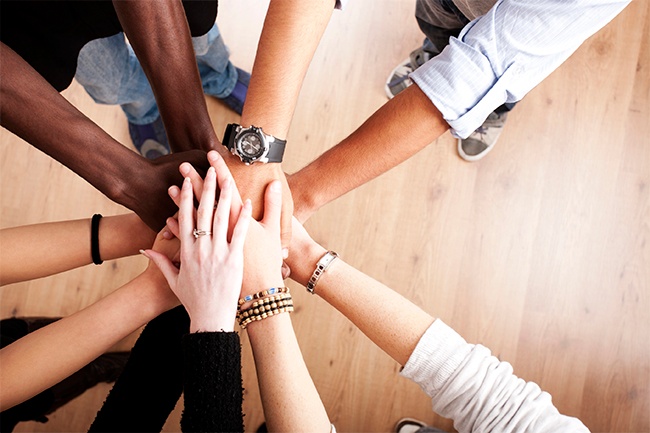 Once again, the annual National Catholic Development Conference — one of the largest gatherings of faith-based nonprofit fundraisers in the world — demonstrated true leadership in the world of Philanthropy and Development two weeks ago in Orlando, Florida.
In her keynote address "The Magic of Catholic Philanthropy: Invigorating our Missions, Transforming our World" Sister Georgette Lehmuth, OSF, NCDC President since 2001, pushed the traditional limits of how we (should) understand the mission of fundraising in a thoroughly donor-centric way. For many nonprofits, this is a major change in thinking about mission, strategy, and the long-term future.
Drawing inspiration from Pope Francis and from some compelling books from the last 7 years (particularly Community: The Structure of Belonging by Peter Block, 2008, and Donor-Centered Leadership by Penelope Burk, 2013), she carefully selected key points that have the potential to shake us out of our comfort zones and to think in a 21st-century way.
There were gems too numerous to cover here in her challenging keynote, but here are four takeaways that should shake all of us up a bit. At the very least, they could be used as discussion starters among nonprofit Christian leaders and development professionals. Imagine a team meeting with these provocative declarations as the starting point!
1. Step Outside of Your Organization!
It is so easy for an organization to be overly focused on itself, on the fact that it is X organization that is doing a great work. The mindset can become "look what WE are doing" rather than "see whom we are serving" and how it is really making a difference in people's lives (and, oh, by the way, "we" are doing this with the help of many).
This challenge to all who serve in the church has been emphasized time and again by Pope Francis as he encourages us to create cultures of encounter, friendship and belonging. These cultural development strategies apply equally to those we serve and to our donors whom we are cultivating and with whom we are partnering.
How can we move more from a focus on ourselves and our organization to a focus on our partners in mission without whom the mission itself would be impossible?
2. Even American Express Is in Tune with Pope Francis!
Regarding the Pope's encouragement to create a culture of friendship and belonging among constituents and potential constituents (customers?) it is worth noting that American Express, a company that for years built its business on "membership effect," has recently changed its marketing tagline. What was formerly "Membership has its privileges" has now become "Welcome in." (Check out http://welcomein.americanexpress.com/!) They call this "an ecosystem of powerful connections and shared values." Even the business world is recognizing the need for interconnectedness in order to be successful in the competitive marketplace.
Do our donors experience themselves as part of an interconnected group, nurtured by the interaction of the community which is our partnership with them? If so, how? If not, how can this be developed?
3. Are You Willing to Create a Future Distinct from the Past?
This is a challenge par excellence for all nonprofits. It is an idea that Peter Block hits hard. This is an issue of longevity of mission. What will the future be of your mission? How will today's younger generations become engaged and attracted to be the visionary leaders of your cause tomorrow?
Yes, we all need to "raise money right now" — no doubt about it. But it goes without saying that we also need to be looking ahead to tomorrow and the continuance of the mission God has given. Can you change the existing context of our organizational community from one of entitlement (privilege) to one of new possibilities (welcome)? Are we willing to increase engagement and empowerment of donors in mission in essential and critical ways?
If not, we may not have much of a future. Toward this end we must explore in our organizations and institutions ways to listen and pay attention to our donors, ways to create authentic "relatedness" experiences, and the ability to ask questions that can facilitate organizational transformation.
Do the questions we ask ourselves and our donors create the space for something new to emerge? Do our questions take the listener to a place of welcome, oneness and inclusion? What do our questions say to our donors besides asking them for money? And finally, what do those questions mean to the donor?
4. Wrong: The More Donors You Have, the More Money You Will Make.
The fundraising world is full of fallacies, and this is one of them.
It is not always about volume. Donors are people way before they are a number. Donor-centric fundraising forces us to approach the task as a mission in itself. If forces us to form true relationships with our donors, without regard to the "frequency, recency and decency" of their giving patterns.
How are you inspiring donors to want to be more generous through meaningful engagement in your mission as it is expressed in your institution, members, and ministries? We must bear in mind the reality that witnessing and proclaiming mission will create initial engagement, but it will not retain the donor unless they see measurable and effective results of their generosity.
Are you thanking your donors at all levels? Are all gifts, large or small, assigned a project or program so that all donors can be told how their donation is making a difference? Do you have a procedure in place that ensures that donors are not solicited again until they have learned how their previous gift was used?
So, contrary to the fallacy that "more donors means more money," the following donor-centric principle stands tall: Do not acquire more donors than you can properly serve and for whom you can create meaningful communications and some level of authentic relationship. Public acknowledgment of a gift is not as important as personal attention to and engagement of the donor! As Penelope Burk has emphasized, are you fundraising systems and strategies shaped to deliver what donors need instead of what decision-makers think they need?
If the end goal of our missions in Christ is the in-Christ transformation of his precious world, then fundraising, above all, is a ministry. It is a ministry to the donor! It is about giving the donor opportunities to participate in building the Kingdom of God in the world through our missions. It is about offering donors a chance to make a real impact, to be transformative themselves. It is, ultimately, about the donor's vision, faith, hopes and dreams being realized in the context of our missions.
This approach should turn much of traditional fundraising on its head. Are you game?
Support your donors from when they first show interest in your work to when they become your cause's advocates with the
Advocate Journey Worksheet.