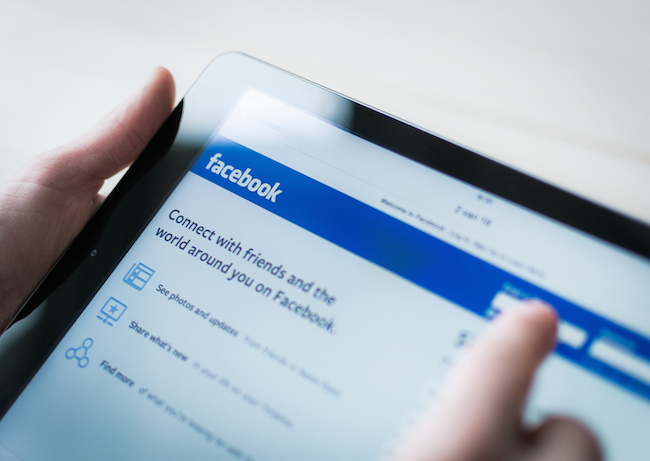 Monday through Friday, 9 a.m. to 5 p.m., I'm an inbound marketing consultant at a well-established marketing company.
But Monday through Friday, 5 to 8 a.m., I'm a co-founder, co-writer, and co-editor of a nascent email newsletter with my husband Kevin.
Called Go Forth: Field Notes for the Modern Catholic, it features a selection of news and commentary relevant to Catholics, intended to equip them with the knowledge they need for conversations with their non-Catholic family, friends, and coworkers. After sending the newsletter to a test group for a few months in 2014, we soft-launched last September.
But writing the newsletter every day isn't the only thing on our to-do list — we still have to market our cause and product. We made a simple website, and in January, we created a Facebook page to boost our online presence.
So far, our Facebook page doesn't even have as many likes as we have subscribers. If your nonprofit is relatively new to the social media game — or if you haven't spent much time or resources on your social media strategy — maybe you can relate. Does the number of likes on your Facebook page seem small compared to the number of fans and donors you know you have offline? Do you struggle to reach your existing audience, let alone new audiences?
As part of a budding, not-yet-nonprofit-status effort, I've already learned a lot about what's worked for our small Facebook page — and what hasn't.
Here are a few of my recommendations for your nonprofit's Facebook strategy.
1. Paid ads and boosted posts are not optional.
Maybe you're already aware that last year Facebook changed its algorithms, prioritizing content from users' friends over company or organization pages'. If you've noticed that you get fewer click-throughs on your Facebook posts than you did this time last year, you're not alone.
Fortunately, paying to "boost" a post or to promote your page will give you results. Here's a screenshot of some data from our page:

The boosted post not only reached 1,400 people (i.e., made it onto their news feed), but 62 people clicked and 20 people liked or commented on the post itself. The dark orange portion of the orange bar indicates how many were reached through paid promotion versus organically (light orange). As you can see, paying to boost it — $5 to promote it for a day — generated results far beyond our other posts'.
Noteworthy also is that you can boost posts to new audiences instead of only to your current fans. These can be narrowed down by keywords, location, age, and more.
Posts aren't the only thing you can pay to boost; you can promote your page, website, and more.
2. Quality and variety of content matters.
"Pity the readers," Kurt Vonnegut once wrote. "They have to identify thousands of little marks on paper, and make sense of them immediately."
In our case, they have to make sense of a hodgepodge of posts, posted by anyone from their cousin to the New York Times to your organization, all strewn together in one feed. If you want yours to stand out:
Use photos. Images and photos can help your posts from getting lost in the shuffle and make the most of your posts' reach. Ensure that all links you post have an accompanying image. Or for a simple, shareable post, throw an inspirational quote — perhaps from your organization's founder, or from a religious figure if your organization is so affiliated — against a photo background.


Keep your descriptions short. If you're sharing a link, don't make your readers trudge through multiple paragraphs to understand what it is. Your goal is to get them to click through, so make it as easy as possible.


Vary your posts.

Your fans do expect to see your news and content — that's why they clicked the "like" button on your page. But that's not all you have to post. Keeping them abreast of what's going on in the larger mission field via select news articles, for example, could be a major value-add for your readers while increasing your credibility as an organization.
Track your results, and adjust your strategy accordingly. As you gain more of a following, it'll be easier to tell which posts are more successful, but take note of any patterns you see even in the early stages of your page's growth.
3. Sharing boosts organic reach.
"Organic reach" refers to who sees your post without paid promotion. Likes and comments boost your organic reach. So does sharing.
Sharing even the same link as a given post on your page from your personal account can boost your organic reach (Facebook often groups these into one story on your news feed), but even better is sharing the post from your nonprofit's page. In the very least, it signals engagement to Facebook and boosts your reach that way; at best, and especially if some fans of your page are also your friends, you'll reach more of your audience.
Partnering with other organizations will similarly help your social media reach. A few weeks ago, we wrote a post for the Diocese of Arlington's blog. They shared it on their Facebook page, and we shared it on ours. See below:

We paid to boost it — but even so, our organic reach topped our paid reach.
Whether you guest blog for another organization (or vice versa), collaborate on an event, or simply share some of each other's content, partnering with like-minded organization can develop your social presence.
4. Your Facebook page is an opportunity for low-commitment support.
Your Facebook page is an easy way for an individual to support your case: It takes no monetary commitment and very little effort.
So treat it as such. Invite your contacts to follow you on Facebook where a larger ask would be too much — or even when they tell you "no" to donating or continuing to receive email communications.
When someone unsubscribes from our newsletter, they receive an email that says: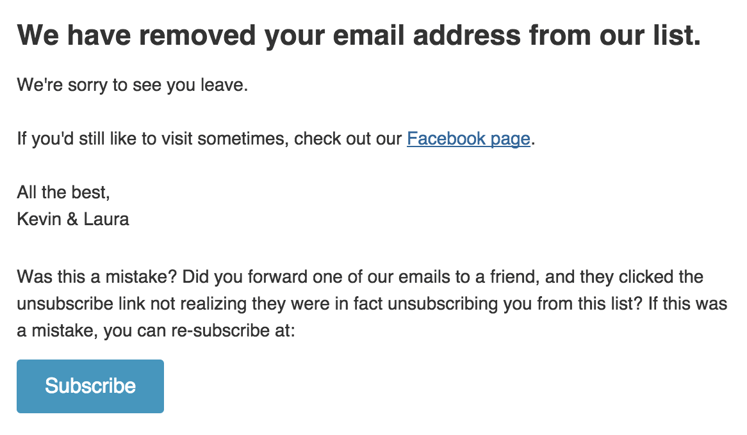 Since some unsubscribes come from people who decide that a daily email is too frequent for them, this strategy has proven effective. They still wanted to hear from us — just not every day.
Inviting others to follow your Facebook page is a similarly easy ask for your current fans, so remind them every now and again to invite their friends to your page.
Having launched only six months ago, we're hardly a model of success. Many nonprofits struggle to gain a following when they begin to develop their social media presence. Persevering through that first 1,000 likes — or 10,000, or whatever the number may be — is difficult.
But be proactive: You'll get there. (And we hope we will, too!)
Looking for a platform to supercharge your nonprofit's social media marketing? Request a free HubSpot demo!