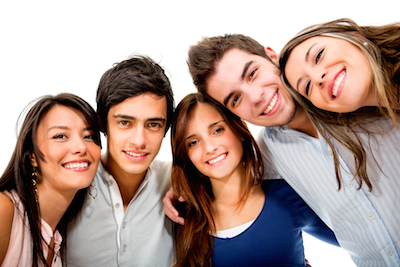 In 2010 the most popular social network application wasn't a fancy game, music, or TV show. It was an application that Facebook created called Causes. The idea behind Causes was quite simple. Causes allowed you to select/join the causes you were passionate about by "liking" them on Facebook. From there the application would recommend different nonprofits that focused on the cause that a user had "liked" and offer the opportunity to connect with a specific nonprofit.
This application was an extremely easy way for nonprofits to find people who would spread awareness about their work, recruit new supporters, launch fundraising campaigns, and sponsor petitions. Causes enabled people to use their social networks for good; and not just a means to complain about the reffing in last night's game or express their opinions on the latest Hollywood gossip. Furthermore, it caused nonprofits to wonder how long the popular notion of ignoring Millennials as a donor base would last. Little did they know at the time that in just a few years 43% of all Millennials would actually fundraise on behalf of the nonprofits they believed in.
Although Causes has drastically decreased in popularity over the past several years, it birthed the idea that social networks were platforms that could be used for sharing more than just pictures and status updates: they could be used to share and promote the causes and social justice issues individuals cared most about.
So what am I getting at here? As Millennials are the generation most active on social media, we have the potential to become the best activists and promoters of your cause to the online community. We want to use our social networks to tell the world what we care about and why we care about it. We may not write you the largest checks, but foster a good relationship with us and in the long run that may mean more to your org than a large donation.
According to the 2013 Millennial Impact Report, Millennials aren't interested in structures, institutions, and organizations, but rather the people they help and the issues they support. The key for nonprofits, therefore, is to build an engaging and long-term relationship with Millennials and to ask them to support the cause, not the organization. Millennials actually desire to do more than simply write a check.
We want an invitation to actively participate in the cause(s) we are passionate about. We believe that we are truly capable of changing the world and we want others to know that we believe this. After doing some research and collaborating with some fellow Millennials, here are three helpful tips on what your organization needs to know about connecting with and engaging us:
1. Establish a Relationship With Us
Millennials value authenticity, variety, and actionable information. For as long as we can remember people have been begging us (or our parents) for money. Whether it be in the checkout line at the grocery store, the "sad puppy ads" on TV, or the Santa-hatted salvation army folks in the mall each Christmas, we've been asked left and right for as long as we can remember to "make a donation". I am not suggesting that these direct appeals don't work anymore, I am merely suggesting that Millennials have grown so accustomed to being asked for money that often times we stop listening before you start talking.
Millennials desire a sense of real community. Sending you a check isn't the same as attending and promoting a volunteer day your org might be having. We thrive off of the idea that we are physically and tangibly making a difference - not just sending money so others can make a difference. Give us opportunities and ways in which we can interact with you and be more ingrained in the front lines of your mission.
2. Give Us Something to Do
Give us something to talk about and something to do! (We do talk, you know... We don't just tweet alone at home). We appreciate clever viral appeals as much as the next guy, but if it doesn't contribute any new information that we can discuss, then it dies before it ever really takes off. Create a conversation around your organization's cause, not your organization. 73% of Millennials who volunteered for a nonprofit last year said that their motivation for volunteering for a specific nonprofit was because they cared about the cause of the organization, not the organization itself.
Ask us to watch videos or share blog posts that promote awareness of the issue your org focuses on. Ask us to use your hashtag for a day or share a photo of yours on our Facebook timelines. Be specific! Don't overwhelm us with three things you want us to do after reading your email, encourage us to perform just one action.
3. Let Us Know About the Impact We've Made
Millennials like to know exactly how we've made an impact. We're online...a lot. Develop a relationship with us on social media. Follow us on Twitter, re-tweet our tweets, respond to us when we use a hashtag you ask us to. True community management goes beyond scheduling updates and monitoring re-tweets; it creates an honest, friendly environment where followers are treated as collaborators and activists, not ATM machines.
Thank us publicly on social media. When we share your picture, "like" the share and comment on it with a quick "thanks". Follow up with us and let us know how a certain campaign or donor appeal went. We want to know the kind of impact we helped contribute to or the outcome of the petition we signed and encouraged our networks to sign as well. Again, we want to know how we've helped the overall cause, not just how we helped your organization reach its campaign goal.
Finally, be real with us. As aforementioned, we value authenticity and genuineness. Make us feel that our support isn't something that's just desired, but something that's really needed. If your organization is passionate about an issue we are passionate about, and if you focus more on the mission than you do your actual organization, we will get behind you. Millennials are a passionate, driven, and smart generation. Establish a real relationship with us, give us something to do, let us know how our support has helped the greater mission, and we will be your greatest activists, volunteers, and yes, even donors.
Want to learn more about how your organization can better engage Millennials? Request a consultation from one!