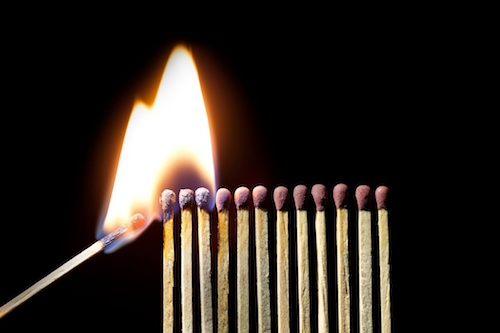 There is something very fulfilling about the moment when a person makes his or her first gift to your nonprofit organization. Finally, after many nurting communications and various fundraising appeals, this person has decided to financial support your mission - hooray!
So, your job as a development professional is done, right? (Ha!) Not so fast.
As nonprofit marketers, we know that's not true. In fact, we know this is really the beginning of a new communication stream, that will hopefully develop into a long-term relationship that results in the regular giving of gifts on an annual basis.
But that is not all! There is actually something even more important than getting your donors to make additional gifts. You need to inspire them to become your advocates!
The fourth stage of inbound marketing for donor development is all about inspiring your current donors so that they become promoters and advocates for you nonprofit and your mission. Here's why inspiring advocates is so critical for your nonprofit organization:
The key to acquiring new donors
There is no better way to get your organization noticed than via personal connections that your constituents already have. New people who are strangers to your organization are MUCH more likely to listen to communications about your nonprofit that come from their existing connections vs. that same information coming straight from your organization.
If you had to choose between whether a donor gave you an additional $100, or told an additional 100 people they know about why they love the work your nonprofit is doing, you should choose the latter!
Birds of a feather...
Remember, it also extremely likely that your donors are connected to more people like themselves. If you want to acquire more people like your existing donors, then start by getting your donors to open their mouths.
Think about all of the money nonprofits spend doing data modeling and statistical analysis in order to find profiles of prospects similar to their most active supporters. I'm not saying those are not good things to do, but you are essentially doing the same thing when you invite your donors to participate in spreading the news about your mission, and why giving to your organization is so worthwhile.
Start by sharing their stories
We often hear nonprofit consultants talk about how important story-telling is for helping people understand your mission. That usually means telling stories about the people you serve. But that's not what I'm talking about.
I'm talking about sharing stories about your donors themselves! Here are some questions to help you create a compelling story about one of your donors:
How did she get involved with your organization in the first place?


Why did she decide to support this mission?


What happened after she made this gift?


How did this change her life?


What would she tell others who are considering making their first gift to your organization?
Use social media!
Social networks are the best way to get these stories out there. For starters, you need good content that isn't always about asking people to give you money. Stories about your advocates show that real people believe in the work your nonprofit is doing. And, it's a great way to thank your best donors for being champions for your cause.
You can also use social media to start "tell-a-friend" campaigns that originate with your existing donors and asks them to spread the word about a specific story or campaign your organization is promoting. These types of social promotions only work if you have a core group of dedicated constituents willing to be the primary proponents of these campaigns specifically within their social networks.
Once that core group gets started, your job is to promote and share those examples so the rest of your donors see how others are spreading the word.
Feel free to share your own ideas on inspiring donors using the comment form below!