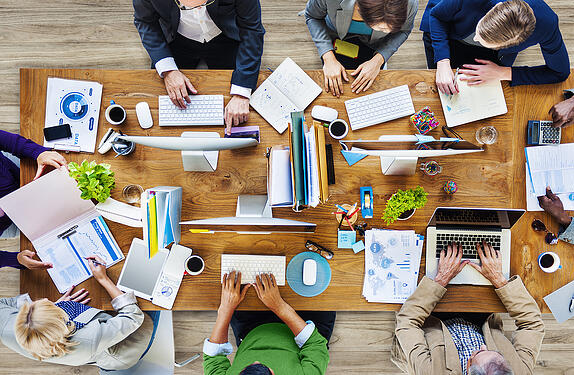 "And that is how to make the best homemade peach cobbler."
At one point in time, this was the only type of content that you would read in a blog. Blogs were for people's personal ideas, stories, recipes, etc. Today, though, things have changed. As the world of nonprofit marketing has continued to evolve, blogs have quickly moved past just being a hobby to being an important part of any communications strategy.
For nonprofits, blogs are a place to establish your story, your mission, and your thought leadership. You already know your story and mission well; but what exactly is thought leadership?
Denise Brosseau defines thought leaders as
informed opinion leaders and the go-to people in their field of expertise.They are trusted sources who move and inspire people with innovative ideas; turn ideas into reality, and know and show how to replicate their success.
This is the person that you want to be when trying to get your name out there and attracting donors to your organization. Leading your mission in innovation and exposure makes sure that people know who you are and what you're up to.
Why a Blog Can Help You
Using a blog effectively to establish thought leadership puts you and your nonprofit on the forefront. You'll gain and retain donors who are committed to your cause.
In more tangible expressions of success, you can expect to gain:
Increased credibility

Improved SEO

Blog content that's easily shared

More opportunities to place contexual calls-to-action

A place to express your values and mission
Having a blog makes you accessible. It gives you a chance to share stories, show pictures, and give your organization a face.
6 Tips to Get Started
Anyone can slap a blog together and start posting with no real direction, but that won't give you the results you want. To make a truly effective blog (or to give your current blog a facelift) consider these 6 tips:
1. Establish personas.
Writing is hard enough, but writing with no real audience in mind is even harder. Take some time to think about who you are really writing for. Do some research. Who are your donors? What are they like? How old are they? What is their position in life? Create a clear picture of who you are trying to reach out to and write for them.
2. Brainstorm content ideas.
Once you have your personas, get your team together and start brainstorming. What do your personas want to read about? Put all of your ideas in one place so you can begin to see where you want to take your blog in the next month, quarter, year and beyond.
3. Use keywords.
When blogging you want to make sure that you are doing so with purpose. Think of what you are trying to present about your organization and who you are trying to attract.Then carefully use keywords, words that summarize who you are and what you do, that will attract those visitors.
4. Share what you're doing.
Remember: people are reading your blog because they are interested in what you are doing. Don't be shy! Make it clear what you're up to. Write about your most recent events, add pictures, use quotes from your founders. These posts are a great place to start if you're feeling stuck on ideas. They're also great to come back to periodically in order to keep your donors feeling connected.
5. Create a content calendar.
What good are ideas if you aren't organized? Once you have some ideas, start placing them on a calendar and getting a feel for the flow of your blog. Put all of your information in one place: ideas, deadlines, authors, etc. Having a plan in advance will make the entire process much more manageable.
6. Divide and conquer.
Don't get burnt out! As you begin this endeavor, make sure that you are dividing up the work so that no one person feels overwhelmed. Spread out who authors which post or even begin by posting less frequently and building up to your posting goals. If you are really feeling overwhelmed, never be shy about seeking outside help!
Putting all of these into place will help you to have an engaging and effective blog to support you and your organization in your work. Good luck!
Looking for some advice on how to get started with blogging?
image from www.nonprofitmarketingguide.com